There are tens of thousands of credit cards in the United States today. With so many offers from lenders, big and small, it can seem impossible to find what you are looking for. That's where credit card comparison sites, like BestCards.com, come in. But how can you trust experts' opinions without understanding their methodology – how do they review credit cards, and what standards do they hold themselves to?
The BestCards Methodology & Process
BestCards prides itself on offering impartial, comprehensive reviews on more credit cards than anyone else. Our team studies various factors to let you understand what a card is like to live with day after day. This process takes hours but yields a comprehensive guide on which we proudly put our name. Here are the key factors we consider when reviewing a credit card offer:
Our Editorial Commitment to You
BestCards.com wants to be your trusted source for comprehensive and unbiased credit card reviews. We understand that making informed decisions about your financial well-being is crucial, so we take financial reviews' ethics seriously. Our goal is to empower consumers by providing accurate and reliable information about credit cards.
To achieve this, our team meticulously follows guidelines designed to maintain the highest standards of integrity and transparency. This process involves:
Comprehensive Analysis
Our credit card reviews go beyond surface-level information. We conduct in-depth research on each card, considering rewards programs, interest rates, fees, and benefits. By providing a comprehensive analysis, we ensure that our readers understand the card's features and suitability for their financial needs.
Unbiased Perspective
We approach credit card reviews with an unbiased mindset. Our editors and writers prioritize objectivity, basing their assessments on the card's merits and drawbacks. We do not allow conflicts of interest or outside influence to compromise the integrity of our reviews. Our commitment to impartiality ensures our readers receive fair evaluations they can trust.
Clear and Concise Information
We understand that financial jargon can be overwhelming, especially for those new to credit cards. That's why we strive to present information clearly and concisely. Our reviews break down complex terms and concepts into easily digestible explanations, making it easier for readers to grasp the key details and make informed decisions.
Accurate and Up-to-Date Data
Our team of experts diligently verifies all the information provided in our credit card reviews. We rely on reputable sources and direct communication with credit card issuers to ensure the accuracy of our data. Additionally, we constantly update our reviews to reflect any changes in terms, benefits, or fees. This commitment to accuracy ensures that our readers have the most reliable and up-to-date information available.
Reader-Oriented Approach
Our primary concern is the well-being of our readers. We recognize the significant impact that credit cards can have on an individual's financial situation. Therefore, we prioritize their best interests throughout the review process. We strive to answer common questions, address concerns, and provide guidance to help readers make informed decisions. Our duty of care is empowering our readers to navigate the complex world of credit cards confidently.
By adhering to these guidelines, we aim to provide credit card reviews that are informative and trustworthy. We recognize the importance of financial ethics and the impact our reviews can have on individuals' lives. At BestCards.com, we are committed to delivering clear, concise, and authoritative information to our readers, ensuring they can rely on us as a reliable resource for all their credit card needs.
Factors We Consider When Reviewing a Credit Card or Product
Our team studies various factors to let you understand what a card is like to live with day after day. This process takes hours of time but yields a comprehensive guide we're proud to put our name on. Before jumping into the key factors we gauge when reviewing a credit card offer, here's an example of our credit card methodology in practice, with a popular credit card offer from our affiliates:
21.49%, 24.49%, or 29.49% variable based on creditworthiness and the Prime Rate

Regular Purchase APR

21.49%, 24.49%, or 29.49% variable based on creditworthiness and the Prime Rate

Balance Transfer APR

29.24% variable based on the Prime Rate

Cash Advance APR
At a Glance
The Bilt World Elite Mastercard is a unique rewards credit card from Wells Fargo that lets users earn 1X on monthly rent payments, 3X on travel, 2X on dining, and offers impressive perks including Lyft and DoorDash statement credits – all for no annual fee.
Best Benefits
Rates & Fees
Why Should You Apply?
No annual fee

No foreign transaction fees

Earn 1X points on rent payments (up to 50,000 points each calendar year)

Earn 2X points on travel

Earn 3X points on dining
Regular Purchase APR: 21.49%, 24.49%, or 29.49% variable based on creditworthiness and the Prime Rate
Balance Transfer APR: 21.49%, 24.49%, or 29.49% variable based on creditworthiness and the Prime Rate
Balance Transfer Transaction Fee: Introductory fee of either $5 or 3% of the amount of each balance transfer, whichever is greater, for 120 days from account opening. After that, up to 5% for each balance transfer, with a minimum of $5
Cash Advance APR: 29.24% variable based on the Prime Rate
Cash Advance Transaction Fee: Either $10 or 5% of the amount of each advance, whichever is greater
Late Payment Penalty Fee: Up to $40
You rent and want to earn rewards on your monthly rental payments

You're a member of Bilt Rewards

You don't want to pay an annual fee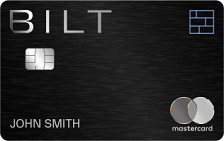 Interest Rates (APR)
With the myriad rewards and perks of many credit cards, it's easy to overlook the Annual Percentage Rate (APR) that cards charge. The APR is the interest rate cardholders must pay if they don't pay their statement balance monthly.
Most credit cards have a variable APR, meaning the rate will vary depending on two factors. These factors are the creditworthiness of the applicant and the current Prime Rate (the rate at which the Federal Reserve charges banks to borrow money). Other cards, mainly secured cards, feature a fixed-rate APR. Cards with a fixed rate typically do not change. If they do, it might be due to the Prime Rate, but not creditworthiness, making them an attractive option for some.
Nobody wants to acquire credit card debt when they apply for a new card, but that is true for millions. The average American currently owes around $6,500 in credit card debt, according to a study by Experian.
BestCards emphasizes APR when evaluating a credit card because it is something many unwittingly overlook. Credit card interest isn't a one-off payment – it compounds. Compound interest means you will pay interest on your interest should you not pay your bill in-full multiple times. And, with the average interest rate on a credit card at around 21%, those charges can quickly accumulate.
Evaluating APR also encompasses penalty APR, balance transfer APR, and cash advance APR. These are interest rates for specialty transactions or – in the case of penalty APR – making late payments. It's not all doom and gloom, however. We also place particular emphasis on 0% introductory APR periods. These welcome bonuses make a card an excellent option for those with existing balances they want to pay off or for significant purchases they plan to finance (without interest) over a set period of time.
Credit Card Fees
Fees also play a crucial role in effectively evaluating a credit card. "Fees" is a broad term that applies to various charges associated with an account.
The most prominent fee with a credit card is the annual fee. Many credit cards feature no annual fees, meaning there is no inherent cost for owning the card account. Some cards, notably travel rewards and credit cards for bad credit, charge a fee, which can be as low as $25 or as high as $550.
However, a high annual fee doesn't automatically disqualify a card, as the yearly charge needs to be closely compared with the value of card membership benefits. These benefits may include a VIP tier with loyalty programs, statement credits, lounge access, or other perks.  With credit-rebuilding credit cards, this value is different, with more emphasis placed on the credit-building capabilities of the card, the availability for those with poor credit scores, and the credit lines these cards extend.
Other Types of Fees
While issuers fully disclose their fees in the "terms and conditions," many people neglect to read these forms before applying for credit carefully. Because of this, it's all too common for people to feel blindsided when facing a maintenance fee, a fee when using the card abroad, or a fee for adding an authorized user.
BestCards emphasizes the likelihood that a cardholder will encounter a fee and how much this fee will impact their cardholder experience. If a travel card, for example, features a high foreign transaction fee, this would be detrimental, unlike an airline card with no foreign transaction fees.
Here's a selection of the key credit card terminology you may see on BestyCards.com, along with an explanation of what the fee is and when it applies:
| Type of Fee | When It's Charged |
| --- | --- |
| Account Maintenance | The monthly fee for servicing an account |
| Annual Fee | Yearly as a membership charge |
| Balance Transfer | Transferring balances between accounts |
| Cash Advance | Withdrawing cash from a credit line |
| Employee Cards | Issuing additional cards for employees |
| Foreign Transaction | Making a purchase in a foreign country |
| Late Payment | Paying a bill after its due date |
| Over-the-limit | Exceeding the credit limit |
| Returned Payment | Bill payment does not go through |
| Type of Fee | When It's Charged |
Credit Card Perks
Perks and benefits of card membership are also crucial categories for evaluating the overall value a credit card offer provides. Cards with higher annual fees typically offer better perks, but that's not a hard-and-fast rule. And even if a card charges an annual fee in the hundreds of dollars, if the value of the perks doesn't match that price tag, it may not be worth applying for.
BestCards always highlights what each credit card offers to provide value and how these benefits can save money. Whether they are travel benefits, business benefits, or even security perks, we carefully consider how these services and protections apply to different subsections of applicants and whether or not they're worth it.
Rewards
Similarly, rewards play a critical role in the value a credit card offers. Rewards are one of the most fascinating aspects of credit cards and serve as a tantalizing extra for those who plan to make the most of their new card. Rewards come in different forms and configurations but essentially break down into three categories: points, miles, and cash back.
Here's a breakdown of the types of rewards credit cards you'll encounter at BestCards:
Determining the Value of Rewards
One of the most important considerations when reviewing a rewards card is the value of credit card points on offer. The value of reward points isn't an exact science, but there are ways to gauge their value effectively. Judging the value of rewards requires careful comparisons of the cost of redemption options (like travel, merchandise, or even cash back) versus the cash equivalent for the same product or service. Because these values change frequently, however, the inherent value of points fluctuates.
Earning Rewards
How consumers earn those rewards points or miles is just as crucial as their value. As a general rule of thumb, cards with complicated reward structures provide limited value to the average individual. These cards offer exceptional value to the seasoned traveler or credit card churner, but to the average person, it likely isn't worth the hassle.
BestCards always strives to evaluate how a card earns its rewards to provide a better understanding of what it's like to live with and use that product every day. This analysis includes a close look at signup bonuses, the expiration of points, and if they transfer to other loyalty programs.
Redeeming Rewards
Earning rewards is good, but redeeming them is excellent. Rewards programs that provide ample redemption options are always preferable, but that doesn't mean cards with only one redemption option aren't worthwhile. Some cash back credit cards offer limited rewards options, but statement credits provide exceptional value for those looking to reduce their monthly payments. Cards linked with investment accounts also offer extraordinary value, despite the limited options for using rewards.
However, the best rewards programs offer the greatest variety of award options. These may include:
| | | |
| --- | --- | --- |
| Travel | Statement credits | Merchandise |
| Gift cards | Charity | Points transfers |
BestCards closely monitors all the leading loyalty programs to provide a detailed analysis of which credit cards offer users the best value for money. Our team understands how important points are in choosing a credit card, so we strive to provide the crucial information you need to decide.
Credit Required
Excellent rewards and impressive perks don't mean a thing if you won't be approved. Understanding credit requirements is critical for choosing a credit card. After all, most credit card applications result in a hard inquiry, which can negatively impact your credit score.
While BestCards does not inherently judge a credit card based on the creditworthiness requirements, we emphasize providing the best credit card offers for those with fair credit, bad credit, or no credit history. This is because almost 50 million Americans struggle with a subprime credit score.
Repairing credit can be challenging, mainly when some card issuers only target their products toward those with good or excellent credit scores. Our team strives to highlight the best credit cards for bad credit, paying close attention to the ease of application, the credit limits are available, potential credit limit increases, and the ability to use the card to build credit quickly.
Other Considerations
BestCards also looks at the intangibles of a credit card, the issuers, and other unique considerations. These factors include the quality of the customer service experience, the ease of use of the mobile application, free credit scores, or other credit-building tools.
The BestCards Promise
We set out to provide comprehensive and impartial credit card reviews and advice for readers, and it's that purpose which drives everything the BestCards team does every day. Our team takes immense pride in providing reviews designed with every credit score, traveler, business, and consumer in mind.
While our weight on specific metrics may vary, depending on the card type or credit score required, our guiding principles remain: To provide in-depth reviews on the best credit cards available today. Whether it's a major issuer or a small, local credit union, we'll give you the unbiased insights you need to find your best card.