by Cory Santos | Last updated on September 18th, 2023
21.49%, 24.49%, or 29.49% variable based on creditworthiness and the Prime Rate

Regular Purchase APR

21.49%, 24.49%, or 29.49% variable based on creditworthiness and the Prime Rate

Balance Transfer APR

29.24% variable based on the Prime Rate

Cash Advance APR
At a Glance
The Bilt World Elite Mastercard is a unique rewards credit card from Wells Fargo that lets users earn 1X on monthly rent payments, 3X on travel, 2X on dining, and offers impressive perks including Lyft and DoorDash statement credits – all for no annual fee.
Best Benefits
Rates & Fees
Why Should You Apply?
No annual fee

No foreign transaction fees

Earn 1X points on rent payments (up to 50,000 points each calendar year)

Earn 2X points on travel

Earn 3X points on dining
Regular Purchase APR: 21.49%, 24.49%, or 29.49% variable based on creditworthiness and the Prime Rate
Balance Transfer APR: 21.49%, 24.49%, or 29.49% variable based on creditworthiness and the Prime Rate
Balance Transfer Transaction Fee: Introductory fee of either $5 or 3% of the amount of each balance transfer, whichever is greater, for 120 days from account opening. After that, up to 5% for each balance transfer, with a minimum of $5
Cash Advance APR: 29.24% variable based on the Prime Rate
Cash Advance Transaction Fee: Either $10 or 5% of the amount of each advance, whichever is greater
Late Payment Penalty Fee: Up to $40
You rent and want to earn rewards on your monthly rental payments

You're a member of Bilt Rewards

You don't want to pay an annual fee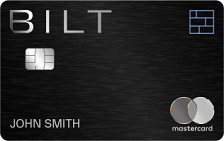 Bilt Mastercard Review
Earning rewards on expenses like rent usually requires a third-party website, which includes additional fees that can make the value of the points on offer less appealing. The Bilt Mastercard takes away the worry of extra fees and confusing workarounds by offering reward points on rent payments with no annual fee.
Pay Rent at Any Apartment Complex
The Bilt Mastercard lets users pay their rent and earn 1X points in the process. The card operates with a vast array of properties owned by the Blackstone Group – the U. S's largest real estate group. Cardholders earn 1X points on every $1 spent on rent through the Blackstone Group – up to $50,000 in spending each year. Keep in mind that the card offers points based upon their Bilt tier status (see below).
But what happens if Blackstone doesn't own your apartment? Don't worry! The Bilt credit card will help you earn 1X points on rent no matter who your landlord is. If your apartment doesn't accept credit cards or you rent outside the Bilt Rewards Alliance of landlords, simply make your payment through Bilt's mobile app, and the company will mail a physical check to your landlord. This process ensures your rent is paid in a streamlined manner while still earning double rewards points.
The Bilt Alliance typically charges a transaction fee of 3% for rent payments made through the mobile app. Fortunately, this fee is waived for Bilt Mastercard cardholders – adding even more value for no annual fee.
Special Lyft Benefit
Bilt also provides a special bonus category, just for Bilt members. Bilt Mastercard members who link their Bilt account to Lyft, and select Bilt as the primary rewards partner with Lyft, earn 5X points per $1 sent on purchases with the rideshare company.
That 5X on Lyft rides is in addition to the Lyft statement credit the card provides. Cardholders earn a $5 Lyft statement credit each month they use the Bilt Mastercard to pay for Lyft rides. Just make sure you're using the latest version of the app to ensure your rewards are counted.
Earn On Other Purchases
The Bilt Mastercard also earns impressive points on other everyday purchases. The card earns 3X points on dining purchases, including takeout and delivery services. The card also earns double points (2X per $1 spent) on travel purchases booked directly with an airline, hotel, car rental or cruise line. To earn rewards the cardholder must make at least five purchases with the card each month – a fairly simple task.
Special Bonus Savings on Rent
Bilt is also providing a limited-time bonus for new accounts. New cardholders earn 3X points on their first rent payment, with a limit of 10,000 points.
Bilt Rewards Tiers
Bilt Rewards comes in four distinct tiers, each of which earns different reward points on rental payments:
| | |
| --- | --- |
| Bilt Rewards tier | Benefits |
| Blue | Base tier, with cardholders enjoying 1:1 point transfers with partners, access to the Bilt collection, and more. |
| Silver | Reached after earning 25,000 points. Cardholders enjoy 10% Bonus points on points from new leases and renewals and interest earned on points. |
| Gold | Reached after earning 50,000 points. Cardholders enjoy 25% Bonus points on points from new leases and renewals, homeownership concierge, and interest earned on points. |
| Platinum | Reached after earning 100,000 points. Cardholders enjoy 50% Bonus points on points from new leases and renewals, homeownership concierge, and interest earned on points. Platinum tier also receives a complimentary gift from the Bilt collection. |
Why Pay Your Rent with a Credit Card?
What benefit does an individual get from paying their rent with a credit card? Because they pay through their Bilt Mastercard, users can build their credit twice as fast as normal. In addition, because Bilt reports monthly to the major credit bureaus (Experian, Equifax, and TransUnion), cardholders can raise their credit score simply by paying their rent.
And because landlords can report on-time rental payments to credit bureaus, cardholders can have their on-time rental payments count twice towards their credit score. Simply ask your landlord to report your rental payments to the credit bureaus through services like RentReporters, LevelCredit, or others.
How to Redeem Points
There are an impressive assortment of redemption options through the Bilt Rewards program. Cardholders can trade in their points through several airline and hotel loyalty programs, including:
| | | | |
| --- | --- | --- | --- |
| AAdvantage | Aeroplan | Emirates Skywards | Flying Blue |
| IHG Rewards | World of Hyatt | Virgin Points | |
Bilt points transfer at a 1:1 ratio for those transfer partners, meaning cardholders enjoy exceptional value with the Bilt credit card – on par with some of the best travel cards. Bilt members can also use the popular award search tool and deals aggregator, Point.me, to search for award availability for Bilt partners.
Cardholders can also use their points to cover rent payments through Bilt, or towards a future down payment. Bilt is hailing the card as the first credit card that actually allows users to use their rewards points towards a down payment on a home.
Other options for point redemptions include:
Membership and classes through Soul Cycle, Y7 Studio, or Rumble
Art, home décor, and apparel through the Bilt Collection
Statement credits
Bilt Wallet
Bilt Wallet is a digital wallet that lives within the Bilt Rewards app. The wallet accepts credit cards from the four main payment networks: American Express, Discover, Mastercard, and Visa. The wallet feature lets members add multiple credit cards, allowing greater flexibility in earning rewards.
Bilt Dining
Dining programs are a popular feature of many airlines' frequent flyer programs. These programs allow members to earn additional airline miles with select restaurants – just for using a linked credit card. Bilt also offers a dining portal, known as "Bilt Dining."
What Is Bilt Dining?
Bilt Dining is the latest addition to the Bilt Rewards program. Like other dining programs, Bilt Dining allows Bilt Rewards members to earn points on select dining purchases – regardless of the credit card used to pay. Bilt Dining was made possible by adding a Bilt Wallet to the company's mobile app.
How to Use Bilt Dining
Using Bilt Dining is simple. The program lives within the Bilt mobile app interface under the "Dining" tab. There, you'll find a list of eligible restaurants, currently limited to Atlanta, Boston, Chicago, Dallas, and New York City, although Bilt plans to continuously add new locations. You can sort results by Bilt's top picks or filter by location, cuisine type, and price range.
Bilt cardholders earn 3X points on dining, plus double the points on the first of each month – known as "Rent Day." Bilt members earn 5X points per $1 spent with select dining partners. That earning rate jumps as high as 11X points per $1 spent when you combine "Rent Day" and the Bilt Mastercard.
Here's a breakdown of the math:
Action
Rewards
Total Points
Eating at an eligible Bilt Dining restaurant
5X per $1
5
Paying with the Bilt Mastercard
3X per $1
3
"Rent Day" bonus
Additional 2X on all purchases*
6
11X per $1
*Bilt Dining not eligible for "Rent Day"
It's worth noting that Bilt does not double the 5X points members earn through the dining portal. Bilt only doubles the 3X Bilt Mastercard holders earn.
Rewards earned through the Dining program are credited to the Bilt Rewards account around seven days after dining. Additionally, delivery services like Uber Eats or GrubHub are ineligible for the 5X rewards per $1 spent.
Card Comparison
Here is how the Bilt Mastercard stacks up against two cash back competitors:

Bilt Mastercard

Citi Custom Cash℠ Card

Savor Cash Rewards Card
Earn 5X on Lyft*, 3X on dining, 2X on travel, and 1X on rent payments*
Earn 5% back on op eligible spend category each billing cycle, up to the first $500 spent, 1% cash back thereafter., plus 1% on all other purchases (categories include gas, transit, travel, dining, etc.
Earn 4% back on dining, entertainment, and popular streaming services, 3% on groceries, and 1% on everything else
$5 Lyft credit each month*
N/A
$10 Postmates credit each month*
No annual fee
No annual fee
$95 annual fee
* See terms
Other Card Features
Other notable features of the Bilt credit card include:
$60 in Lyft statement credits each year
$120 in DoorDash statement credits each year
Cell phone protection of up to $1000 per year if your phone is lost or damaged
Bilt Mastercard members also enjoy Mastercard World Elite benefits, including:
| | | |
| --- | --- | --- |
| Zero Liability Protection | Airport Concierge | Cell Phone Protection |
| Mastercard Global Services | Priceless Experiences | Lyft Credits |
| ID Theft Protection | Priceless Golf | DoorDash Offers |
| Mastercard Travel Services | ShopRunner Membership | Hello Fresh Savings |
| Mastercard Hotel Stay Guarantee | Fandango Savings | |
Should You Apply for the Bilt Mastercard?
The Bilt Mastercard offers plenty to get excited about for those that rent and want to earn impressive rewards when making their monthly payment. Of course, the card also offers up to 3X points on non-rent purchases, making it a great option for travelers that want to enjoy savings off Bilt rent or down payments on eligible properties in the Bilt portfolio.
The rewards points are less exciting for the basic tiers, and users may find better value through third-party payment services such as GoCardless, Thryv, or others. For landlords that do not accept mobile payments, however, the Bilt Card is still an exceptional offer, thanks to the chance to earn points and mail a physical check at the same time.
Overall, the Bilt credit card offers plenty of value for no annual fee. Interested in earning rewards and building your credit with rent payments? The Bilt Mastercard might just be your next credit card.
Browse Other Card Offers:
Editorial Disclosure – The opinions expressed on BestCards.com's reviews, articles, and all other content on or relating to the website are solely those of the content's author(s). These opinions do not reflect those of any card issuer or financial institution, and editorial content on our site has not been reviewed or approved by these entities unless noted otherwise. Further, BestCards.com lists credit card offers that are frequently updated with information believed to be accurate to the best of our team's knowledge. However, please review the information provided directly by the credit card issuer or related financial institution for full details.