Regular Purchase APR

15.65% or 23.65% variable based on creditworthiness and the Prime Rate

Balance Transfer APR

15.65% or 23.65% variable based on creditworthiness and the Prime Rate

Cash Advance APR

15.65% or 23.65% variable based on creditworthiness and the Prime Rate

Annual Fee

None

Credit Needed

Excellent , Good , Fair

Processing Network

Mastercard
Earn 5% cash back on gas anywhere Mastercard is accepted (on first $6,000 per year, then 1%)

Earn 3% cash back on Sam's Club purchases for Plus members. Club members earn 1% cash back

Earn 3% cash back on dining and takeout

Earn 1% cash back on other purchases at Sam's Club and wherever Mastercard is accepted

No annual fee
Regular Purchase APR: 15.65% or 23.65% variable based on creditworthiness and the Prime Rate
Balance Transfer APR: 15.65% or 23.65% variable based on creditworthiness and the Prime Rate
Balance Transfer Transaction Fee: Either $10 or 4% of the amount of each transfer, whichever is greater
Cash Advance APR: 15.65% or 23.65% variable based on creditworthiness and the Prime Rate
Cash Advance Transaction Fee: Either $5 or 3% of the amount of each cash advance, whichever is greater
Late Payment Penalty Fee: Up to $40
Casey's Visa Signature® Card
Regular Purchase APR

13.99% to 17.99% variable based on creditworthiness and the Prime Rate

Balance Transfer APR

13.99% to 17.99% variable based on creditworthiness and the Prime Rate

Cash Advance APR

24.99% variable based on the Prime Rate

Annual Fee

None

Credit Needed

Excellent , Good

Processing Network

Visa
No annual fee

Save up to 10 cents per gallon for the first 60 days

Earn 4% on purchases at Casey's and 2% on all other purchases for first 60 days

Earn 2% on purchases at Casey's locations and 1% on all other purchases

Receive a Casey's Gift Card when you accumulate $20 in rebates
Regular Purchase APR: 13.99% to 17.99% variable based on creditworthiness and the Prime Rate
Intro Balance Transfer APR: 0% for 12 months
Balance Transfer APR: 13.99% to 17.99% variable based on creditworthiness and the Prime Rate
Balance Transfer Transaction Fee: Either 3% of the amount of the transfer or $15, whichever is greater
Cash Advance APR: 24.99% variable based on the Prime Rate
Cash Advance Transaction Fee: Either 3% of the amount of the advance or $15, whichever is greater$50 maximum
Foreign Transaction Fee: 2% of the transaction in U.S. dollars
Late Payment Penalty Fee: Up to $38
Return Payment Penalty Fee: Up to $38
Buc-ee's Platinum Mastercard®
Regular Purchase APR

7.99% to 17.99% variable based on creditworthiness

Balance Transfer APR

7.99% to 17.99% variable based on creditworthiness

Cash Advance APR

0% introductory for 6 months. After that, 7.99% to 17.99% variable based on creditworthiness

Annual Fee

None

Credit Needed

Good

Intro Purchase APR

0% for 6 months from account opening date

Processing Network

Mastercard
0% Intro APR on purchases, balance transfers & cash advances

10¢ discount on fuel at Buc-ee's stations

No annual fee

Worldwide acceptance and ATM access

No cash advance or balance transfer fees
Intro Purchase APR: 0% for 6 months from account opening date
Regular Purchase APR: 7.99% to 17.99% variable based on creditworthiness
Intro Balance Transfer APR: 0% for 12 months from account opening date
Balance Transfer APR: 7.99% to 17.99% variable based on creditworthiness
Cash Advance APR: 0% introductory for 6 months. After that, 7.99% to 17.99% variable based on creditworthiness
Foreign Transaction Fee: See Terms
Late Payment Penalty Fee: Up to $25
Return Payment Penalty Fee: Up to $25
Save up to 8 cents per gallon at Sheetz pumps with a MySheetz Rewardz membership

5% cash back on Sheetz in-store purchases

1% back on all other qualifying purchases

No annual fee
Regular Purchase APR: 21.74% to 27.74% variable based on creditworthiness and the Prime Rate
Balance Transfer APR: 21.74% to 27.74% variable based on creditworthiness and the Prime Rate
Balance Transfer Transaction Fee: Either $10 or 5% of the amount of each transfer, whichever is greater
Cash Advance APR: 25.24% variable based on the Prime Rate
Cash Advance Transaction Fee: Either $15 or 5% of the amount of each cash advance, whichever is greater
Foreign Transaction Fee: 3% of each transaction in U.S. dollars
Late Payment Penalty Fee: Up to $40
Return Payment Penalty Fee: Up to $35
Clark Crown Endless Rewards Mastercard®
Regular Purchase APR

15.24% to 25.24% variable based on creditworthiness and the Prime Rate

Balance Transfer APR

15.24% to 25.24% variable based on creditworthiness and the Prime Rate

Cash Advance APR

25.24% variable based on the Prime Rate

Annual Fee

None

Credit Needed

Excellent , Good

Intro Purchase APR

1.99% for 6 months from account opening date

Processing Network

Mastercard
No annual fee

Unlimited 1.5% back on Clark Crown purchases

Unlimited 1% back on all other purchases

Rewards never expire
Intro Purchase APR: 1.99% for 6 months from account opening date
Regular Purchase APR: 15.24% to 25.24% variable based on creditworthiness and the Prime Rate
Intro Balance Transfer APR: 1.99% for the first 6 months
Balance Transfer APR: 15.24% to 25.24% variable based on creditworthiness and the Prime Rate
Balance Transfer Transaction Fee: Either $10 or 5% of the amount of each transfer, whichever is greater
Cash Advance APR: 25.24% variable based on the Prime Rate
Cash Advance Transaction Fee: Either $10 or 5% of the amount of each advance, whichever is greater
Penalty APR: 27.24% variable based on the Prime Rate
Foreign Transaction Fee: 1% of each transaction in U.S. dollars. 2% of each transaction made in currencies other than U.S. dollars
Late Payment Penalty Fee: Up to $40
Save up to 10 cents per gallon, on up to 20 gallons every time you fill up (5 cents per gallon with the card and 5 cents per gallon with Fuel Rewards Gold Status)

Enjoy 10% Shell rebates on your first $1,200 Shell non-fuel purchases per year

Enjoy 2% shell rebates on your first $10,000 Dining and Groceries purchases ber year

Enjoy 1% Shell rebates on all other qualifying purchases

Rebates are applied as a statement credit against Shell purchases made with your card in future billing cycles
Regular Purchase APR: 26.49% variable based on the Prime Rate
Cash Advance APR: 29.95% variable based on the Prime Rate
Cash Advance Transaction Fee: Either $10 or 5% of the amount of each cash advance, whichever is greater
Foreign Transaction Fee: 3% of each purchase transaction in U.S. Dollars
Late Payment Penalty Fee: Up to $40
No annual fee

Earn Unlimited 1.5% cash back on everyday purchases

Earn cash back everywhere Visa is accepted

A portion of every purchase goes towards wetlands conservation efforts
Regular Purchase APR: 19.99% variable based on the Prime Rate
Balance Transfer APR: 19.99% variable based on the Prime Rate
Balance Transfer Transaction Fee: Either $10 or 5% of the amount of each transfer, whichever is greater
Cash Advance APR: 25.24% variable based on the Prime Rate
Cash Advance Transaction Fee: Either $15 or 5% of the amount of each cash advance, whichever is greater
Foreign Transaction Fee: 3% of the transaction amount in U.S. dollars
Late Payment Penalty Fee: Up to $40
Return Payment Penalty Fee: Up to $35
Earn 30 cents off per gallon for every $100 spent at BP for the first 90 days from account opening

Earn 3% cash back on grocery store purchases

Earn 1% cash back on purchases made everywhere else Visa credit cards are accepted

No annual fee
Regular Purchase APR: 29.99%
Cash Advance APR: 29.99%
Cash Advance Transaction Fee: Either $10 or 5% of the amount of each transaction, whichever is greater
Foreign Transaction Fee: 3% of the transaction amount in U.S. dollars
Late Payment Penalty Fee: Up to $39
Earn 30¢ per gallon during first 90 days

Earn 3-7¢ per gallon based on fuel grade (Limited time offer)

Earn up to an extra 10¢ per gallon in Fuel Credits

No annual fee
Regular Purchase APR: 29.99%
Cash Advance APR: 29.99%
Cash Advance Transaction Fee: Either $10 or 5% of the amount of each transaction, whichever is greater
Foreign Transaction Fee: 3% of the transaction amount in U.S. dollars
Late Payment Penalty Fee: Up to $40
Return Payment Penalty Fee: $29
Earn 10 cents on every gallon in fuel statement credits during the first three months of account opening. After that, earn 5 cents per gallon

No annual fee

Use your card at more than 5,500 CITGO locations

No extra cost for adding authorized users to your account
Regular Purchase APR: 29.99% variable based on the Prime Rate
Cash Advance APR: 29.99%
Cash Advance Transaction Fee: Either $10 or 5% of the amount of each transaction, whichever is greater
Late Payment Penalty Fee: Up to $40
Return Payment Penalty Fee: $29
What is a Gas Rewards Credit Card?
Gas rewards credit cards are cards that offer exclusive rewards on purchases of gasoline at gas stations. Gas credit cards typically provide their bonuses like cash back. However, some options let cardholders use their gas savings towards other types of loyalty program rewards. One example of such a card is the PenFed Platinum Rewards Visa Signature, which allows holders to use their rewards for travel, merchandise, and other awards.
Fuel rewards cards are divisible into two unique groups: cards branded for one gas station chain (like the Marathon Visa, or cards with Exxon or Shell) and cards that offer savings no matter which station they are used at. The earning rate with these cards varies, from five cents to ten cents per gallon, or 1% to 3% cash back on gas purchases. There are, however, gas cards that earn much more than 3%, with the PenFed Platinum Rewards earning 5% on all gas purchases.
Another common feature of a gas rewards card is no annual fee. This is in line with many other cash back rewards credit cards, which don't charge cardholders a yearly fee for the privilege of earning savings with their purchases. If you would like more information on how much you're spending on gasoline per month, check out this helpful guide to automobile energy costs per state from ChooseEnergy.com.
What's the Best Gas Card for Everyday Use?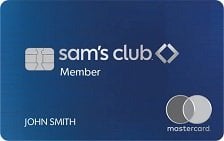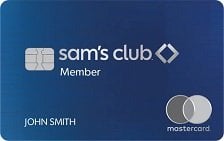 Doubles As Your Membership Card
Earn 5% cash back on gas anywhere Mastercard is accepted (on first $6,000 per year, then 1%)

Earn 3% cash back on dining and takeout
The Sam's Club® Mastercard® offers Sam's Club members everywhere up to 5% cash back on gas purchases, 3% back on dining, and more – all for no annual fee. From Synchrony Bank, the card also features no foreign transaction fees, Mastercard's near-global acceptance, and special savings when shopping at Sam's locations nationwide.
Here rae answers to some of the most commonly asked questions about credit cards that save money on gas:
Get a $30 statement credit after making $30 in Sam's Club purchases within 30 days*
Don't have a Sam's Club® Mastercard® yet?