Filter You've viewed 5 of 66 credit cards
What Is a Poor Credit Score?
A bad credit score is a score that falls below what credit reporting bureaus deem to be average, or "fair." Bad scores indicate that a person is at a higher risk of missing payments, making late payments, or defaulting on their loans.
To put it bluntly, a bad or poor credit score tells a bank or lender that an individual is less creditworthy than someone with a higher score. Fortunately, credit scores are not set in stone. Instead, they are easily changeable through proactive measures and following financial best practices.
Before fixing a damaged credit score, it is crucial to understand what a credit score is, and what is considered good, bad, or ugly by different credit reporting bureaus. The two main credit scoring models that banks use to gauge creditworthiness are FICO and VantageScore.
FICO is the oldest of the credit scoring systems, and as such, is the most popular among banks. A FICO score ranges from 300 to 850, with ratings ranging from Very Poor (bad) to Exceptional VantageScore is a newer scoring model created by the three leading credit agencies: Experian, Equifax, and TransUnion. Like FICO, VantageScore ranges from 300 to 850, but places more scoring weight on newer credit histories than FICO.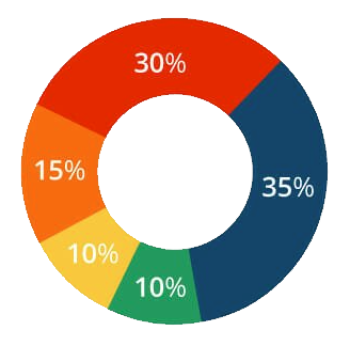 | | |
| --- | --- |
| FICO Scoring Factor | % of Score |
| Payment history/ late payments | 35% |
| Total amount owed on credit accounts | 30% |
| Average length of credit history | 15% |
| Types of credit accounts | 10% |
| New credit applications (hard inquiries) | 10% |
How Poor Credit Can Hurt You Financially
What impact can a bad credit score have on your financial life? Or even your everyday life, for that matter? Understanding how a bad credit score can impact your life negatively is essential in building a better financial future. Understanding how a bad credit score can impact your life negatively is essential in building a better financial future.
Here are the biggest impacts of bad credit on your life:
| | |
| --- | --- |
| Tougher odds of receiving new credit offers | Higher loan terms |
| Difficulty finding apartments to rent | Loss of certain job opprotunities |
First and foremost, bad credit can make getting approved for loans, credit cards, and even rental properties challenging. Lenders and landlords typically rely on your credit score to determine your level of risk as a borrower or tenant. With a low credit score, your lender or landlord may deny your applications outright, feeling you are a potential risk.
A bad credit score can also result in higher interest rates for loans and credit cards. This negative impact means you will pay more over time, potentially adding up to thousands of dollars in extra fees and interest charges.
Bad credit can also impact your ability to secure specific jobs or obtain security clearances. Employers and government agencies may check your credit report as part of the hiring or clearance process.
How to Improve a Poor Credit Score
Bad credit has serious ramifications in everyday life. Fortunately, there is something you can do – here are some of our top tips for improving your credit score:
| | |
| --- | --- |
| ① Check your credit score | The first thing you should do is check your credit score to see where you stand. You might already know your credit score is bad, but how far down on the scale, does it go? Knowing how fast you can improve your credit from "bad" to "fair" is crucial to making a financial plan of attack. |
| ② Get a credit card for subprime credit | Part of boosting your credit score is increasing your use of credit. For those with bad credit, this may seem counter-intuitive. Fortunately, there are many unsecured credit cards for poor credit and secured cards that can help you repair your credit score. |
| ③ Pay on time each month | As seen in the scoring models, payment history is the biggest factor in your credit score. Because payment history is so important, paying your credit card bill on time each month is essential to boosting sub-prime credit. Missed payments stay on a credit report for seven years. |
| ④ Keep your credit use low | Credit utilization is as important as paying on time. Credit utilization shows lenders how you use your credit. Those who keep their credit use below 30% can expect their score to improve, while those who use less than 10% can expect a much faster score rise. |