What Is a Bad Credit Score?
A bad credit score is nothing to be ashamed of. According to a recent study conducted by YouGov, 53% of Americans have experience with being rejected for an application because of a bad or poor score.
So, what is a "bad credit score?" According to our helpful Credit Score Explained guide, a FICO Score below 579 is considered "bad" or "poor." For VantageScore, an alternative scoring model created by Experian, Equifax, and TransUnion, a bad score is any credit score below 600.
Credit Score Range
Before fixing a damaged credit score, it is crucial to understand what a credit score is, and what is considered good, bad, or ugly by different credit reporting bureaus. The two main credit scoring models that banks use to gauge creditworthiness are FICO and VantageScore.
FICO Score
FICO is the oldest of the credit scoring systems, and the most popular credit bureau for banks. A FICO score ranges from 300 to 850, with ratings ranging from Very Poor (bad) to Exceptional.
The FICO scoring model breaks down as follows:


VantageScore
VantageScore is a newer scoring model created by the three leading credit agencies: Experian, Equifax, and TransUnion. Like FICO, VantageScore ranges from 300 to 850, but places more scoring weight on newer credit histories than FICO.
The VantageScore model breaks down as follows: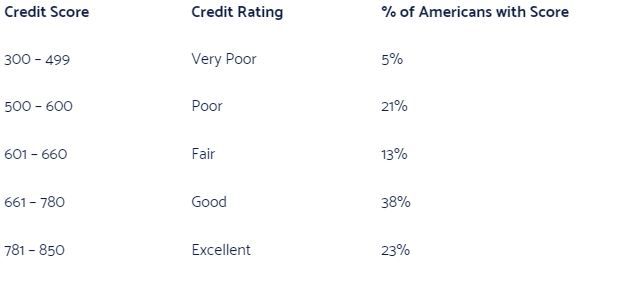 What Factors Influence Your Credit Score?
As you can see from both models, there are plenty of Americans currently struggling with a sub-prime or bad credit score. But what are the items and factors that influence credit scores?
FICO places significant weight on payment history, as this is the biggest indicator of a person's ability to repay any new credit they may receive. Nearly as important is the amount of available credit that individual is currently utilizing, which makes up 30% of the score.
Of less significance, but still important) are the types of credit a person has, the number of hard inquiries they have in the past 12 months, and the length of their overall credit history. VantageScore places a much greater emphasis on types of credit (or credit mix) than FICO. Equally important, however, is payment history.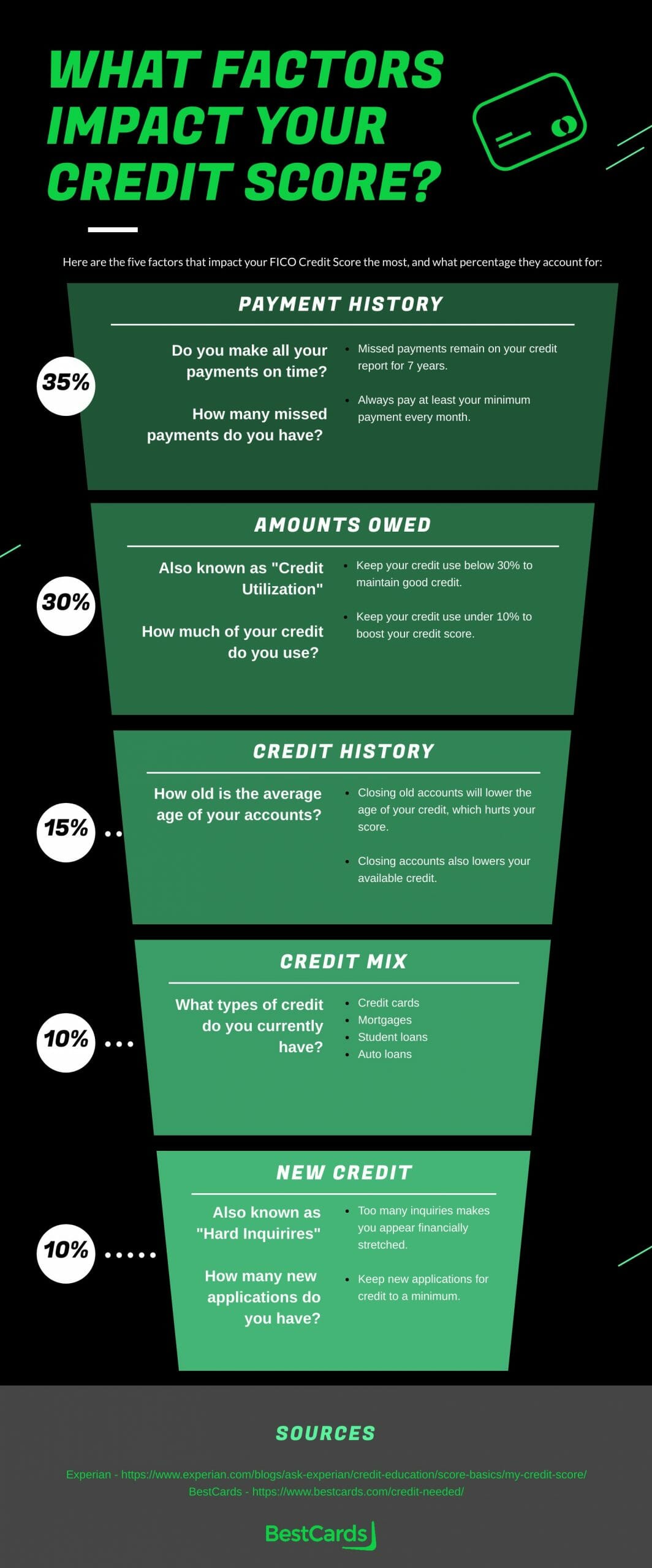 How A Bad Credit Score Can Hurt You Financially
What impact can a bad credit score have on your financial life? Or even your everyday life, for that matter?
Tougher to Receive Credit
The most obvious impact of bad credit is a more difficult time getting approved for new lines of credit. Those with poor credit will struggle to get most credit cards with a few notable exceptions. Banks are much less willing to extend credit to those with bad credit, and only credit cards for bad credit or secured credit cards will be an option. People with bad credit will also struggle with getting personal loans, car loans, and mortgages.
Significantly Higher Loan Terms
Poor credit will not eliminate any chances at getting cards or loans, but those lines of credit will come with less favorable terms. Loans and credit cards for poor credit feature very high-interest rates, higher annual fees, and potentially monthly service fees.
More Difficulty When Renting Apartments
Poor credit directly impacts your ability to find housing. Landlords may be less willing to take a risk with someone with bad credit, viewing them as a potential liability.
Loss of Employment Opportunities
Bad credit can even impact your professional life. Many employers access the credit reports of potential hires to see if they are a trustworthy, reliable individual. While companies can't access your credit score, the information on your report may make you seem like a liability. Some government agencies won't hire people with poor credit, viewing them as a security risk due to their financial situation.
The good news, however, is that you can still get approved for a credit card if you have bad credit!
What to Look For When Choosing a New Credit Card
Just because you have bad credit doesn't mean you have no options to help you start rebuilding it. In fact, more and more issuers are starting to offer cards for those with less-than-perfect credit. These credit cards are known as "sub-prime" because they are for borrowers with credit scores in need of work. These cards typically feature several features you should carefully compare:
Annual Fee
Credit cards for poor credit usually come with an annual fee. That, however, doesn't apply to all offers. Some, such as the Indigo Platinum Mastercard®, can charge no annual fee. The Platinum Card for Capital One is another example of a card that might not charge a yearly fee.
However, you should anticipate a fee of anywhere up to around $100 for these types of cards. Their issues typically charge a yearly fee because the cardholder is a bigger risk as a borrower. Fortunately, you may be able to have the fee reduced – or waived – with on-time payments.
Interest Rates
Expect to see higher-than-average interest rates on these types of cards. The national average APR for this category is typically between 20% and 24%. However, it may rise as high as 30% for some retail cards.
These products feature such high-interest rates because of the risk lenders take when providing credit lines. For those determined to rebuild their credit, however, a high APR shouldn't cause much trouble. Paying your statement balance in full every month negates the high-interest rates – and helps you raise your credit score quickly.
The Best Unsecured Picks for Bad Credit for 2021
Best Card for Rebuilding Credit: 
The Destiny Mastercard is an ideal credit card for those with bad or fair credit who want the purchasing power of Mastercard but without the security deposit requirement of a secured credit card. With a modest annual fee and manageable initial credit limit, the Destiny Card doesn't care about your credit past – instead, it helps you focus on your credit repair journey.
Best "Guaranteed Approval" Credit Card:
There's no such thing as a guaranteed approval card, but Principal Platinum is the next best thing. For those in the rebuilding phase, the Principal Platinum Merchandise Card is one of the easiest unsecured cards to get. This is because it requires no employment check and no credit check. The card offers a credit line of $7500 towards purchases at the Horizon Outlet. It also comes with no interest charges and several unique benefits.
Best Bad Credit Card for Personalization:
Secured Cards
For those who struggle to get an unsecured credit card, a secured credit card is an excellent option to consider. Secured cards operate like unsecured credit cards but are "secured" with a deposit. This security deposit, which is placed into an account linked with the card, also acts as the credit limit. If you make your payments on time, your deposit is safe, but if you miss payments, your lender may take your deposit to recoup their losses.
Best for Those New to Credit
The Self Visa® Credit Card is a secured credit card from leading fintech, Self. While the card isn't available for direct applications, opening a Self Credit Builder Account and making on-time payments will guarantee you the credit building secured card – and the purchasing power of the visa network. One of the best benefits of Self is there is no hard inquiry on your credit report to open the card, and it features one of the lowest minimum deposits available. 
Best for Low APR and Bonus Offers:
The Assent Platinum 0% Intro Rate Mastercard Secured Card offers a slew of great features not typically found with secured cards. Cardholders enjoy six months of zero interest on purchases with an exceptionally low APR after that. Add to that the features and protections of a full-fledged Mastercard and regular reporting to the major credit bureaus, and you have a versatile tool for building credit.
Best for Cash Back:
The Surge Secured Mastercard® is a secured credit card that offers rewards – and the ability to build credit – in one package. The card differs from most secured cards on the market in that it earns 1% cash back rewards on every purchase and can help users build their credit score at most places in the United States where Mastercard is accepted.
Business Cards
Consumers aren't the only ones that struggle with bad credit in the United States. Thousands of businesses struggle with bad credit scores, making it challenging to finance their operations. While there are no unsecured business cards for damaged credit, there are plenty of excellent secured business credit cards on the market.
Find the Best Credit Card for Bad or Poor Credit Today
Ready to find your next card? You've come to the right place! BestCards has comprehensive and impartial reviews of the top picks on the market today. This includes options for people with imperfect credit. Browse our hundreds of reviews, use our comparison tool, and take advantage of our extensive resources and advice. Ready to get started? Let's find your best card today!