If you don't have a perfect FICO Score, have experienced bankruptcy or other financial hardship, or are just new to credit entirely, there are plenty of excellent credit options that can help you improve your financial health and build credit with responsible use. Building credit takes time and dedication – but offers numerous benefits. While qualifying for your first credit card may seem complicated, some credit card options are more accessible to apply for than others. Here are some of our top picks for the easiest credit cards to get for bad or poor credit scores or no credit history:
Credit Card Picks Summary
For those who think they can't get an unsecured card. A secured credit card is their best option. Secured cards work by requiring a cash deposit to open, which acts as the security for the spending limit upon approval. Typically, this deposit also serves as the spending limit for the card.
This means a $1,000 deposit equals a $1,000 limit. The deposit depends on the applicants and how much they can afford to put down, though many cards require a minimum of at least $200.
What Makes a Good Secured Credit Card?
When looking for secured credit cards to improve credit, there are certain things to consider. First, note the minimum deposit. This deposit is what makes a secured card "secured." The minimum deposit varies significantly and can distinguish between a good option and a bad one.
Look for a secured card with a minimum deposit of $200. This deposit level makes the card much more affordable for those with limited access to funds.
Here's what to look for in a secured card:
| | |
| --- | --- |
| Security deposit | Secured credit cards require a deposit to open. This deposit acts as the collateral for the loan (it "secures" the loan, hence "secured card") and the credit limit. If you deposit $200, your credit limit will be $200, for example. Most secured cards require a deposit of around $200 to open, but some, like Self, only require $100. |
| Annual fee | Having to pay an annual fee for a secured credit card doesn't automatically make it unfavorable, though there are many available that waive said charge. If you find a credit card with the limit, APR, and perks that you prefer, paying an annual fee isn't a bad thing if the benefits are greater than the cost. Depending on your creditworthiness, you may be able to find a secured credit card that balances both of these aspects perfectly. |
| Eligiblity | The best credit card applications use language that is clear and easy to understand. For example, select card applications may charge a processing fee that other similar cards don't. This threshold is removed completely when applying for certain secured credit cards, as the deposit you'll be making covers the risk that the issuer is taking on. While not the case for all secured credit cards, there are some available to you even with a really bad credit rating. |
| Credit tools | The time that you'll be spending establishing or building up your credit with the responsible use of a secured credit card is not the time that you should be forgetting to make even a single account payment. Doing so may hurt your credit score and increase the time that it will take you to eventually qualify for an unsecured credit card. Nearly all credit card issuers and financial institutions offer nowadays offer online banking features to help account holders keep track of their expenses 24/7. There are also mobile apps that can be installed on your smartphone and other online electronic devices from these institutions that will alert you if you are approaching your limit or have a payment due soon, making the process of building your credit more convenient than ever before. |
| Upgradability | If you use your secured credit card responsibly and pay off your balance each month, in a few years or sooner, you may qualify for an unsecured credit card. These financial products do not require a deposit on your part, and generally offer a better APR and much more enticing benefits, such as a higher return on travel rewards points and cash back on dining and entertainment purchases. Some issuers may automatically switch you over to an unsecured credit card after you've established your credit and improved your score. Often you will have to apply for these cards on your own, though you'll be in a better position to qualify for the unsecured card that you want with your improved credit score in hand. |
Secured Cards with No Annual Fee
Looking to boost your credit but hoping to avoid an annual fee? For too long, the $0 secured credit card market was cornered by banks like Capital One, which provided a no-fee secured card with its Platinum Secured Mastercard. Now, more and more high-quality options are appearing, with the OpenSky® Plus Secured Visa® a particularly enticing offer.
OpenSky® Plus Secured Visa® Credit Card
29.99% (Variable)

Regular Purchase APR

29.99% (Variable)

Cash Advance APR
At a Glance
Building credit without hidden fees is a breeze with the OpenSky® Plus Secured Visa® Credit Card. You can build credit, graduate to unsecured credit, and boost your financial knowledge base while paying $0 in annual fees.
Best Benefits
Rates & Fees
Why Should You Apply?
Limited Time Offer: $200 minimum refundable security deposit. Click "Apply Now" to see additional terms and conditions.

No annual fee

No credit check to apply. Find out instantly if you are approved- Zero credit risk to apply!

Looking to build or rebuild your credit? 2/3 of cardholders receive a 48+ point improvement after making 3 on-time payments

Get considered for an unsecured credit line increase after 6 months – no additional deposit

Monitor your credit progress with free access to your FICO Credit Score.

Reports to all 3 major credit bureaus monthly to establish and build credit history.

Add to your mobile wallet and make purchases using Apple Pay, Samsung Pay and Google Pay

Secure your credit line with a refundable security deposit – as low as $300.

Easy application, apply in less than 5 minutes right from your mobile device

Offer flexible payment due dates which allow you to choose any available due date that fits your payment schedule

Now you can make smaller partial payments towards funding your security deposit over 60 days

Over 1.2 Million Cardholders Have Used OpenSky Secured Credit Card To Improve Their Credit
Regular Purchase APR: 29.99% (Variable)
Cash Advance APR: 29.99% (Variable)
Cash Advance Transaction Fee: Either $10 or 3% of the amount of each cash advance, whichever is greater
Annual Fee: $0
Foreign Transaction Fee: 3% of the transaction amount in U.S. dollars
Late Payment Penalty Fee: Up to $40
Return Payment Penalty Fee: Up to $40
Minimum Deposit Required: $300
You want a secured credit card but don't want to pay an annual fee

You have at least $300 available for a security deposit (up to $3,000)

You are serious about building credit and plan to pay on-time each month

You want to graduate to unsecured credit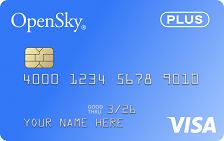 The OpenSky® Plus Secured Visa® Is a no annual fee secured credit card that can help you build credit with on-time payments each month. Even better, there's no credit check needed so you can improve your credit without a ding to your credit. And add to that the chance to graduate to an unsecured OpenSky Gold Visa in as little as six months (with on-time payments), and you have a credit card that is an ideal credit-building tool for anyone with bad credit or no credit history at all.
Secured Cards with No Credit Check
"No Credit Check" credit cards are something of a misleading term. When a card offer says no credit check is needed, it means no hard inquiry.
Credit checks are broken down into two categories: hard inquiries and soft inquiries. A hard inquiry is when a lender pulls one of your credit reports to see your entire credit history. These inquiries are what most credit card, mortgage, and other loan applications require. A hard inquiry will appear on your credit report and remain there for about two years.
A soft inquiry, in comparison, doesn't require a full pull of your credit. When a lender does a soft pull, they check your basic credit information. These pulls occur when you check your credit score through free apps or when a potential employer runs a background check. Soft inquiries don't impact your credit score.
Secured Cards with Credit Limit Increases - No Additional Deposit Required
Having subprime credit doesn't mean you can't earn enjoy the benefits of unsecured credit.  Some cards offer the chance to make the jump from secured to unsecured credit with a credit line increase. These credit limit increases don't require any additional security deposit – meaning they transform for a secured card to a mix of  secured and unsecured. The benefits of cards like these include the chance to gain access to additional credit without having to break the bank. 
Chime Credit Builder Secured Visa® Credit Card
See Terms

Regular Purchase APR

See Terms

Cash Advance APR
At a Glance
The Chime Credit Builder Visa® Secured Credit Card is a credit-builder product from Chime – a fintech that offers an assortment of financial products and services with no hidden fees. The secured card functions harmoniously with Chime's other products and services, including their high-yield savings account.
Best Benefits
Rates & Fees
Why Should You Apply?
No annual fee or interest

No credit check performed when applying

No minimum security deposit required

Ideal for everyday purchases to help build credit with regular on-time payments

Checking account required
Regular Purchase APR: See Terms
Cash Advance APR: See Terms
Cash Advance Transaction Fee: $2.50 per transactio
You're seeking to build your credit score

You don't want a credit check on your credit report

You don't want the hassle of a minimum security deposit

You want access to high yield savings to help your money grow

You don't want to pay any additional fees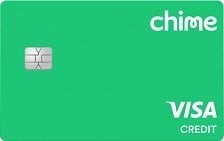 The Chime Credit Builder Visa® Secured Credit Card is the exciting member of the Chime family. The card is unique because it is a charge card ties to a direct deposit, meaning cardholders won't have to worry about late fees or missed payments. Even better, Chime regularly reports payment history to the major credit bureaus. This regular reporting is essential for building a good credit score – fast!
Another great feature of Chime is the complete lack of hidden fees. There are no minimum balance requirements, service fees, overdraft fees, or foreign transaction fees – a great feature for anyone who wants a credit card to travel the globe and build credit simultaneously. On top of no overdraft fees, Chime provides $200 overdraft protection via its Spot Me feature. Spot Me only applies when the account holder makes $500 in qualifying direct deposits to the Chime Spending Account each month. Initially, new cardholders will have overdraft protection of $20, increasing over time.
The closest credit-building competitor to Chime is Self, and its Self Visa credit card. Here is how those two cards compare: 
| | |
| --- | --- |
| Chime Credit Builder Secured Visa® Credit Card | Self Visa® Credit Card |
| No annual fee | $25 annual fee |
| No credit check performed when applying | No credit score is needed to get started |
| No minimum security deposit required | Start with a Credit Builder Account that reports monthly payments to all 3 major credit bureaus |
| Checking account required | Your money is secured and protected in a bank account |
One of the great features of secured credit cards is that they typically feature a lower purchase APR than credit cards for fair (or average) credit. According to BestCards statistics, the average APR for a secured card is currently around 18%, while the average rate for a credit card for those with fair credit is around 26%. The reason for secured credit cards offering lower rates is because the security deposit requirement makes the cardholder less of a risk to lenders than the holder of an unsecured credit card.
Despite the decent rates many secured cards offer, maybe you are looking for an easy credit card with a low APR? Don't worry – there are several excellent credit card options that offer the easy application of a secured card and the low interest rates that make carrying a balance a breeze!
Other Secured Cards with Low APR
| | |
| --- | --- |
| First Progress Platinum Prestige Mastercard® | Applied Bank Secured Visa® Gold Preferred® Card |
| A discharged bankruptcy still in your credit bureau file will not cause you to be declined | Absolutely No Credit Check or Minimum Credit Score Required |
| Quick and Complete Online Application; No credit inquiry required! | Automatic Reporting to All Three National Credit Bureaus |
| Monthly Reporting to all 3 Major Credit Bureaus | Activate Today with a $200 Minimum Deposit – Maximum $1,000 |
| Earn 1% cash back rewards | N/A |
Other Secured Cards with No Credit Check
Before diving into the candidates, let's define what "bad" is. According to the FICO Score model, a credit score below 580 is considered a "bad" or "poor". A bad or subprime score on your credit report can impact all aspects of a person's life, from housing to purchasing a car, and more. Now that the terms are understood, what are the picks for kick-starting the rebuilding process?
When people begin their search, they will usually come across "unsecured" cards. These are your typical payment method; they don't require a security deposit and extend a line of credit to the cardholder. Ideally, this is what you want when you're just starting out. For college students a student credit card may be another option. So, what are some of the best unsecured credit cards for low credit with no deposit?
| | |
| --- | --- |
| Mission Lane Visa® Credit Card | Applied Bank® Unsecured Classic Visa® |
| Get a higher credit line after making your first 6 payments on time | Access additional credit with on-time payments and responsible usage |
| No interest on purchases when you pay in full and on time each month | Quick & easy approval in less than 60 seconds |
| Free, online credit score access for cardholders | Free, online credit score access for cardholders |
More Unsecured Cards That Offer Credit Limit Increases
Building credit is challenging. Repairing credit is just as tough, if not more so. Many lenders are wary of applicants with bad credit or no credit at all. What about those who want a credit card to build credit but don't have the available money for a security deposit? When a person wants to establish a credit history but can't set aside the money for a deposit on a secured card, catalog and merchandise cards are a potential option.
Why Choose a Catalog or Merchandise Card?
Merchandise cards are a great choice for those with a limited credit history – or no credit history at all. Why choose catalog store credit cards or merchandise cards for bad credit? Here are three of the top reasons to consider a catalog card:
Catalog cards are a unique type of retail payment card. These are not credit cards, but they provide a line of unsecured credit at an individual online store – or online catalog. Unlike mainstream credit cards, catalog merchandise cards are closed-loop, meaning they may only be used at the store associated with them.
There are several merchandise cards on the market today. Depending on the card's issuer, these cards offer different benefits to account holders.
Rebuilding Your Credit Doesn't Have to Hurt
There are a few takeaways from this article. First, it's that rebuilding credit can have its perks. Sure you need to make on-time payments and keep your credit utilization low, but while doing that you can still buy the things you want.
Second, there are plenty of options out there. Bad credit doesn't mean you can't get credit. A subprime credit score means you need to work on repairing your credit with the right credit cards. Using the options above can help you quickly repair your credit if you follow the correct advice. This advice includes:
| | |
| --- | --- |
| ① Check your credit score | The first thing you should do is check your credit score to see where you stand. You might already know your credit score is bad, but how far down on the scale, does it go? Knowing how fast you can improve your credit from "bad" to "fair" is crucial to making a financial plan of attack. |
| ② Get a credit card for subprime credit | Part of boosting your credit score is increasing your use of credit. For those with bad credit, this may seem counter-intuitive. Fortunately, there are many unsecured credit cards for poor credit and secured cards that can help you repair your credit score. |
| ③ Pay on time each month | As seen in the scoring models, payment history is the biggest factor in your credit score. Because payment history is so important, paying your credit card bill on time each month is essential to boosting sub-prime credit. Missed payments stay on a credit report for seven years. |
| ④ Keep your credit use low | Credit utilization is as important as paying on time. Credit utilization shows lenders how you use your credit. Those who keep their credit use below 30% can expect their score to improve, while those who use less than 10% can expect a much faster score rise. |
Editorial Disclosure – The opinions expressed on BestCards.com's reviews, articles, and all other content on or relating to the website are solely those of the content's author(s). These opinions do not reflect those of any card issuer or financial institution, and editorial content on our site has not been reviewed or approved by these entities unless noted otherwise. Further, BestCards.com lists credit card offers that are frequently updated with information believed to be accurate to the best of our team's knowledge. However, please review the information provided directly by the credit card issuer or related financial institution for full details.