Advertiser Disclosure
close ×
Advertiser Disclosure – BestCards is an independent, Florida-based credit card comparison platform. Many of the card offers that appear on this site are from companies from which BestCards receives compensation. This compensation may impact how and where products appear on this site (including, for example, the order in which they appear). BestCards does not include all card companies or all card offers available in the marketplace.
Editorial Disclosure
close ×
Editorial Disclosure – The opinions expressed on BestCards' reviews, blogs, and all other content on or relating to the website are solely those of the content's author. They are not reflective of any card issuer or financial institution and have not been reviewed or approved by these entities unless otherwise noted. Further, BestCards lists credit card offers that are updated daily with information believed to be accurate to the best of our knowledge.
Last updated on May 2nd, 2022
Regular Purchase APR

28.49% to 30.49% variable based on the Prime Rate

Balance Transfer APR

28.49% to 30.49% variable based on the Prime Rate

Cash Advance APR

28.49% to 30.49% variable based on the Prime Rate

Annual Fee

$0 to $79

Credit NeededBestCards.com uses a variation of FICO Score 8, which is one of many different types of credit scores. A financial institution may use a different score when deciding whether to approve you for a credit card.

Fair

Processing Network

Mastercard
No annual fee

Free access to FICO score

Reports to the three main credit bureaus

$0 Fraud Liability if your card is lost or stolen
Regular Purchase APR: 28.49% to 30.49% variable based on the Prime Rate
Balance Transfer APR: 28.49% to 30.49% variable based on the Prime Rate
Balance Transfer Transaction Fee: Either $5 or 4% of the amount of each balance transfer, whichever is greater
Cash Advance APR: 28.49% to 30.49% variable based on the Prime Rate
Cash Advance Transaction Fee: Either $10 or 5% of the amount of each cash advance, whichever is greater
Annual Fee: $0 to $79
Foreign Transaction Fee: 0% to 3% of the transaction amount in U.S. dollars
Late Payment Penalty Fee: Up to $41
Return Payment Penalty Fee: Up to $41
Browse these credit card deals and thousands of other offers by becoming a Bestcards Member.
Join today!
At a Glance
The Mercury® Mastercard® is a no annual fee unsecured card that helps those with challenging credit boost their score. The interest rates with the card are high but paying the statement balance in full removes the worry and sets cardholders up for credit-building success.
Ideal for Those Who:
Have had credit issues in the past
Want an unsecured card that doesn't charge an annual fee
Plan to pay their balance in full every month
Have received a pre-approval letter from Mercury™
Mercury Mastercard® Review
The Mercury Mastercard is designed to help those with average credit boost their score with responsible use. The unsecured card, issued through First Bank & Trust of South Dakota and Mercury Financial, benefits from no annual fee, making it one of the few credit cards in the space that doesn't punish credit-builders with yearly maintenance costs. This lack of an annual fee makes it one of the best credit cards for people with a bad credit score. 
FICO Score Access
Like any credit-builder credit card, the Mercury Mastercard provides complimentary access to an individual's FICO score every month. All cardholders can access their credit score through the app, helping them keep track of their progress every step of the rebuilding process.
The Mercury App
The Mercury Mastercard app also offers cardholders a secure way to check their account balance and transaction history, as well as manage linked bank accounts to pay their monthly statements. The app sounds great in principle, but there are many complaints from cardholders that are either Barclays holdovers or new to Mercury that have encountered issues with both the app and the card's website.
While it's important to accept these complaints at face value, there also needs to be the understanding that negative reviews likely represent a small portion of the card's clientele.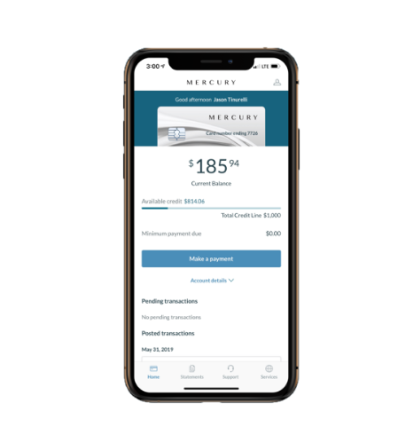 The Mercury App is available in both the Google Play and Apple App Stores
No Annual Fee
Credit cards for those with sub-prime credit scores typically don't offer the best terms. Cardholders, for example, might be penalized for having an average -or below-average – credit score with higher-than-normal interest rates or a steep annual fee. While the Mercury™ Card fits into the former characterization, it impressively avoids the latter.
The Mercury Mastercard charges no annual fee, making it an excellent tool for boosting a credit score without incurring additional costs. One of the big problems with credit cards for average credit scores is that the annual fee makes them a burden – especially when a score improves. Because 15% of a FICO Score is based on the average age of credit, closing accounts damages a credit score, meaning those with sub-prime credit cards that charge an annual fee are trapped in a cycle of paying a yearly fee for a card they no longer want.
A Very High APR
As previously noted, the Mercury™ Card falls into the same trap as many other sub-prime credit cards in that it features sky-high interest rates. The rate with the card is variable, but since the card is aimed at those in the process of rebuilding their credit, the rates don't vary too much.
Even at the lower end of the interest rate spectrum, the card's APR for purchases and balance transfers is above 25%, while those at the tail end of this range are getting an interest rate closer to 28%. Both rates are considerably higher than the national average APR for those with fair credit scores, which currently sits at around 24%.
For those who prefer a fixed-rate APR, both the Indigo Platinum Mastercard and Milestone Gold Mastercard provide better value. Both feature a fixed interest rate of 24.99%, which is almost 4% lower than the Mercury Mastercard for those with poor credit.
Some secured credit cards also provide a greatly reduced APR, but with the additional expenditure of an annual fee and security deposit. Most noteworthy are the Green Dot primor® Secured Visa® Gold Card and the First Progress Platinum Prestige Mastercard® Secured Credit Card – both of which feature a fixed APR of just 9.99%.
Other Card Features
The card benefits from the global acceptance of the Mastercard payment network. To date, the Mastercard network encompasses over 40 million merchants worldwide. That's not to say, however, that the Mercury Card is the best option for using outside of the United States. The card features a foreign transaction fee of 3% of the transaction cost in U.S. dollars, which isn't the worst rate out there, but it's certainly not as good as a card that charges no foreign transaction fees at all.
Fortunately, the Mastercard perks of the Mercury Card extend beyond the near-global acceptance of the card. Cardholders also enjoy a variety of perks, including $0 fraud liability coverage, should their card be lost or stolen. They'll also enjoy Mastercard ID Theft Protection and emergency wallet replacement, so they'll never have to worry about their card going missing – or fraudulent activities on their account.
Are There Any Rewards with the Mercury Mastercard?
If you receive an invitation to apply for the Mercury Card, can you expect any rewards? Mercury doesn't provide up-front information on the rewards users can earn with their card. The Mercury Card offers cash back rewards to some users – but not for others, according to myFICO. These can range from 1% cash back to 2% cash back on all purchases, with no cap. Unfortunately, as the rewards vary it is impossible to say what reward points you may receive with your reservation code or application. The same applies to credit limits and credit limit increases.
Did Barclays Buy Mercury?
While the Mercury Mastercard is issued through First Bank & Trust, the card is actually the product of CreditShop, a financial services company that purchased a significant portion of the Barclays credit card portfolio in 2018. This purchase has resulted in some Barclays cardholders having their existing accounts switched to the new Mercury Mastercard.
So, did Barclays buyout the Mercury Card? No. The Mercury Mastercard is not affiliated with Barclays or Barclaycard. It simply shares ownership with a company that purchased a large share of the Barclays portfolio – especially credit cards for people with average credit or bad credit.
The Mercury Mastercard is available in all 50 U.S. states and the District of Columbia.
Mercury Mastercard Ratings
How does the Mercury Mastercard stack up? Here are a selection of expert reviews for the card and Mercury Financial – the card's issuer:
Here are answers to some of the most commonly asked questions about Mercury and the Mercury Mastercard:
Should You Apply for the Mercury™ Mastercard®?
The Mercury™ Mastercard® is an intriguing option for those who are looking to rebuild their credit, but not be tied down with a substandard card that charges an annual fee once their score improves. The regular reporting to all the major credit bureaus and the lack of an annual fee is the major selling points of this card, which otherwise struggles because of the high-interest rates it charges.
First Bank & Trust only allows those who receive a reservation code in the mail to apply, which is frustrating, but not uncommon. Credit One is one of the most well-known examples of a card issuer mailing out invites to apply, with their cards also targeting those with less-than-perfect credit scores.
In this marketplace, the Mercury Mastercard is a decent option to consider. The high APR, however, makes it a difficult card to live with for those who need to carry a balance. Fortunately, there are other offers to consider that provide the chance to build credit and a lower interest rate. Since the card also requires a fair credit score, it may be difficult to get for those with a credit score in the low 600s or a credit score of 580 or more. In this case, there are a few other options to consider:
Other Cards to Consider
Because of the eligibility criteria of the Mercury Mastercard, many people might be unable to get the credit card. Fortunately, there are a variety of other credit repair cards available that don't require an invitation or reservation code to apply. 
These cards include offers from well-known names such as Citi (the Citi Custom Cash℠ Card, Citi® Double Cash Card – 18 month BT offer), Amex (the EveryDay Card), and Chase (Freedom Flex, Freedom Unlimited), plus other offers for rebuilding credit.
Don't have a reservation code? Here are some great options to consider if you want your credit card approval now:
The information related to Citi Custom Cash Card and Citi Double Cash Card has been collected by BestCards.com and has not been reviewed or provided by the issuer or provider of this product or service.