Last updated on September 19th, 2023
Advertiser Disclosure
close ×
Advertiser Disclosure – BestCards is an independent, Florida-based credit card comparison platform. Many of the card offers that appear on this site are from companies from which BestCards receives compensation. This compensation may impact how and where products appear on this site (including, for example, the order in which they appear). BestCards does not include all card companies or all card offers available in the marketplace.
Editorial Disclosure
close ×
Editorial Disclosure – The opinions expressed on BestCards' reviews, blogs, and all other content on or relating to the website are solely those of the content's author. They are not reflective of any card issuer or financial institution and have not been reviewed or approved by these entities unless otherwise noted. Further, BestCards lists credit card offers that are updated daily with information believed to be accurate to the best of our knowledge.
See website for Details*

Regular Purchase APR

See website for Details*

Balance Transfer APR
At a Glance
The Buy On Trust merchandise credit account is a lease-to-buy program where account holders can buy today and pay later. The company offers major brand names like Apple, LG, Bose, and more – with credit limits of up to $5,000 and flexible repayment schedules.
Best Benefits
Rates & Fees
Why Should You Apply?
With an initial payment of just $50, you can afford to shop from all the top brand names

Buy On Trust TODAY, Pay LATER

All The Big Name Brand Laptops, TV's & More

Up to $5,000 approval
Regular Purchase APR: See website for Details*
Balance Transfer APR: See website for Details*
Penalty APR: See website for Details*
Annual Fee: See website for Details*
Late Payment Penalty Fee: See website for Details*
Return Payment Penalty Fee: See website for Details*
You have limited credit or no credit history at all

You want a credit line to purchase brand-name laptops, TVs, and other electronics

You have an open checking account in good standing

You live in any U.S. state except MN, NJ, WI, or WY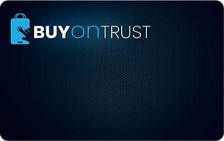 Buy On Trust is a pay-over-time credit account that lets consumers shop over 60,000 items from the biggest names in electronics with Best Buy. They can buy now and pay later – with no credit needed.
How Does Buy On Trust Work?
The Buy On Trust credit program is similar to other catalog cards and merchandising card offers in that it does not require any credit history to get approved. Once they are approved and make their one-off $50 payment, successful applicants have access to up to $5,000 in credit towards purchases with the Buy On Trust shopping portal, which features thousands of name-brand electronics, home goods, accessories, and more.
Accountholders can use their credit line to make purchases, schedule a pickup at their nearest Best Buy location, and then finance those purchases through a flexible lease ownership plan designed to fit their budget.
Options include paying off over 12 months through a flexible payment schedule timed to their payroll dates or by paying the lease off within 90 days and closing the account for the amount financed + $10.
No Credit History Required
As mentioned, the Buy On Trust account does not require a credit history for approval. This feature makes the merchandise account an ideal option for those with imperfect credit, recent bankruptcies, or no credit history at all. Individuals have better odds of approval than with a traditional credit card product.
However, keep in mind that not all applicants are automatically approved. As the terms and conditions explicitly state, "No Credit Needed does not mean or imply that no inquiry will be made of credit history or creditworthiness. It means that this is not a credit transaction. We may check credit history and creditworthiness, but no established credit history is necessary."
The application process requires basic information, including:
Info
Explained
① Full legal name and contact information
You'll need your full legal name, contact address, phone number, and e-mail address to apply for pretty much every credit card.
② Social Security Number (SSN) or Individual Taxpayer Identification Number (ITIN)
Most credit card issuers require applicants to have a U.S. Social Security number to apply for a credit card. Since foreign citizens likely lack an SNN, they may receive an Individual Taxpayer Identification Number (ITIN) instead. An ITIN is an ID number the IRS issues to anyone who needs to file income tax returns in the United States but doesn't qualify for an SSN. Be ready to provide either of these items when applying for a personal credit card.

The following banks accept foreign national applicants with an ITIN number, according to Experian:

American Express
Bank of America
Capital One
Chase
Citibank
OpenSky
Wells Fargo

Currently, only two major card issuers don't allow applicants with an ITIN:

③ Income
You'll need to provide income information when applying for a credit card. Banks like to see that you aren't too stretched financially, and part of this process is by evaluating how much income you have from things like your job, investments, and other sources.
④ Expenses
Your monthly expenses are the second part of the puzzle when it comes to gauging your risk as an applicant. Your monthly housing costs (rent, mortgage) current utilities, and other relevant info might be asked when you apply.
⑤ Credit Score
The final piece of informational lender needs to judge a credit card application is your credit score. Much of the information in your credit report is supplied by creditors and lenders, and potential lenders will use these details as a point of reference when considering you for a loan or line of credit. Your credit report is prepared and sold to prospective lenders and creditors by three credit reporting agencies – or bureaus, as they're also known. They are Equifax, Experian, and TransUnion.
The company also requires three months of income history for applicants and an active checking account. Successful applicants will need direct deposits totaling at least $1,000 each month, plus proof of a checking account free from excessive overdraft charges and negative balances.
Still not sure if Buy On Trust is right for you? The program compares favorably to two other merchandise card programs, Boost Platinum and Fingerhut.
| | | | |
| --- | --- | --- | --- |
| | BOOST Platinum | Buy On Trust | Fingerhut |
| Credit needed | Bad Credit, No Credit? No Problem | All credit scores welcome | Bad credit welcome |
| Credit check | No | No | No |
| Credit line | $750, unsecured | Up to $5,000 approval | $300 (to start) |
| APR | 0% | 0% | 29.99% fixed |
| Store features | Household, clothing, appliances, toys, clothing, gifts, & more | All the big brand-name laptops, TVs, and more from Best Buy | Digital catalog of electronics, household, kids toys, gifts, and more |
What Are the Benefits of Opening a Buy On Trust Account?
Opening a Buy on Trust account provides several benefits for potential applicants. Firstly, the service offers an accessible route into credit for those with no credit history or a damaged credit score.
Beyond that greater accessibility, however, is the array of products available through the online portal. The Buy On Trust shopping portal lets customers shop from over 80,000 products at Best Buy. This vast list includes major brands not found on other merchandise account shopping portals, including Apple, Samsung, Insignia, Bose, LG, and more.
Simplicity and Affordability
The program also offers both affordability and simplicity for users. Accountholders have 12 months to repay their purchases on a flexible payment schedule tailored around their payroll. If they want to repay their balance sooner, they can pay off the balance due any time after 90 days and save 25% or more on all future payments. Plus, new accounts can close their balances without worry. Pay off your entire balance within 90 days, and you can close your account for the amount financed plus a $10 fee.
Exceptional Customer Service
Customer service often goes unheralded – but it is a crucial component in any merchandise card or lease-to-buy program. Far too many catalog card programs fall short with customer service, either with long wait times, missed calls, or poor representatives. This is not the case with Buy On Trust.

Buy On Trust boasts an impressive 4.9 stars out of five rankings on Trustpilot, with over 97% of respondents giving the company a score of "Excellent." Customer service is one of the most cited reasons for this exceptional score, with agents going the extra mile to help customers track orders, issue refunds, or find similar products.

This attention to consumers makes the Buy On Trust brand one of the most popular merchandise credit sites – and one of the fastest-growing in an increasingly crowded marketplace.
Buy On Trust is currently available in all U.S. states and the District of Columbia, with the exception of the following locations:
| | | | |
| --- | --- | --- | --- |
| New Jersey | Minnesota | Wisconsin | Wyoming |
Buy on Trust Lending Ratings
How does Buy on Trust Lending stack up? Here is a selection of expert reviews for the card:
Should You Apply for a Buy On Trust Credit Account?
The Buy On Trust program is one of the most attractive lease-to-own and merchandise credit accounts on the market today. The program provides an easy application and approval process, generous credit limits, and the ability to purchase high-quality products from some of the biggest brand names on the planet.
Where other programs hide behind confusing terms and conditions, Buy On Trust relies on openness and honesty. They provide a streamlined service, impressive selection, and affordable repayment options. Add excellent customer service to the mix and you have a very enticing credit product that is ideal for those looking to build their credit and purchase great products at the same time.
Ultimately, signing up for any merchandise account is heavily dependent on what the applicant can get out of the program. Will they find items that are worthwhile? Are they searching for electronics, home goods, or other appliances – but have bad credit? Can they afford to repay their balance on time? 
Fortunately, for those searching for great products, at reasonable prices, and with affordable and flexible repayment plans, the Buy On Trust program hits all the right notes.
Browse Other Card Offers: