Last updated on September 28th, 2023
Advertiser Disclosure
close ×
Advertiser Disclosure – BestCards is an independent, Florida-based credit card comparison platform. Many of the card offers that appear on this site are from companies from which BestCards receives compensation. This compensation may impact how and where products appear on this site (including, for example, the order in which they appear). BestCards does not include all card companies or all card offers available in the marketplace.
Editorial Disclosure
close ×
Editorial Disclosure – The opinions expressed on BestCards' reviews, blogs, and all other content on or relating to the website are solely those of the content's author. They are not reflective of any card issuer or financial institution and have not been reviewed or approved by these entities unless otherwise noted. Further, BestCards lists credit card offers that are updated daily with information believed to be accurate to the best of our knowledge.
At a Glance
The Group One Platinum Card is a retail card made for repairing bad credit and is one of the better cards for no credit score at all. It requires no credit check, so you can easily apply no matter what shape your score is in. Moreover, the lack of APRs and a $750 credit limit* makes payments on the card simple and manageable. You can use it to purchase a variety of items through the Horizon Outlet, improve your credit, and access member benefits like legal services and discounts on prescriptions.
Best Benefits
Rates & Fees
Why Should You Apply?
$750 credit limit*

No employment or credit check to apply

Fast and easy application

*usable only at theHorizonOutlet.com
Late Payment Penalty Fee: $20
Return Payment Penalty Fee: $25
You need a card that doesn't require a credit or employment check

You have no credit history or need to build up a poor credit score

You enjoy the convenience of online shopping and don't mind paying the monthly membership fee

You can take advantage of the perks offered with the card, such as legal aid and prescription discounts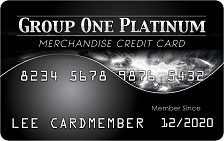 Group One Platinum Card Review
The Group One Platinum isn't like most retail cards. For one thing, it isn't a traditional credit card; it's a line of unsecured credit. Since it is unsecured, no refundable security deposit is required. It also offers tools to help cardholders build up their credit scores, rather than offering cash back and points for loyal customers.
Since it requires no credit or employment check to get one, anyone can take advantage of the 0% interest and membership benefits for a monthly fee. However, there's a $750 credit limit* and the use of the card is limited to the Horizon Outlet online store, which can have its disadvantages depending on your spending needs.
Where Can I Use My Group One Platinum Card?
The first factor worth noting about the Group One Platinum is that it's only available for use with the Horizon Outlet. This is an online retail shop that offers a wide spread of items, including:
Clothing
Home décor
Small electronics and appliances
Toys and books
If these items regularly make it into your monthly spending, this can be a helpful card to have.
A Group One Platinum card can seem similar to a secured card since it has a strong focus on building credit. Unlike secured credit cards, however, this offer doesn't require a security deposit to determine your level of credit. This means that once you complete the quick and easy online application, you'll automatically qualify for the $750 line of credit* upon approval.
This card also doesn't have a high interest rate like secured cards often do. In fact, Group One charges no interest at all, which can help keep your balance under control. All you need to worry about is making a monthly payment to keep your account in good standing.
If you need to carry a balance, the required minimum payment is either 10% of the current balance or $25, whichever is greater. Pay your bill on the due date and you'll be on your way to repairing or building your credit score.
Automatic Group One Platinum Monthly Membership
When you apply for this card, you're automatically enrolled in the card's membership program. So what is a Group One Platinum Card membership? It's a Horizon Card Services program that provides additional benefits to cardholders. This includes the following services:
Horizon Benefits
My Privacy Protection
Users receive access to unlimited privacy protection when using their card within Horizon's online portal.
My Roadside Protection
Members have access to up to three service calls or towing requests per year (up to 15 miles, and not to exceed the operator cost of $50) free of charge.
Credit Hawk
Cardholders receive 24/7 credit monitoring access through Credit Hawk.
My Universal RX
Cardholders get unlimited access to up to 40% in discounts at participating local pharmacies
My Legal Assistance
Cardholders receive one free 30-minute consultation with a specialized legal professional in your area (excluding criminal defense).
While the Group One Platinum itself has no annual fee, the membership costs $14.95 monthly. This will be automatically debited to your bank account each month – for a total of just under $130 a year. That's a pretty hefty expense, especially if you don't take advantage of the membership benefits. On the other hand, if you max-out the roadside assistance benefit ($150 for 3 tows/service calls), you're already halfway there.
It's worth noting that if your bank account has insufficient funds, you may be automatically enrolled in a reduced membership. This provides the same benefits listed above, minus the roadside assistance, for only $6.95 a month. (You can opt to re-enroll in the full membership at any time.) Other fees to keep in mind include:
A $6 monthly maintenance fee if your account is inactive
$2.00 for residential delivery
$3.50 for signature verification upon delivery
Purchase processing fees, which can vary
The Fingerhut Credit Cards Vs. The Group One Platinum Card
The Group One Card is similar to other card offers for bad credit. Another popular option is the Fingerhut Card. The Fingerhut, like the Group One, is not a Mastercard or Visa, but rather a catalog card.
The Fingerhut FreshStart Card account offers an initial credit limit of $125 – $230 and requires an initial down payment of $30. For that initial deposit, cardholders enjoy access to an online catalog, the Fingerhut catalog (new for 2020), which is much like the Horizon Outlet. Fingerhut credit protections are similar to Group One and Horizon Card security and protection.
Does Fingerhut Build Credit?
Unlike the Horizon Gold and Group One Platinum, Fingerhut reports to all the major credit bureaus. This means that Fingerhut is a decent option for building credit or establishing a good payment history for the first time.
Also unlike the Group One Platinum, Fingerhut credit card accounts come with a 29.99% APR on purchases. Group One, on the other hand, features no interest on purchases. Additionally, both the Group One and Horizon Gold Cards come with a $750 unsecured credit line*, double that of the Fingerhut Card account.
Both the Horizon Gold and Group One offer better credit limits and lower interest payments than the Fingerhut from WebBank. While the Fingerhut Card has lower fees, for those with bad credit that struggle to get credit cards, the Group One might offer better value.
FAQs About Horizon Outlet and the Group One Platinum Card
Here are answers to the most commonly asked questions about the Horizon Outlet and the Group One Platinum Card:
No. The card only works at the Horizon Outlet.
You can cancel your Horizon Card Services credit card online from your account or by calling (800) 251-6144. Just make sure to pay down any outstanding balance you might have on the card first.
Yes. The Group One Platinum and other Horizon Cards are available in all 50 US states.
Horizon Card Services Ratings
How does the Group One Platinum Card from Horizon stack up? Here are a selection of expert reviews for the card:
Should You Apply for the Group One Platinum Card?
The Group One Platinum Card is a great tool for one specific need: credit building and improvement. If you've recently been declined for a traditional credit card, this credit line can give you another way to get your score on track. Since you won't accumulate interest, you can focus on making consistent payments, whether you carry a balance or not.
However, since this isn't a traditional card, you can't take advantage of the 0% interest for balance transfers, and the card is exclusive to Horizon Outlet. That means it won't help much if you're currently in debt and looking to cut down on costs.
If all you really need is a credit boost, this card can be a valuable asset to your wallet. It's more straightforward than a traditional credit card might be, yet it still impacts your score. Plus, the catalog has plenty of great items to peruse if you're looking for a go-to online store.
*Usable only at theHorizonOutlet.com
Browse Other Card Offers: