by Cory Santos | Last updated on October 23rd, 2023
25.64% (variable)

Regular Purchase APR

25.64% (variable)

Cash Advance APR
At a Glance
The OpenSky® Secured Visa® is a secured credit card that offers requires a low minimum deposit and features no credit checks for approval. The card, issued by Capital Bank, provides an easy route to better credit by offering credit limits as low as $200, a moderate fixed-rate APR, and a reasonable $35 annual fee.
Best Benefits
Rates & Fees
Why Should You Apply?
Limited Time Offer: $51 funding voucher applied for all new accounts. Get a $200 credit line for $149. Click "Apply Now" to see additional terms and conditions.

No credit check to apply. Zero credit risk to apply!

Looking to build or rebuild your credit? 2/3 of cardholders receive a 48+ point improvement after making 3 on-time payments

Extend your $200 credit line by getting considered for an unsecured credit line increase after 6 months - no additional deposit required!

Get free monthly access to your FICO score in our mobile application

Build your credit history across 3 major credit reporting agencies: Experian, Equifax, and Transunion

Add to your mobile wallet and make purchases using Apple Pay, Samsung Pay and Google Pay

Fund your card with a low $200 refundable security deposit to get a $200 credit line

Apply in less than 5 minutes with our mobile first application

Choose the due date that fits your schedule with flexible payment dates

Fund your security deposit over 60 days with the option to make partial payments

Join over 1.2 million cardholders who've used OpenSky to build their credit
Regular Purchase APR: 25.64% (variable)
Cash Advance APR: 25.64% (variable)
Cash Advance Transaction Fee: Either $6 or 5% of the amount of each cash advance, whichever is greater.
Annual Fee: $35
Foreign Transaction Fee: 3% of each transaction in U.S. dollars
Late Payment Penalty Fee: Up to $40
Return Payment Penalty Fee: Up to $25
Minimum Deposit Required: $200
You're struggling to get accepted for other secured credit cards

You don't have a credit history

You have bad credit and want to improve your credit score

You have a large deposit and want a quick pick-me-up for their credit score

You want access to a useful knowledge base of credit information and resources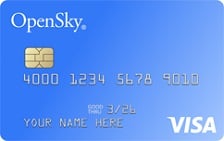 In-Depth Review: OpenSky® Secured Visa®
The OpenSky® Secured Visa® doesn't turn heads, but it is a card that can turn around fortunes. Unlike some secured cards, OpenSky doesn't punish cardholders with sky-high fees or charges, instead offering an ideal platform for establishing a positive history – for the first time, the second time, or whenever you need a credit pick-me-up.
Pre-Qualify with No Credit Impact
Getting a credit card usually requires a credit check. This requirement can sometimes keep those with bad credit from getting a secured card. Capital Bank (one of the lesser-known financial institutions), however, realizes this problem and requires no hard pull to approve applicants for the OpenSky® Secured Visa®.
Since the OpenSky Credit Card doesn't require a pull on your credit score, how can they know who is – and isn't – a good fit for the card? Since the card requires a security deposit, much of the worry a lender might have been greatly reduced. Capital Bank only needs to verify critical parts of an applicant's information before approving them – without checking their credit score.
So, precisely what information does Capital Bank require from applicants? Here is the basic information you'll need to pre-qualify for a credit card with OpenSky:
| | | |
| --- | --- | --- |
| Full name | Date of birth | Phone number |
| Housing address | Income | Email address |
| Housing payments | Social Security Number | |
Capital Bank (the issuer of the OpenSky Visa credit cards) also has specific requirements as to who can apply for one of its card products. To qualify for the OpenSky® Secured Visa® or OpenSky® Plus Secured Visa® Credit Card, Applicants must:
Be at least 18 years old,
Be a United States citizen or a permanent resident alien,
Have a valid Social Security Number (SSN) or Individual Taxpayer Identification Number (ITIN)
Have a monthly income that exceeds their monthly bills,
Not have three (3) or more credit cards with Capital Bank,
Not have applied for four (4) or more Capital Bank credit cards in the previous 60 days and
Have a positive payment history with Capital Bank for any existing accounts.
Regular Reports to the Leading Credit Bureaus
Like other secured cards, Capital Bank reports regularly to the three major credit bureaus: Experian, Equifax, and TransUnion. Making small purchases with the OpenSky credit card and paying them back each month can quickly raise a credit score.
Secured Cards with No Credit Check Comparison
Here's how the OpenSky Visa compares with three other secured credit cards without a credit check:
Related Article: Easiest Credit Cards to Get with Bad Credit
A Decent APR
Many secured cards have interest rates well above 20%. While a lower APR is always preferable, this rate only applies to those who plan to carry a balance. Carrying a balance is when you fail to pay your entire statement balance instead of paying the minimum or anything less than the full amount.
The OpenSky Secured Visa has a variable APR higher than average but isn't extortionate. That means the card can carry a balance, although doing so may cause adverse results on a credit report, especially if the balance leads to a credit usage rate of over 30%.
Fees
The OpenSky® Secured Visa® charges an annual fee of $35. Many secured cards charge an annual fee significantly higher, so the $35 charge isn't too bad – especially considering the card doesn't require a hard pull on your credit report.
The main issues with the card come from leaving it inactive. Capital Bank charges an inactive account fee should an account go unused for an entire year. This inactive account fee is $10 per month, which can quickly add up to some serious money. While the fee can be avoided by using the card to make even the smallest purchase now and then, it is still an issue – and may deter those who want a secured account, they can open and put away while reaping the credit score benefits of available credit.
It's worth noting that the fees charged differ based on your OpenSky Visa. Here is how the two cards differ when it comes to fees:
| | OpenSky | OpenSky Plus |
| --- | --- | --- |
| Annual fee | $35 | $0 |
| Foreign transaction fee | 3% of the transaction in US dollars | 3% of the transaction in US dollars |
| Cash advance fee | Either $6 or 5% of the amount of each cash advance, whichever is greater. | Either $10 or 3% of the amount of each cash advance, whichever is greater. |
| Late payment fee | Up to $38 | Up to $40 |
| Returned payment fee | Up to $25 | Up to $40 |
OpenSky Visa Quick Comparison
Is OpenSky right for you? Here is how the two OpenSky credit cards stack up with each other:
| | | |
| --- | --- | --- |
| | OpenSky® Secured Visa® | OpenSky® Plus Secured Visa® |
| Annual fee | $35 | $0 |
| Upgrade to unsecured? | Chance to receive an OpenSky Gold Unsecured Card after as few as 6 months | Chance to receive an OpenSky Gold Unsecured Card after as few as 6 months |
| Reports credit? | Yes, to all 3 major credit bureaus monthly | Yes, to all 3 major credit bureaus monthly |
The biggest difference between the two cards (beyond the annual fee) is the lower purchase APR with the OpenSky Plus Visa. That APR is about 25% higher than the $35 annual fee version of the card – partly due to the lack of an annual fee. Remember this before applying – especially if you plan to use the card to carry a balance.
Visa Protections and Benefits
Credit cards offer much more security than cash, one of the allures they offer. As the OpenSky Card is a full-fledged Visa, it provides the same perks and protections a cardholder would expect from a Visa product. OpenSky credit cardholders can expect Visa's Auto Rental Collision Damage Waiver for protection when rental cars are booked entirely with the card and additional insurance is waived at the counter.
| | | |
| --- | --- | --- |
| Zero Fraud Liability | Cardholder Inquiry Services | Emergency Card Replacement |
| Roadside Dispatch and Auto Collision Damage Waiver | Lost/Stolen Card Reporting | ID Navigator from Norton |
These protections might not be the sexiest, nor are they a rewards program, but they offer cardholders value and peace of mind and give them a glimpse of the premium benefits that come with higher-end unsecured cards down the line.
Frequently Asked Questions About the OpenSky Secured Visa Credit Card
Here are some common questions about the OpenSky Secured Visa Credit Card, as well as their answers:
OpenSky Secured Visa Card Ratings
How does the OpenSky Visa stack up? Here are a selection of expert reviews for the card:
Should You Apply for the OpenSky® Secured Visa®?
The OpenSky Secured Visa Card from Capital Bank is a very enticing offer for those who want to boost their credit score quickly but are wary of the negative impact a hard inquiry might have. The card doesn't require a hard pull, making it an excellent choice for those who have a considerable amount of money (up to $3,000) to deposit so they can raise their available credit limit almost instantly – and with no adverse effects.
Secured cards from a local credit union might offer no annual fees, and the Discover It Secured might offer rewards, but these cards also require a credit check, which might add a barrier that those with the worst credit simply cannot clear. OpenSky fills this void, providing a reliable tool that offers significant value while avoiding the temptation to be extortionate.
Overall, there may be better secured credit card offers available elsewhere, but for those who need help with their credit and don't want the hassle of a credit check – or those who are their wits ends – the OpenSky credit card is a great option to consider.
Browse Other Card Offers:
Editorial Disclosure – The opinions expressed on BestCards.com's reviews, articles, and all other content on or relating to the website are solely those of the content's author(s). These opinions do not reflect those of any card issuer or financial institution, and editorial content on our site has not been reviewed or approved by these entities unless noted otherwise. Further, BestCards.com lists credit card offers that are frequently updated with information believed to be accurate to the best of our team's knowledge. However, please review the information provided directly by the credit card issuer or related financial institution for full details.