Last updated on August 17th, 2023
Advertiser Disclosure
close ×
Advertiser Disclosure – BestCards is an independent, Florida-based credit card comparison platform. Many of the card offers that appear on this site are from companies from which BestCards receives compensation. This compensation may impact how and where products appear on this site (including, for example, the order in which they appear). BestCards does not include all card companies or all card offers available in the marketplace.
Editorial Disclosure
close ×
Editorial Disclosure – The opinions expressed on BestCards' reviews, blogs, and all other content on or relating to the website are solely those of the content's author. They are not reflective of any card issuer or financial institution and have not been reviewed or approved by these entities unless otherwise noted. Further, BestCards lists credit card offers that are updated daily with information believed to be accurate to the best of our knowledge.
First Progress Platinum Select Mastercard® Secured Credit Card
19.24% variable based on the Prime Rate

Regular Purchase APR

25.24% variable based on the Prime Rate

Cash Advance APR
At a Glance
The Platinum Select Mastercard® Secured from First Progress is a versatile tool for those looking to advance to an unsecured credit card. Offering a reasonable purchase APR and more control of spending via a refundable security deposit, the First Progress Secured card opens a clear path for customers to build their credit. The card also features the purchasing power and protections users have come to expect from Mastercard, all for an annual fee of $39.
Best Benefits
Rates & Fees
Why Should You Apply?
1% Cash Back Rewards on payments

Choose your own credit line - $200 to $2000 – based on your security deposit

Build your credit score.¹ Reports to all 3 credit bureaus

No minimum credit score required for approval!

¹ Cardholders who keep their balance low and pay their credit card bill on time every month typically do see an increase in their credit score.
Regular Purchase APR: 19.24% variable based on the Prime Rate
Cash Advance APR: 25.24% variable based on the Prime Rate
Cash Advance Transaction Fee: Either $10 or 3% of the amount of each cash advance, whichever is greater
Annual Fee: $39
Foreign Transaction Fee: 3% of the transaction amount
Late Payment Penalty Fee: Up to $41
Return Payment Penalty Fee: Up to $30
Minimum Deposit Required: $200
You currently have little to no credit history

You want to establish a credit history

You're budgeting and prefer the spending limits set by a secured credit card

You can submit a minimum of $200 for the security deposit

You may occasionally carry a balance month-to-month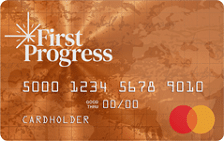 First Progress Platinum Select Mastercard Secured Credit Card Review
Establishing credit for the first time can be difficult. Equally daunting can be repairing a damaged credit score. The Platinum Select Mastercard Secured Credit Card from First Progress is an ideal choice for customers looking to build or strengthen their credit standing. The Platinum Select Mastercard Secured offers the ideal tool to improve your credit score while also earing cash back rewards as you build credit.
No Minimum Credit Score or History Required
One of the biggest strengths of First Progress Secured Credit cards, like the Platinum Select, is that individuals with no credit history can apply for the card. There is also no required minimum credit score, which will be a relief for those who are just starting out on their personal finance journey. To that point, it's important to note that a card like the Platinum Select Mastercard is not just for those who have experienced setbacks with their credit history.
Young adults who need a first credit card can also look to First Progress to provide them with a payment card that will boost their financial profile with responsible use.
Although applicants will be restricted to a low spending limit – depending on their security deposit amount – and be without the secondary perks of more prominent unsecured credit cards, customers who own the Platinum Select Mastercard® Secured card can quickly boost the health of their credit – with responsible use – thanks to regular reporting to the three major credit bureaus.
As long as you are at least paying the minimum required amount each billing period and do not miss any payments, this activity will make its way to the top credit reporting bureaus in the nation, thus building a robust credit report that future lenders will look upon favorably.
Many people that that having bad credit means you can't earn cash back rewards – but this simply isn't true. Two of First Progress Bank's Platinum Mastercard secured credit cards feature cash back rewards. The First Progress Platinum Select and First Progress Platinum Prestige Mastercard credit cards earn 1% cash back on all payments made on the card.
How does earning cash back with First Progress work? It's effortless. Make a purchase using your eligible First Progress Platinum Mastercard. You'll earn 1% cash back on every dollar you pay off, with each dollar valued at one cent per dollar spent on purchases. With First
The Benefits of a Secured Credit Card
Secured credit cards may require a deposit, but they have some benefits versus unsecured credit cards. Because they require a deposit, for instance, secured cards are able to offer lower interest rates than many unsecured cards for bad credit scores.
Secured cards also allow the cardholder to set their own credit limit. This feature allows users to increase their credit limit as their credit score grows – helping to decrease credit utilization and raise overalls access to credit.
A Reasonable Security Deposit
Secured cards are so named because the line of credit available is "secured" through a deposit made by the applicant. This deposit – a minimum of $200 in the case of the Platinum Select Mastercard – also operates as the available line of credit.
Since secured cards feature a deposit, they offer excellent chances for approval for almost any applicant. If you can initially only make the minimum required $200 security deposit, you will have a great tool to exercise financial discipline and not spend more than what you can afford. Over time, you may be able to increase your line of credit by adding funds to your security deposit.
Which First Progress Card Is Right for You?
First Progress offers three secured card products, designed for your credit goals and financial circumstances: 
A Full-Feature Mastercard
The Platinum Select Mastercard® Secured from First Progress is far more than just a tool for rebuilding credit, however. Since the Platinum Select Mastercard® Secured card features the Mastercard® logo, it offers the near-global acceptance card users have come to expect from the Mastercard® brand. Cardholders can also expect a variety of security and purchase protections, including:
| | | |
| --- | --- | --- |
| Zero Liability Protection | Mastercard Global Services | ID Theft Protection |
First Progress Credit Cards: Quick Hits
| | |
| --- | --- |
| Annual fee | The larger the annual fee you pay with your First Progress, the lower your APR, with the Prestige having the lowest APR and the highest annual fee, followed by the Select and finally the Elite. |
| Starting credit limit | First Progress charges the annual fee on the first billing statement. This means that the card's starting credit limit will not match the cash deposit until that fee is repaid. |
| Credit check | First Progress credit cards do not require a credit inquiry, or hard pull. No credit check means those with bad credit can access a card with no negative impacts or checks. |
FAQs About First progress Credit Cards
Here you will find commonly asked questions about the First Progress Platinum Secured Mastercard, as well as the answers:
First Progress Card Ratings
How does the First Progress Secured Card stack up? Here is a selection of expert reviews for the card:
Should You Apply for the First Progress Platinum Select Mastercard Secured Credit Card?
At its core, the Platinum Select Mastercard® Secured card from First Progress is an excellent tool for getting your credit score to where you want it to be. With regular payments and responsible use, the card is a great way to make the step from a secured credit card to an unsecured card in no time.
But it's the cash back rewards that make the Select-version of the First Progress cards so great, combining 1% cash back rewards and a decent interest rate on charges.
For those looking for the lowest possible APR, the First Progress Platinum Prestige Mastercard® is among the best secured cards today. The card has a very low purchase APR, with the same $200-$2,000 deposit requirement and Mastercard perks.
Browse Other Card Offers: