Last updated on September 27th, 2023
Advertiser Disclosure
close ×
Advertiser Disclosure – BestCards is an independent, Florida-based credit card comparison platform. Many of the card offers that appear on this site are from companies from which BestCards receives compensation. This compensation may impact how and where products appear on this site (including, for example, the order in which they appear). BestCards does not include all card companies or all card offers available in the marketplace.
Editorial Disclosure
close ×
Editorial Disclosure – The opinions expressed on BestCards' reviews, blogs, and all other content on or relating to the website are solely those of the content's author. They are not reflective of any card issuer or financial institution and have not been reviewed or approved by these entities unless otherwise noted. Further, BestCards lists credit card offers that are updated daily with information believed to be accurate to the best of our knowledge.
First Progress Platinum Elite Mastercard® Secured Credit Card
25.24% variable based on the Prime Rate

Regular Purchase APR

30.24% variable based on the Prime Rate

Cash Advance APR
At a Glance
The First Progress Platinum Elite Mastercard Secured Credit Card is a solid card to have if you've set your sights on credit building. With no upfront credit check or history required, there's no need to worry about hurting your score before you even get started. Instead, you can jump right in – after submitting your $200 security deposit, of course.
Best Benefits
Rates & Fees
Why Should You Apply?
Choose your own credit line - $200 to $2000 – based on your security deposit

Build your credit score.¹ Reports to all 3 credit bureaus

No minimum credit score required for approval!

¹ Cardholders who keep their balance low and pay their credit card bill on time every month typically do see an increase in their credit score.
Regular Purchase APR: 25.24% variable based on the Prime Rate
Cash Advance APR: 30.24% variable based on the Prime Rate
Cash Advance Transaction Fee: Either $10 or 3% of the amount of each cash advance, whichever is greater
Annual Fee: $29
Foreign Transaction Fee: 3% of the transaction amount
Late Payment Penalty Fee: Up to $41
Return Payment Penalty Fee: Up to $30
Minimum Deposit Required: $200
You have little to no credit history and struggle to get approved for other credit cards

You want to establish credit history or improve your credit score

You can submit a minimum of $200 for the security deposit

You want a secured card with an initial credit limit of up to $2,000

You don't intend to carry a balance from month-to-month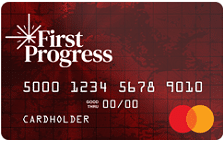 First Progress Platinum Elite Mastercard Secured Credit Card Review
The Platinum Elite Mastercard Secured Credit Card is one of three secured Mastercard offers in the First Progress program. Of the three, the Elite seems to be the best suited to those with very little if any credit history, like students and other first-time credit applicants.
Though the terms are similar to other secured offers, the lack of a credit check during the application process sets this card apart. No credit check means no negative impact on your credit score, as the application won't be placed on your credit report.
Combined with Mastercard features and protections, as well as a reasonable variable APR, the Platinum Elite can get just about anyone on the right course toward excellent credit.
The vast majority of credit card applications require a credit check, which can put applicants with little to no experience with credit at a disadvantage. After all, how can you build credit unless you have credit? The First Progress Platinum Elite Mastercard is one of the few cards that skip the credit check altogether.
This gives all applicants, with poor or no credit history alike, the opportunity to work on their scores without jumping over the hard inquiry hurdle. While it isn't necessarily an instant approval credit card, this feature certainly takes some of the anxiety out of applying.
Choose Your First Progress Platinum Elite Credit Limit
The Platinum Elite Mastercard requires a $200 minimum security deposit, which is about average among secured credit cards. This puts your initial credit line at $200, though you have the option to submit additional funds if you want a higher credit limit.
Normally, issuers base the amount you can deposit on your creditworthiness; if you submit a larger deposit than deemed appropriate for your score, some issuers may return a portion of the funds to you. Since there's no minimum credit score required with the Platinum Elite, however, you can choose to submit anywhere between $200 and $2,000 as your initial deposit.
This ability to provide a larger deposit can be helpful when it comes to keeping your credit utilization down. With smaller credit limits, it's easy to go over the recommended ratio of 10-30%. For instance, 30% of a $200 limit is only $60. Don't sweat it if you can only offer the $200, however. The issuer, Synovus Bank, may also consider you for periodic credit increases based on your responsible use of the card.
Build Credit with Positive Payments
The First Progress Platinum Elite is a useful tool for establishing a positive credit history. This process takes time, but there are a few tips that can help you along the way. Here are some credit-building tips:
| | |
| --- | --- |
| ① Check your credit score | The first thing you should do is check your credit score to see where you stand. You might already know your credit score is bad, but how far down on the scale, does it go? Knowing how fast you can improve your credit from "bad" to "fair" is crucial to making a financial plan of attack. |
| ② Get a credit card for subprime credit | Part of boosting your credit score is increasing your use of credit. For those with bad credit, this may seem counter-intuitive. Fortunately, there are many unsecured credit cards for poor credit and secured cards that can help you repair your credit score. |
| ③ Pay on time each month | As seen in the scoring models, payment history is the biggest factor in your credit score. Because payment history is so important, paying your credit card bill on time each month is essential to boosting sub-prime credit. Missed payments stay on a credit report for seven years. |
| ④ Keep your credit use low | Credit utilization is as important as paying on time. Credit utilization shows lenders how you use your credit. Those who keep their credit use below 30% can expect their score to improve, while those who use less than 10% can expect a much faster score rise. |
Higher Rates Means Lower Annual Fee
Compared to other First Progress secured cards, the Platinum Elite Mastercard has the lowest annual fee – but the highest APR. This means it's not the best option for carrying balances on a regular basis. On the other hand, it's the cheapest choice for those who can pay off the balance in full each month. Applicants must consider their spending habits and financial needs when deciding if this is the best First Progress card for them.
Which First Progress Card Is Right for You?
First Progress offers three secured card products, designed for your credit goals and financial circumstances:
Platinum Elite Mastercard Features
As a member of the Mastercard network, the Platinum Elite comes with highly valuable protections and perks. For one thing, you can use this card across the globe anywhere that accepts Mastercard. Along with global acceptance comes the need for certain security features, including:
| | | |
| --- | --- | --- |
| Zero Liability Protection | Mastercard Global Services | ID Theft Protection |
First Progress Credit Cards: Quick Hits
First Progress features a selection of quality credit builder cards. Here are a few helpful tips on First Progress secured credit cards to help guide your research:
| | |
| --- | --- |
| Annual fee | The larger the annual fee you pay with your First Progress, the lower your APR, with the Prestige having the lowest APR and the highest annual fee, followed by the Select and finally the Elite. |
| Starting credit limit | First Progress charges the annual fee on the first billing statement. This means that the card's starting credit limit will not match the cash deposit until that fee is repaid. |
| Credit check | First Progress credit cards do not require a credit inquiry, or hard pull. No credit check means those with bad credit can access a card with no negative impacts or checks. |
First Progress Card Ratings
How does the First Progress Secured Card stack up? Here is a selection of expert reviews for the card:
FAQs About First Progress Credit Cards
Here you will find commonly asked questions about the First Progress Platinum Secured Mastercard, as well as the answers:
Should You Apply for the First Progress Platinum Elite Mastercard Secured Credit Card?
The Platinum Elite Mastercard Secured Credit Card looks forward, not back. Rather than limiting the approval of applicants based on credit history, this card gives the opportunity to progress any credit score.
One of the unintended benefits of not requiring a credit check for this card is that, if approved, you technically qualify for all of the secured cards from card issuer, First Progress. This means you can choose the card with the best terms for your financial habits. The Platinum Elite is likely the best option of the three if you don't plan to carry a balance, so you can save on the annual fee.
Though consumers who struggle with their credit can certainly apply and benefit from this card, the APRs can be a downside. If you do think you'll need to carry a balance, you may be better off with one of the other First Progress secured cards. These offer higher annual fees, but much lower interest rates.
Browse Other Card Offers: