Last updated on September 27th, 2023
Advertiser Disclosure
close ×
Advertiser Disclosure – BestCards is an independent, Florida-based credit card comparison platform. Many of the card offers that appear on this site are from companies from which BestCards receives compensation. This compensation may impact how and where products appear on this site (including, for example, the order in which they appear). BestCards does not include all card companies or all card offers available in the marketplace.
Editorial Disclosure
close ×
Editorial Disclosure – The opinions expressed on BestCards' reviews, blogs, and all other content on or relating to the website are solely those of the content's author. They are not reflective of any card issuer or financial institution and have not been reviewed or approved by these entities unless otherwise noted. Further, BestCards lists credit card offers that are updated daily with information believed to be accurate to the best of our knowledge.
First Progress Platinum Prestige Mastercard® Secured Credit Card
15.24% variable based on the Prime Rate

Regular Purchase APR

24.24% variable based on the Prime Rate

Cash Advance APR
At a Glance
The Platinum Prestige Mastercard Secured Credit Card offers an excellent rate, robust Mastercard security, and the ability to rebuild or establish credit – all in one package.
Best Benefits
Rates & Fees
Why Should You Apply?
1% Cash Back Rewards on payments

Choose your own credit line - $200 to $2000 – based on your security deposit

Build your credit score.¹ Reports to all 3 credit bureaus

No minimum credit score required for approval!

¹ Cardholders who keep their balance low and pay their credit card bill on time every month typically do see an increase in their credit score.
Regular Purchase APR: 15.24% variable based on the Prime Rate
Cash Advance APR: 24.24% variable based on the Prime Rate
Cash Advance Transaction Fee: Either $10 or 3% of the amount of each cash advance, whichever is greater
Annual Fee: $49
Foreign Transaction Fee: 3% of the transaction amount
Late Payment Penalty Fee: Up to $41
Return Payment Penalty Fee: Up to $30
Minimum Deposit Required: $200
You're looking to rebuild a damaged credit score

You plan to carry a balance

You prefer the versatility of a credit card vs. a debit card or prepaid cards

You want the freedom to use your card virtually anywhere worldwide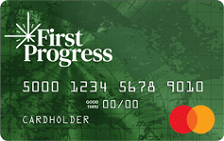 First Progress Platinum Prestige Mastercard Secured Credit Card Review
The Platinum Prestige Mastercard Secured Credit Card from First Progress is an excellent cash back rewards and secured credit card option for those who want a great rate while building their credit. Like other credit card offers from First Progress, the card provides an excellent variable APR on purchases and the benefits and protections of a full-fledged Mastercard.
One of the Lowest Rates Available for a Secured Card
The major selling point of the Platinum Prestige Mastercard Secured Credit Card is the exceptional APR it offers. Cardholders enjoy an APR in the single digits for purchases. This rate is considerably lower than interest rates offered by other major lenders, including Capital One, U.S. Bank, and Wells Fargo. In fact, the Platinum Prestige APR is half that of the Wells Fargo Secured Card and a whopping 17% lower than the Capital One Secured Mastercard.
Many people that that having bad credit means you can't earn cash back rewards – but this simply isn't true. Two of First Progress Bank's Platinum Mastercard secured credit cards feature cash back rewards. The First Progress Platinum Select and First Progress Platinum Prestige Mastercard credit cards earn 1% cash back on all payments made on the card.
How does earning cash back with First Progress work? It's effortless. Make a purchase using your eligible First Progress Platinum Mastercard. You'll earn 1% cash back on every dollar you pay off, with each dollar valued at one cent per dollar spent on purchases. With First Progress, it really pays – to pay!
Perfect for Carrying a Balance
Building a credit score requires paying your balance on time and keeping your credit utilization low. Ideally, credit utilization needs to be below 10%, but for many, this can be challenging. Those rebuilding a bad credit score usually need to carry a balance because their financial situation requires it. With many secured cards, this is problematic, as high-interest rates punish them with substantial interest payments.
The Platinum Prestige Mastercard, on the other hand, gives cardholders the breathing room they need to pay down their balances without extortionate interest payments. For those who currently carry a balance – or plan to do so in the future, it's challenging to find a better-secured card offer on the market today.
No Credit History Required
Of course, not everyone looking into secured credit cards has a bad credit score. Some have no score at all, which poses unique challenges. Though some major issuers shy from applicants with no credit history, First Progress does not. Instead, all First Progress secured cards are open to those with all credit scores and histories.
The Platinum Prestige Mastercard Secured Credit Card is a full-fledged Mastercard product.  What does that mean? Well, the card enjoys the same near-global acceptance you'd expect from any product that bears the Mastercard logo.
Mastercard is the second-largest payment network in the world, slightly trailing Visa. That said, Mastercards are accepted in more countries than Visa, with merchants in 210 merchants accepting Mastercard versus Visa's 170. This means that no matter where your travels take you, you can count on the Platinum Prestige Mastercard.
Mastercard also offers a wide variety of protection and security. These include:
| | | |
| --- | --- | --- |
| Zero Liability Protection | Mastercard Global Services | ID Theft Protection |
The Platinum Prestige Mastercard provides a tough-to-beat APR, but it comes at a price. That price is $49 per year, to be exact. This is the largest annual fee charged by First Progress. Still, $49 per year is on the very reasonable end for a secured credit card with such an enticing interest rate. Many cards – with much higher APRs – come with annual fees that can rise as high as $100 or more. Still, always be aware of all costs before applying for any credit card.
Additionally, the card charges a foreign transaction fee. Foreign transaction fees are the additional charges that issuers assess for using a credit card outside of the United States. Foreign transactions are any purchases abroad – including some international websites. The fee with the Platinum Prestige is 3% of the transaction, which is reasonable. That said, it is still a charge many might not expect, so be careful when using the card on trips.
Finally, make sure to pay attention to the security deposit. All First Progress cards require a security deposit to open an account. For the Platinum Prestige Mastercard, that fully refundable deposit of $200 –up to $2,000 – and is very reasonable. The deposit, however, does not earn interest.
Here are how the First Progress cards stack up:
First Progress Credit Cards: Quick Hits
First Progress features a selection of quality credit builder cards. Here are a few helpful tips on First Progress secured credit cards to help guide your research:
| | |
| --- | --- |
| Annual fee | The larger the annual fee you pay with your First Progress, the lower your APR, with the Prestige having the lowest APR and the highest annual fee, followed by the Select and finally the Elite. |
| Starting credit limit | First Progress charges the annual fee on the first billing statement. This means that the card's starting credit limit will not match the cash deposit until that fee is repaid. |
| Credit check | First Progress credit cards do not require a credit inquiry, or hard pull. No credit check means those with bad credit can access a card with no negative impacts or checks. |
FAQs About First progress Credit Cards
Here you will find commonly asked questions about the First Progress Platinum Secured Mastercard, as well as the answers:
First Progress Card Ratings
How does the First Progress Secured Card stack up? Here is a selection of expert reviews for the card:
Should You Apply for the Platinum Prestige Mastercard Secured Credit Card?
Secured cards are ideal for those with bad credit – as well as those completely new to credit. The Platinum Prestige Mastercard benefits those looking to rebuild credit while earning basic cash back rewards on payments. 
Thie card's exceptional interest rate makes the card ideal if you plan to carry a balance as you improve your credit score. While paying in full each month is the best-case scenario, keeping credit utilization below 30% is a rule of thumb for maintaining good credit. And the Platinum Prestige Mastercard makes this possible without the crippling interest payments found with other secured cards.
While the card has an annual fee of $49, there are countless secure card options from competitors that charge nearly double that but lack the great rates and Mastercard protections of the Platinum Prestige. Overall, the card is an excellent option for those with damaged credit, as it offers the practicality of a Mastercard, the excellent rates of a low APR or balance transfer credit card, and the credit rebuilding prowess of a secured credit card – all in one package.
Browse Other Card Offers: