Filter You've viewed 5 of 76 credit cards
The information related to Citi® Secured Mastercard® has been collected by BestCards.com and has not been reviewed or provided by the issuer or provider of this product or service.
How Does a Secured Credit Card Work?
If you have no credit history or you've had some issues with finances in the past, you may struggle to get approved for a credit card. Yet without one, it can be difficult to build or rebuild your credit score to qualify for future offers. 
To break this cycle, many issuers offer secured credit cards for bad credit, which gives consumers a chance to work on their credit with less risk. In exchange for a cash deposit, secured cardholders gain a small credit line and occasionally a few other perks to help them boost their scores. 
Secured Credit Cards vs Unsecured Cards
Most credit cards offer unsecured lines of credit, meaning they require no deposit for you to borrow against. Unsecured credit is risky for lenders – if you default on your account, they have no collateral to rely on to recoup the losses.  
The most obvious difference between a secured credit card and an unsecured card, then, is the need for a security deposit. Generally, issuers hold onto this deposit for the life of the account and even use it to determine your credit limit. With the deposit lowering the overall risk to lenders, these cards become some of the easiest to apply for. 
Some issuers require a deposit into a new bank account. For issuers you already have a relationship with, they may tie your secured card to an existing bank account. While tying the card to a current savings account may sound a lot like a debit card, this is not the case.
Since most applicants for secured cards have poor or little to no credit, these cards typically have higher interest rates as well. Some unsecured credit cards still market themselves to those with poor credit, but these usually impose high fees to offset the increased risk.   
While anyone can apply for a secured credit card, they're best suited to those in need of a credit boost. This includes consumers with previous financial troubles affecting their credit, as well as those with a thin credit history. Secured cards can also be useful to students who want to build a credit history, but aren't ready to apply for an unsecured student credit card.  Like other credit cards, secured credit cards are available to anyone in the United States 18 years or older. If the issuer allows authorized users, you may be able to add someone to your card account under the age of 18.
Many secured credit cards are also available for people who are either in a bankruptcy, or have a bankruptcy in their past. Cards like the Oakstone Platinum Secured Mastercard® don't discriminate based on credit history. Other cards, like the OpenSky Secured Visa, feature no credit check to apply – meaning bankruptcies are no problem at all!
Building Credit with Secured Cards
Building credit with a secured card is the same as with any other card, just with the safety net of a deposit and a smaller credit limit. First, you need to understand how a credit score is calculated, with FICO being the most popular model with lenders.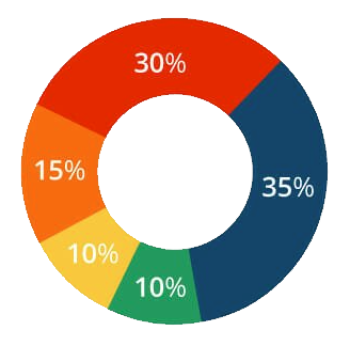 | | |
| --- | --- |
| FICO Scoring Factor | % of Score |
| Payment history/ late payments | 35% |
| Total amount owed on credit accounts | 30% |
| Average length of credit history | 15% |
| Types of credit accounts | 10% |
| New credit applications (hard inquiries) | 10% |
Payment history makes up 35% of your FICO Score. Because payment history has the biggest impact on your score, its critical to pay your secured card statement on-time every month. Even one missed payment can lower your score. And, since late payments remain on a credit report for seven years, those late payments can still hurt you later in life.
Equally crucial to raising a credit score is how much you pay each month. Credit utilization – or the amount of your available credit you use – makes up another 30% of the FICO Score. Keeping your credit utilization below 10%, which is ideal, Will quickly boost a score.
Of course, not everyone can pay their balance in full every month, which is why secured cards like the Oakstone Platinum Secured Mastercard® is so impressive for those new to credit. Those planning of carrying balances should aim to keep their credit utilization below 30%. Keeping utilization below 30% helps build a credit score while reducing the amount of interest you'll pay over time.
One of the best ways to keep credit utilization low is to only use the card for small purchases and incidentals. Only using a secured card for paying for things like drinks or snacks can help train you to use the card responsibly until you can move up to an unsecured credit card.
Since secured cards are not what people usually think of when they imagine a credit card, lots of questions are sure to come to mind. Here are the most commonly asked questions about secured credit cards: