by Cory Santos | Last updated on September 11th, 2023
Applied Bank® Secured Visa® Gold Preferred® Credit Card
9.99% Fixed Rate

Regular Purchase APR

9.99% Fixed Rate

Cash Advance APR
At a Glance
The Applied Bank® Secured Visa® Gold Preferred® Card offers those with limited credit history or a poor credit score the chance to receive a full-fledged Visa card without the need for a credit check. The card also boasts and impressively low fixed APR on purchases and cash advances – all for the modest annual fee of $48.
Best Benefits
Rates & Fees
Why Should You Apply?
Better than Prepaid...Go with a Secured Card! Load One Time - Keep On Using

Absolutely No Credit Check or Minimum Credit Score Required

Automatic Reporting to All Three National Credit Bureaus

9.99% Low Fixed APR - Your Rate Won't Go Up Even if You Are Late

Activate Today with a $200 Minimum Deposit - Maximum $1,000

Increase Your Credit Limit up to $5,000 by Adding Additional Deposits Anytime
Regular Purchase APR: 9.99% Fixed Rate
Cash Advance APR: 9.99% Fixed Rate
Cash Advance Transaction Fee: Either $5 or 5% of the amount of each cash advance, whichever is greater
Annual Fee: $48
Foreign Transaction Fee: 3% of the transaction amount in U.S. dollars
Late Payment Penalty Fee: Up to $38
Return Payment Penalty Fee: Up to $38
Minimum Deposit Required: $200
You have bad credit, limited credit, or no credit history at all

You want a card that automatically reports to all the major credit bureaus

You are tired of spending money on reloadable prepaid cards

You can make a minimum deposit of at least $200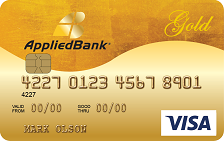 Applied Bank Secured Visa® Gold Preferred® Card Review
The Applied Bank® Secured Visa® is an enticing secured credit card that proves you don't need excellent credit (or any credit at all) to get an excellent interest rate.  
Better than a Prepaid Card
Those with bad credit – or no credit – often choose a prepaid debit card rather than get a credit card. Why? Because getting a credit card with no credit history can be challenging.  With secured cards, like the Applied Bank® Secured Visa®, you load once and keep on using your card. Unlike prepaid cards, where you must keep reloading every time you exhaust your funds, with a secured card, your credit limit refreshes when you pay your balance in full each month. Even better, you build credit with on-time payments – something prepaid cards can't provide. 
Here is the information you will need to apply for the Applied Bank Secured Visa® Gold Preferred® Card:
Info
Explained
① Full legal name and contact information
You'll need your full legal name, contact address, phone number, and e-mail address to apply for pretty much every credit card.
② Social Security Number (SSN) or Individual Taxpayer Identification Number (ITIN)
Most credit card issuers require applicants to have a U.S. Social Security number to apply for a credit card. Since foreign citizens likely lack an SNN, they may receive an Individual Taxpayer Identification Number (ITIN) instead. An ITIN is an ID number the IRS issues to anyone who needs to file income tax returns in the United States but doesn't qualify for an SSN. Be ready to provide either of these items when applying for a personal credit card.

The following banks accept foreign national applicants with an ITIN number, according to Experian:

American Express
Bank of America
Capital One
Chase
Citibank
OpenSky
Wells Fargo

Currently, only two major card issuers don't allow applicants with an ITIN:

③ Income
You'll need to provide income information when applying for a credit card. Banks like to see that you aren't too stretched financially, and part of this process is by evaluating how much income you have from things like your job, investments, and other sources.
④ Expenses
Your monthly expenses are the second part of the puzzle when it comes to gauging your risk as an applicant. Your monthly housing costs (rent, mortgage) current utilities, and other relevant info might be asked when you apply.
⑤ Credit Score
The final piece of informational lender needs to judge a credit card application is your credit score. Much of the information in your credit report is supplied by creditors and lenders, and potential lenders will use these details as a point of reference when considering you for a loan or line of credit. Your credit report is prepared and sold to prospective lenders and creditors by three credit reporting agencies – or bureaus, as they're also known. They are Equifax, Experian, and TransUnion.
Applied Bank makes it easy to build your credit with no credit check and no minimum credit score requirement. Simply apply for the Applied Bank® Secured Visa® and submit a deposit of between $200 and $1,000 – that's it! 
Automatic Reporting to All Three National Credit Bureaus
Secured credit cards are one of the best ways to quickly rebuild your credit – or establish credit for the first time. When you use your new Applied Bank® Secured Visa® card to make small purchases and pay your balance each month, you can raise your credit score steadily.  
Because Applied Bank reports to the major credit bureaus – Experian, Equifax, and TransUnion – every month, you can raise your score with a string of on-time payments and low credit usage.  
Payment history and credit utilization (the percentage of your available credit used) are the two most essential factors in your credit score. These two factors account for about 65% of your FICO Score – the credit scoring model over 90% of lenders use.  
Making small purchases can help you keep your credit use below 30%, which is important for building your credit score. For those looking to raise their score even faster, try keeping your credit use below 10%. 
Secured Credit Card Comparison
Not sure the Applied Bank secured card is right for you? Here's how it compares to another popular alternative:

OpenSky® Secured Visa®

Applied Bank Secured Visa® Gold Preferred®

No credit check to apply and find out instantly if you are approved
OpenSky gives everyone an opportunity to improve their credit with an 85% average approval rate for the past 5 years
You could be eligible for the OpenSky Gold Unsecured Card after as few as 6 months
Reports to all 3 major credit bureaus monthly, unlike a prepaid or debit card

Absolutely no credit check or minimum credit score
Automatic reporting to all three national credit bureaus
Activate with a $200 minimum deposit
Better than prepaid
An Impressive Fixed-Rate APR
Of course, not everyone can afford to pay their statement in full each month. Sometimes life happens, and you can only make the minimum payment. Many secured cards punish cardholders with exceptionally high interest rates, making them difficult to carry a balance month-to-month. This is not the case with the Applied Bank® Secured Visa® Card, however. 
The Applied Bank® Secured Visa® features a fixed-rate 9.99% APR on purchases, which is among the lowest interest rates on the market today. According to the BestCards Average Credit Card APR Guide, secured cards have an average interest rate of 18.1%. The Applied Bank Secured Card, however, has an APR at half that rate. In fact, it is significantly lower than the average interest rate for even the very best credit scores. 
What's more, Applied Bank won't raise the rate – even if you are late on payments. Many banks charge a penalty APR for late payments, which is often around 30%. What's more, this rate can last for six months or more. Applied Bank, on the other hand, understands building credit is difficult and provides the tools you need to succeed. 
Applied Advantage 
Applied Bank also provides cardholders with the optional Applied Advantage® program. This program offers Applied Bank® Secured Visa® cardholders with members-only discounts on a variety of products and services. Discounts include offerings with leading brands, such as: 
| | | |
| --- | --- | --- |
| Avis | Budget | Orbitz |
| Macy's | Kohl's | Fandango |
| Six Flags | Sam's Club | JCPenney |
Choose Your Own Credit Limit 
The Applied Bank® Secured Visa® also allows cardholders to raise their credit limit whenever they choose. Applied Bank allows additional deposits up to a total credit line of $5,000. This feature lets customers decide how much credit they want. 
Visa Benefits 
The card also enjoys the same great features and protections that come with all Visa credit card products. Visa is the world's largest payment processing network, accepted at over 40 million merchants in 200 countries globally. 
Traditional Visa cardholders can expect a wealth of protections just for using their Visa card, including: 
| | | |
| --- | --- | --- |
| Zero Fraud Liability | Cardholder Inquiry Services | Emergency Card Replacement |
| Roadside Dispatch and Auto Collision Damage Waiver | Lost/Stolen Card Reporting | ID Navigator from Norton |
Other Things to Consider
One thing to remember is that the Applied Bank Secured Card is not available in all 50 US states. Currently, West Virginia residents are unable to apply for the card. 
Applied Bank Visa Card Ratings
How does the Applied Bank Card stack up? Here is a selection of expert reviews for the card:
Should You Apply for the Applied Bank® Secured Visa® Gold Preferred® Credit Card?
Overall, there is plenty to like about the Applied Bank® Secured Visa® Gold Preferred® Credit Card. The low, fixed APR is great for keeping costs down, while the modest minimum security deposit means it is accessible to almost anyone. 
Credit cards with no credit check are a lifesaver for people that have experienced financial hardships or limited resources. The Applied Bank card fits this role well and provides the ideal platform for building a positive credit history with a modest annual fee. 
Browse Other Secured Card Options:
Editorial Disclosure – The opinions expressed on BestCards.com's reviews, articles, and all other content on or relating to the website are solely those of the content's author(s). These opinions do not reflect those of any card issuer or financial institution, and editorial content on our site has not been reviewed or approved by these entities unless noted otherwise. Further, BestCards.com lists credit card offers that are frequently updated with information believed to be accurate to the best of our team's knowledge. However, please review the information provided directly by the credit card issuer or related financial institution for full details.