Last updated on August 21st, 2023
Advertiser Disclosure
close ×
Advertiser Disclosure – BestCards is an independent, Florida-based credit card comparison platform. Many of the card offers that appear on this site are from companies from which BestCards receives compensation. This compensation may impact how and where products appear on this site (including, for example, the order in which they appear). BestCards does not include all card companies or all card offers available in the marketplace.
Editorial Disclosure
close ×
Editorial Disclosure – The opinions expressed on BestCards' reviews, blogs, and all other content on or relating to the website are solely those of the content's author. They are not reflective of any card issuer or financial institution and have not been reviewed or approved by these entities unless otherwise noted. Further, BestCards lists credit card offers that are updated daily with information believed to be accurate to the best of our knowledge.
35.99%*

Regular Purchase APR

35.99%*

Cash Advance APR
At a Glance
With the Total Visa® Card, you can begin to tackle your credit improvement goals no matter what your financial profile currently looks like. This Bank of Missouri card reports your activity to TransUnion, Equifax, and Experian for a threefold approach to credit improvement. Not only that, but you'll also gain access to a $300 credit limit with no deposit required, and no restrictions on where you can use the card.
Best Benefits
Rates & Fees
Why Should You Apply?
Regular Purchase APR: 35.99%*
Cash Advance APR: 35.99%*
Cash Advance Transaction Fee: Either $10, or 3% of the amount of the Cash Advance, whichever is greater
Annual Fee: $75 1st year, $48 after*
Late Payment Penalty Fee: Up to $41*
Return Payment Penalty Fee: Up to $41*
You have a bad credit or no credit history

You want a credit card that will report to all three major credit bureaus

You don't mind paying the startup and annual fees to improve your credit

You already have a checking account to complete the application

You want a choice of five unique card designs

You want free access to your FICO Score every month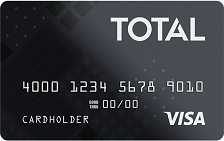 If you've been struggling to get approved for a credit card due to poor credit, the Total Visa Credit Card could be the solution. The easy online application offers a rapid response, meaning you can access a new credit line without a long wait.
More importantly, your activity gets reported to not one, but all three major credit bureaus. This can give you a major boost as long as you can navigate the necessary account fees. All you'll need is a checking account and a bit of personal information to get started.
Perfect Credit Not Required
Regardless of what your credit looks like, you'll get an initial credit limit of $300 once approved. That's a great jumping-off point, considering it doesn't require a security deposit like a secured credit card would.
After a year, Bank of Missouri (the card issuer) can consider you for a credit limit increase. However, each increase comes with a credit limit increase fee, which is a percentage of the increase. This isn't unheard of in credit-building cards, and you can always decline an increase to avoid the additional fee.
Can My Total Visa Card Boost My Credit?
This card is one of the few that expressly commits to reporting to all three credit bureaus. In no time you could begin to see improvements in your Experian, TransUnion, and Equifax credit reports with this card.
However, one of the caveats of a card meant for improving credit is often a high-interest rate – and the Total credit card is no exception. Issuers typically employ high APR for these types of cards in order to reduce their lending risk, which in turn gives borrowers with imperfect credit the opportunity to turn it around. This may seem like a deterrent, but in reality, the high fees can only affect you if you carry a balance.
For that reason, you would need to pay your bills on time each month in order to see the biggest benefits Make sure to keep TotalCardVisa.com bookmarked and use it to check your account balance regularly. If you do need to carry a balance, ideally you would rely on other cards and use this offer strictly for credit improvement. For instance, you might use the Total Visa strictly for gas expenses and pay each statement in full to gradually increase your credit.
Setup, Annual, and Servicing Fees
Upon approval for the card, you'll need to pay a one-time program fee to open your account. Bank of Missouri also automatically charges an annual fee to your card for the first year. This will bring your initial credit line down, but only until you make your first Total Visa card payment.
Each year thereafter, you'll pay a lower annual fee, along with a monthly account servicing fee. All this adds up, although the total amount is slightly lower for each subsequent year the account remains open.
Not many card offers, even for top cash back rewards cards, require payment of a program and servicing fee on top of an annual fee. This is something to take into consideration when weighing the benefits of this card for your wallet.
It is worth noting that Total Visa Card isn't an open to applicants everywhere. Currently, the card is not available to residents in the following U.S. states:
FAQS About the Total Visa Card
Here are some answers to common questions about the Total Visa® Card:
The Total Visa Card is issued through the Bank of Missouri.
No. Total and the Bank of Missouri do not offer a Total Secured Visa, just the Total Unsecured Visa.
The best way to judge any credit card is through consumer reviews. Total Visa Card reviews from consumers are very positive about the card, with many calling it one of the best credit cards for fair credit, for bad credit, and for rebuilding your credit in general.
How does the Total Visa stack up? Here is a selection of expert reviews for the card:
Should You Apply for the Total Visa® Card?
If you want a credit-building card that doesn't require you to tie up your funds in a security deposit, this could be it. The Total Visa Credit Card automatically sets you up with a decent credit limit so you can hit the ground running.
Moreover, its quick application response ensures you won't have long to wait before you can take the first steps towards better credit. Keep in mind, rebuilding credit depends on factors like making on-time payments, keeping balance below credit limit and paying at least the minimum monthly payment.
Of course, you'll need to be prepared to handle the upfront and recurring costs of the card to maximize the benefits. It's not a card necessarily built for carrying balances, so you'll want to have the right payment strategy in mind to wield this tool effectively.
This means monitoring your credit utilization and making your payments on time and in full. Otherwise, you might prefer a card that requires a little less financial discipline.