by Cory Santos | Last updated on November 14th, 2023
Surge® Platinum Mastercard®
29.99% (Variable)

Regular Purchase APR

See Terms*

Cash Advance APR
At a Glance
The Surge Mastercard® can be an ideal pre-qualification option if you need to repair or continue building your less-than-perfect credit score. Though it bears annual and maintenance fees, it does, however, provide attractive perks for qualified cardholders – including the potential for a double credit limit increase in as little as six months.
Best Benefits
Rates & Fees
Why Should You Apply?
Up to $1,000 credit limit doubles up to $2,000! (Simply make your first 6 monthly minimum payments on time)

All credit types welcome to apply!

Monthly Credit Score – Sign up for electronic statements, and get your Vantage 3.0 Score Credit Score From Experian

Initial Credit Limit of $300 – $1,000 (subject to available credit)

Monthly reporting to the three major credit bureaus

See if you're Pre-Qualified without impacting your credit score

Fast and easy application process; results in seconds

Online account access 24/7

Checking Account Required
Regular Purchase APR: 29.99% (Variable)
Cash Advance APR: See Terms*
Cash Advance Transaction Fee: See Terms*
Annual Fee: See Terms*
Foreign Transaction Fee: See Terms*
Late Payment Penalty Fee: Up to $41
Return Payment Penalty Fee: Up to $41
You have fair or poor credit and need to build or repair your credit ratings

You prefer a pre-qualification card that will immediately inform you whether you would be approved prior to applying

You want to double your credit line by up to $1,000 by making your first six monthly minimum payments on time

You don't want a secured credit card or can't afford a security deposit

You want a card that reports activity to the three major credit bureaus

You want the security of an optional credit protection program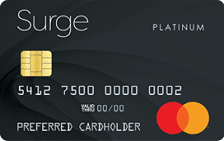 Surge® Platinum Mastercard® Review
You might think that only people with stellar credit scores can apply for credit cards. However, this isn't always the case. There are viable options for consumers with fair or poor credit, and one such option is the Surge Card.
Pre-Qualify with No Credit Score Impact
A great feature of the Surge® Mastercard® is the ability to pre-qualify without fears of harming your credit. This simple form allows you to quickly find out your likely approval status without affecting your credit score. This feature provides valuable insight, helping you prepare effectively for obtaining your card. If you don't qualify, your credit remains unaffected.
Continental Finance has the following rules regarding who is eligible for its credit cards:
Application Requirements
Age
Applicants must be at least 18 years of age
Social Security Number (SSN)
Applicants need to provide a SSN to prove that they are a U.S. citizen and eligible to apply.
U.S. address
Applicants must provide a United States mailing address. PO Boxes are not allowed
Proof of income
You need to provide proof of your income, including demonstrating you can make the minimum monthly payment
Bank account
Applicants need to provide a valid checking or savings account to link to the card for payments.
Credit
Bad credit (sub 500 FICO Score) or better required
You can get approved for the Surge card regardless of your credit history. However, you should remember that applicants with poorer credit ratings may get approved for lower credit limits. Additionally, this credit card features a high APR, which is common with credit cards for people with less-than-excellent credit ratings.
Double Your Credit Line in 6 Months
The Surge Mastercard is a versatile unsecured credit card offer that provides a pathway towards better credit. While the card starts with a rather modest credit limit (between $300 and $1,000), Surge regularly monitors cardholder's credit growth to identify potential credit limit increases.
If you use the Surge Platinum Card responsibly (meaning you make your payments on time every month and keep your overall credit use low), Surge may reward you with more credit in as little as six (6) months! Make your first six monthly minimum payments on time, and Surge will raise your credit limit – doubling your purchasing power.
Tools to Build Your Credit
Building credit is easy thanks to monthly reporting to the big three credit bureaus – Experian, TransUnion, and Equifax – and free credit limit increases. By reporting your on-time payments every month, Surge allows you to move up in the credit standings, which will look favorably if you are hoping to secure a mortgage, purchase a car, or apply for a new job.
Building credit requires more than just on-time payments, however. You'll also need to focus on things like your credit utilization (and aiming to keep it below 30%), checking your free credit report for any errors, monitoring for theft, and keeping new credit card applications to a minimum.
Credit Limit Increases Comparison
The Surge Mastercard is just one option for subprime credit. Other cards also allow a credit limit increase, including the Reflex Mastercard. Here is how Surge compares with other rivals:

Reflex Mastercard®

Surge® Mastercard®

Aspire® Cashback
Pre-qualify?
Yes
Yes
Yes
Annual fee
See terms
See terms
As low as $85
Starting limit
Up to $1,000
Up to $1,000
$350
Double your line?*
Yes
Yes
N/A
Rewards
N/A
N/A
3% back on gas, groceries, & utilities, 1% on all else
Network
Mastercard
Mastercard
Mastercard
Monthly credit reporting
Yes
Yes
Yes
*Double your credit limit by making the first six monthly minimum payments on time.
Pay Attention to Surge's Fees
The Surge Mastercard is like other credit repair cards in that it comes with associated fees. There is an annual fee, a monthly maintenance fee, and a one-time fee if you would like to request an additional card.  Fortunately, the monthly maintenance fee is waived for the first 12 months from the date you open your account. This feature makes the Surge Card an attractive option if you plan to use the card for a short period before upgrading to a different card.
Other Card Features
Other features of the Surge Mastercard include:
| | |
| --- | --- |
| Credit reporting | Surge provides monthly reporting to the three major credit bureaus – TransUnion, Experian, and Equifax |
| Credit score access | Cardholders enjoy free access to your Vantage 3.0 score from Experian when signing up for e-statements. |
| EMV chip | Surge cardholders enjoy an additional layer of security thanks to EMV chip technology. Cardholders can also add their card to smart wallets like Apple Pay or Google Pay. |
| Mastercard | Use anywhere Mastercard® is accepted. |
Cardholders also gain complimentary access to their credit score when they enroll in e-statements. This simple application process provides free access to your credit score monthly – allowing you to see the impact actions like making your monthly payments on time have on your credit score each month.
Cardholders also enjoy basic protections through the Mastercard payment network. The Surge Card is a Platinum Mastercard product, meaning cardholders can expect the following essential benefits:
| | | |
| --- | --- | --- |
| Zero Liability Protection | Mastercard Global Services | ID Theft Protection |
Frequently Asked Questions About the Surge Mastercard
Here are answers to everyday questions others have asked about the Surge Mastercard:
Surge Card Ratings
How does the Surge stack up? Here is a selection of expert reviews for the card:
Should You Apply for the Surge® Platinum Mastercard®?
The Surge Mastercard can be a great match if you need to build or improve your credit due to having fair or poor credit. While this card has fees and a higher-than-average APR, these features are standard with many credit cards for consumers with little to no credit.
The ability to pre-qualify makes it easy and quick to know ahead of time whether you will be approved, and the fact that it does not impact your credit score makes it even better. Plus, the available tools – including free credit limit increases, sending your activity to credit reporting bureaus, and free credit score access – give a helping hand in increasing your credit faster and with more peace of mind.
Browse Other Card Offers:
Editorial Disclosure – The opinions expressed on BestCards.com's reviews, articles, and all other content on or relating to the website are solely those of the content's author(s). These opinions do not reflect those of any card issuer or financial institution, and editorial content on our site has not been reviewed or approved by these entities unless noted otherwise. Further, BestCards.com lists credit card offers that are frequently updated with information believed to be accurate to the best of our team's knowledge. However, please review the information provided directly by the credit card issuer or related financial institution for full details.