Gas rewards are amongst the most sought-after bonus category in credit cards – more so now with skyrocketing gas prices due to inflation. Who doesn't want to earn points, cash back, or rebates on every purchase at the pump? With so many gas cards on the market, it can be tough to find the right offer for you. Here are our top picks for the best gas rewards credit cards of 2022:
The Best Gas Rewards Credit Cards of 2022
There are plenty of gas rewards credit cards that target their rewards towards a specific brand. However, the best gas cards earn you points or cash back at any gas station, regardless of the brand. For that reason, the top spots on the best gas credit cards of 2022 list go to a few familiar faces.
Discover It Cash Back
The Discover It is a cash back juggernaut. The card earns 5% cash back in an ever-revolving selection for quarterly categories. For Q2 2022 (running from April through June), those categories just happened to include gas station purchases.
Discover It Cardholders earn 5% back on the first $1,500 in purchases at gas stations and Target through the second quarter of 2022. All other purchases over the $1,500 maximum (and all purchases in general) earn an unlimited 1% cash back.
However, the real bonus of the Discover It range of cards is the impressive Cashback Match after year one of card membership. Discover automatically matches the total amount of cash back you earn, dollar-for-dollar after your first year, which could amount to a serious chunk of change. In other words, you can double your earned cash back rewards from your gas station purchases at the end of your first year. Also, enjoy the flexibility to redeem your earned rewards at any time and for any amount.
Chase Freedom Flex World Elite Mastercard
The Chase Freedom Flex is another 5% cash back card with rotating categories. However, this year we also get to benefit from a bonus gas station category. Cardholders can earn 5% cash back per dollar spent on gas station purchases on up to $6,000 spent in the first year.
While Chase doesn't offer Discover's Cashback Match bonus, the bank does provide an easy-to-reach sign-up bonus of $200 after spending $500 on purchases within the first three months from account opening. Outside of the 5% cash back rotating categories, the Freedom Flex offers 5% cash back per dollar spent on travel purchased through Chase Ultimate Rewards. Also, enjoy 3% cash back on drugstore purchases and dining every day, including take-out delivery and eligible delivery services. Additionally, you will earn 1% cash back on all other purchases and a 15-month 0% introductory APR. All for no annual fee.
Discover It Chrome
The Chrome is another Discover cash back offering, specialization in enhanced rewards on gas and restaurant purchases. The Chrome earns 2% cash back on the first $1,000 in spending every quarter on both gas station purchases and dining, making it a reliable tool for those who prefer savings on these two categories versus a rotating selection of options. Most importantly, you can redeem your rewards at Amazon.com and PayPal or earn a credit to your account's statement.
The card also enjoys the same Cashback Match bonus as the Discover It Cash Back, making it a lucrative earner for the consumer that wants a gas card that can help them save some serious money. Like other Discover offerings, the card also comes with an attractive introductory APR offer of 0% intro APR for the first 15 months on purchases and balance transfers – and no annual fee.
PenFed Platinum Rewards VISA Signature
The PenFed Platinum Rewards VISA Signature missed out on the top spots because of its reduced availability. However, that doesn't mean that the card isn't one of the premier gas rewards credit cards on the market today.
From pentagon Federal Credit Union, the card earns an impressive 5X points per dollar spent on purchases made at gas stations, 3X points for grocery purchases, and 1X points for all other purchases. The card also comes with 15,000 bonus points (after making $1,500 in purchases in the first 90 days), 0% intro APR on balance transfers for the first year, and no annual fee. Moreover, you can redeem your points for travel, gifts cards, or shopping.
For more info on joining PenFed Credit Union, check out our issuer page for PenFed eligibility requirements.
Honorable Mentions
Want some more gas rewards credit card options to consider? Here are four cards that just missed out on our top spots:
The Buc-ee's Platinum Mastercard is another credit union gas rewards card. This one, from Texas Dow Employees Credit Union (TDECU) saves 10 cents per gallon at Buc-ee's brand and more!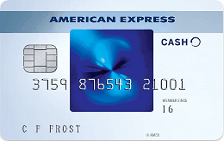 The Blue Cash Everyday® Card has the perfect blend of cash back rewards for everyday purchases. This simple card with no rotating categories earns 2% cash back at gas stations and select departments stores. Furthermore, collect 3% cash back at supermarkets (for up to $6,000 per year in purchases, then 1%), and 1% cash back on all other purchases – all for no annual fee.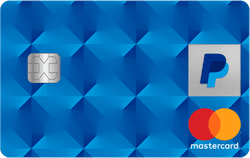 The PayPal Extras Mastercard earns unlimited 3X points per dollar spent on gas and restaurant purchases. Redeem your points for extraordinary rewards like travel vouchers, cash back, merchandise, and gift cards.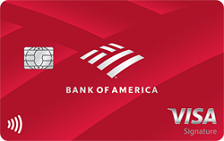 With the Bank of America® Customized Cash Rewards Credit Card, you can earn 3% cash back in a category of your choice, including a gas category. Also, get 2% cash back at grocery stores and wholesale clubs and 1% cash back on all other purchases. Note that the 3% and 2% cash back is for up to $2,500 in combined purchases per quarter, then 1%.