Last updated on February 24th, 2023
Advertiser Disclosure
close ×
Advertiser Disclosure – BestCards is an independent, Florida-based credit card comparison platform. Many of the card offers that appear on this site are from companies from which BestCards receives compensation. This compensation may impact how and where products appear on this site (including, for example, the order in which they appear). BestCards does not include all card companies or all card offers available in the marketplace.
Editorial Disclosure
close ×
Editorial Disclosure – The opinions expressed on BestCards' reviews, blogs, and all other content on or relating to the website are solely those of the content's author. They are not reflective of any card issuer or financial institution and have not been reviewed or approved by these entities unless otherwise noted. Further, BestCards lists credit card offers that are updated daily with information believed to be accurate to the best of our knowledge.
Up to 36.00% variable based on the Prime Rate

Regular Purchase APR
At a Glance
The Today Card™ Mastercard® is an unsecured credit card for bad credit. The card features one of the highest purchase APRs on the market and a steep annual fee of $120, billed as $10 per month.
Best Benefits
Rates & Fees
Why Should You Apply?
Free access to check your TransUnion VantageScore

Set up text message alerts to notify you of available credit, current balance, due dates, and payments made

24/7 zero liability fraud protection

Enable automatic payments to ensure you pay on time, every time
Regular Purchase APR: Up to 36.00% variable based on the Prime Rate
Annual Fee: $120 (billed monthly)
Foreign Transaction Fee: 3% of the transaction amount in U.S. dollars
Late Payment Penalty Fee: Up to $40
Return Payment Penalty Fee: Up to $40
You have bad credit and want to repair it with responsible use

You can afford the $10 per month fee

You don't plan on using the card to carry a balance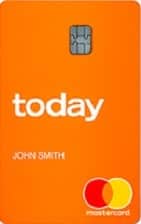 Today Card™ Mastercard® Review
The Today Card™ Mastercard® is a credit repair credit card designed for people with bad credit. From fintech XTM and Utah-based Capital Community Bank, the card provides cardholders with access to the unsecured credit they need – but with hefty fees.
How Today Card Works
The Today Card operates like any other unsecured credit card for bad credit. Successful applicants gain access to a credit line that does not require a security deposit. Unlike other subprime lenders, XLM does not provide information on the minimum credit limits for new cardholders. Still, other similar cards feature a starting credit line of around $300 to $750 (depending on creditworthiness).
A Very High APR
One notable feature of the Today Card Mastercard is its purchase APR. The card's interest rates rise to over 30%, among the highest purchase APRs available on a credit card today.
A high interest rate only matters if the cardholder carries a balance. Pay off the entire balance before the billing period ends and a statement is issued, and you'll have no problems with Today Card. However, if you do have a balance, expect to pay significant interest – interest that can quickly accumulate if left unchecked.
Fortunately, there are plenty of unsecured credit cards for bad credit that don't feature interest rates as high as Today Card. The Milestone® Gold Mastercard® and Indigo® Platinum Mastercard®, for example, both feature a purchase APR almost eight percentage points lower than Today Card.
Variable Annual Fees
Like other bad credit score credit cards, the Today Card Mastercard features an annual fee. These fees make the cards more accessible to wider credit profiles, as they help offset some of the risks associated with lending unsecured credit to people rebuilding their damaged credit scores.
The Today Card Mastercard features an annual fee of $120, which is billed as $10 per month. While this annual fee is on the higher side, it isn't overly excessive. Some other unsecured cards (namely merchandise cards) provide larger credit lines and steeper annual fees – sometimes up to $150 or more).
Not interested in the $!20 annual fee with the Today Card? Consider cards like the Mission Lane Visa®, which has an annual fee almost half that of the Today Mastercard ($59). Even some Credit One Bank cards, such as the Platinum Visa for Rebuilding Credit, offer better annual fees and more opportunities for credit line increases.
Boost Your Credit Limit with Responsible Use
That's not to say that the Today Card won't offer credit limit increases. XTM and Capital Community Bank regularly monitor a cardholder's credit score and offer credit line increases where possible. Demonstrate financial responsibility by paying your bill on time and keeping credit use below 30% of your overall limit. Your credit line might rise as early as six months into card membership.
Other Card Features
The Today Card features the types of perks and protections that come from a Mastercard – providing holders with purchase protections, credit score monitoring, and more. These perks and protections include:
Mastercard Zero Fraud Liability coverage
Smart controls to actively monitor credit limits, spending, due dates, and more
Complimentary access to the user's TransUnion VantageScore
Mobile app access (Google Play and Apple), including autopayment features
3% foreign transaction fee
Should You Apply for the Today Card™ Mastercard®?
There are many credit cards for bad credit on the market – and the Today Card™ Mastercard® struggles to stand out among the crowd. The card's interest rates are excessive – and can quickly cause financial problems for those unaccustomed to carrying a balance on a credit card.
The annual fee of $120 is another strike against the Today Card, especially when compared to other credit repair cards on the market, such as the Indigo Card, Milestone Card, or even the Destiny Mastercard – all of which offer lower purchase APRs and annual fees.
Repairing your credit takes patience, persistence, and the right tools. This process also requires a credit card that grows with you – something the Today Card struggles to do. Ultimately, the Today Card™ Mastercard® likely serves a role in credit repair for some, but for many others, other cards (including secured credit cards) provide a much safer route to a better financial future. Those with no credit history at all should consider a merchandise card, like the Merit Platinum, Freedom Gold, Buy on Trust, or Unique Platinum.
Browse Other Credit Repair Card Offers