Last updated on February 27th, 2023
Advertiser Disclosure
close ×
Advertiser Disclosure – BestCards is an independent, Florida-based credit card comparison platform. Many of the card offers that appear on this site are from companies from which BestCards receives compensation. This compensation may impact how and where products appear on this site (including, for example, the order in which they appear). BestCards does not include all card companies or all card offers available in the marketplace.
Editorial Disclosure
close ×
Editorial Disclosure – The opinions expressed on BestCards' reviews, blogs, and all other content on or relating to the website are solely those of the content's author. They are not reflective of any card issuer or financial institution and have not been reviewed or approved by these entities unless otherwise noted. Further, BestCards lists credit card offers that are updated daily with information believed to be accurate to the best of our knowledge.
VyStar Savings Secured Visa Card
18.00% variable

Regular Purchase APR
At a Glance
The VyStar Savings Secured Visa Card is a secured credit card that actually earns interest on the money sued as collateral. The card, offered by VyStar Credit Union in Florida, features a low, fixed-rate APR, no annual fee, and no fees for foreign transactions, balance transfers, or cash advances. This nice package makes it one of the best secured credit union credit cards available today.
Best Benefits
Rates & Fees
Why Should You Apply?
No annual fee

Credit Limits from $375 to $2,000

Uses funds from your VyStar savings account as collateral
Regular Purchase APR: 18.00% variable
Late Payment Penalty Fee: Up to $25
Return Payment Penalty Fee: Up to $25
Minimum Deposit Required: $500
You already bank with VyStar Credit Union

You want to rebuild your credit score

You are new to credit, or are a student

You like the flexibility to use your card abroad without fear of additional fees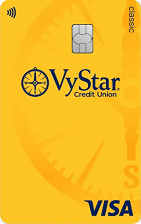 VyStar Savings Secured Visa Card Review
The VyStar Savings Secured Visa Card is a basic, but effective, secured credit card from Central and Northern Florida credit union, VyStar Credit Union. The card features a fixed-rate APR on purchases, cash advances, and balance transfers that is very competitive – at around 13.5%.
Affordable Spending Limits
The VyStar Secured Card, like all secured credit cards, requires a security deposit to act as collateral for the line of credit. In the case of the card, VyStar has set credit limits at a minimum of $375 and a maximum of $2,000.
While these credit lines might not sound impressive, especially when compared to some other premium cards with credit limits of up to $50,000, the point of a secured card isn't to make as big a purchase as possible. Instead, secured cards are tools to help establish responsible credit habits: something these cards do well.
Keeping your credit utilization low is essential to boosting your credit score. Ideally, credit utilization should be below 10%, but in practice, keeping it below 30% is enough to raise your score. While a higher credit limit will help keep utilization lower, having a smaller credit limit ensures secured cardholders learn another valuable part of the credit building process: only spending what you can afford to pay off immediately.
Earn Interest on Your Security Deposit
The collateral used to open a VyStar Secured Card is the money already in an eligible VyStar savings account. As the funds are already in your credit union savings account, the collateral for the secured card earns interest during the life of the account. The interest rate at which the collateral accrues interest isn't a special rate, but it is the current VyStar savings interest rate.
If the cardholder keeps up on their payments, they will get their deposit back (with interest) when they close their account or move up to a secured credit card from VyStar. If, however, they fail to pay their statement on time, they risk losing their deposit in full.
Problems with the Security Deposit
While deposit with the VyStar Secured Card earns interest, it also must be significantly higher than the minimum deposits that come with other cards. The $375 minimum deposit is almost double what you can expect from other secured cards, meaning it may be out f reach for many consumers looking tor rebuild their credit. While there is no annual fee and relatively low APR, the First Progress Platinum Select Mastercard® Secured Credit Card offers a similar rate, with a $200 deposit minimum – for just $39 per year. The same applies to the Green Dot primor® Secured Visa® Classic Card – another popular secured card. For those willing to pay a $49 annual fee, both the First Progress Platinum Prestige Mastercard® Secured Credit Card and the Green Dot primor® Secured Visa® Gold Card both feature an unbeatable 9.99% APR – perfect fro carrying a balance.
Related Article: What Are the Easiest Credit Cards for Bad Credit to Get?
Enjoy Visa Protections
The VyStar Secured Visa Card offers the benefits and protections that you commonly find with Visa credit cards. Cardholders are protected with roadside dispatch and comprehensive accident collision damage waivers when their rental car – booked through the card – is damaged. Holders also receive complete fraud and liability protections from Visa, as well as Visa's comprehensive customer service and near-global acceptance.
No Foreign Transaction Fee
This global acceptance is made even better by no foreign transaction fees. Many secured cards charge fees for almost everything, but VyStar is excellent at keeping costs to a minimum. There are, for example, no fees for balance transfers or cash advances. These are fees that are unlikely to bother secured cardholders, however, as they aren't the sort of things cards like this are used for.
The lack of a foreign transaction fee, on the other hand, is a great perk that makes this card a great option for students who plan to travel the world in the summer (or even study abroad), since they don't have to worry about additional fees.
Should You Apply for the VyStar Savings Secured Visa Card?
The VyStar Savings Secured Visa Card is an excellent option for those VyStar members who are either new to credit or looking to boost their flagging credit score.
Secured cards are never the preferred option for anyone, but VyStar makes the stress of building credit much easier thanks to a reasonable, fixed-rate APR and a lack of additional charges for many of the services and transactions that typically incur fees. There are no foreign transaction fees, no balance transfer fees, no cash advance fees, and no annual fees.
The fact that the collateral is tied to an existing VyStar savings account – and it earns interest is another nice perk, as fiscally conscious individuals and students don't have to worry about their money sitting in limbo for an extended period of time, instead of letting it accrue interest as they raise their credit score.
Overall, the VyStar Savings Secured Visa is the ideal credit-building tool for students, young adults, or anyone for that matter that is looking to improve their credit score and graduate to an unsecured card down the line.
Browse Other Credit Card Offers:
Browse Other Credit Card Offers from VyStar: