Last updated on September 21st, 2023
Advertiser Disclosure
close ×
Advertiser Disclosure – BestCards is an independent, Florida-based credit card comparison platform. Many of the card offers that appear on this site are from companies from which BestCards receives compensation. This compensation may impact how and where products appear on this site (including, for example, the order in which they appear). BestCards does not include all card companies or all card offers available in the marketplace.
Editorial Disclosure
close ×
Editorial Disclosure – The opinions expressed on BestCards' reviews, blogs, and all other content on or relating to the website are solely those of the content's author. They are not reflective of any card issuer or financial institution and have not been reviewed or approved by these entities unless otherwise noted. Further, BestCards lists credit card offers that are updated daily with information believed to be accurate to the best of our knowledge.
Green Dot primor® Secured Visa Classic Card
13.99%

Regular Purchase APR

18.99%

Cash Advance APR
Best Benefits
Rates & Fees
Why Should You Apply?
No penalty rates

Reports to all three major credit bureaus

Earn interest on your security deposit

Fast, easy application process. Choose your credit line and open your Personal Savings Deposit Account to secure your line
Regular Purchase APR: 13.99%
Cash Advance APR: 18.99%
Cash Advance Transaction Fee: Either $5 or 5% of the amount of each cash advance, whichever is greater
Annual Fee: $39
Foreign Transaction Fee: 3% of the transaction amount in U.S. dollars
Late Payment Penalty Fee: Up to $29
Return Payment Penalty Fee: Up to $29
Minimum Deposit Required: $200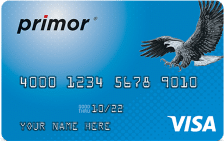 Green Dot primor® Secured Visa Classic Card Review
The Green Dot primor® Secured Visa Classic is one of several secured credit cards offered by Green Dot Bank. This "Classic" card version of the Green Dot Visa, however, has the best approval odds of the bunch and the second-lowest APR – a surprisingly low fixed rate that is well under the national average.
What sets this card apart from other Green Dot secured cards is that this Classic primor® is accessible to those who may be feeling the still-fresh sting of credit-affecting situations like bankruptcy or foreclosure.
When comparing this card to options from major issuers this card has a fair mix of strengths that make it a worthy contender to compete with some of the more well-known secured cards. For those looking to begin their credit-rebuilding journey, the Green Dot primor® Secured Visa Classic could provide them an earlier start than other secured cards could.
Related Article: What Are the Easiest Credit Cards for Bad Credit to Get?
Determining Your Credit Limit
Green Dot primor® credit limits range from $200 to $5,000. However, one's credit line is contingent upon more than just how much money is deposited as collateral.
Upon approval of an application, Green Dot will then issue an 'Approved Credit Limit'. This is calculated on their assessment of your creditworthiness. While this cap may not make much of an impact on a cardholder who only plans on making the minimum security deposit amount, it may pose a roadblock for applicants with more cash-on-hand to secure the highest credit line possible.
Increasing the Credit Limit On Green Dot Credit Cards
Cardholders can add to their security deposit in $50 increments which will take effect in 8-12 days after payment is received. Those who hope to get their Approved Credit Limit increased can do so online.
How to Pay your Security Deposit
While you do not have to be a member of Green Dot Bank prior to applying for one of their cards, you will need to open a Green Dot savings account to receive your card. Fortunately, savings accounts are automatically created once Green Dot has verified the following information:
Name, address, Social Security Number, and date of birth
Disposable income of at least $100
Funds to secure your account have been received
New card applicants have 30 days to make their deposit. If funds are not added to the account within this time frame, your application will be withdrawn, and you would have to apply for the card again. In the instance that a savings account is opened prior to an application that resulted in a denial, the funds will be returned to your account within 35 days.
Interest-Earning Security Deposit
One of the best features of the Green Dot primor® Secured Visa Classic also makes it a standout among other secured cards, as it's a rarity to find security deposits that earn interest. The earnings will be 0.15% APY, but this is a much better alternative to having money just sitting in an account. This is a feature not commonly found with other Mastercard or Visa secured credit cards.
Upon the closure of your account, you will have your full deposit and any earned interest returned to you (as long as you are in good standing) – typically within 10 business days after any remaining balances or fees are paid. If your account is terminated by the issuer, it will eight weeks for your deposit to be refunded.
Annual Fee
There is a $39 annual fee that is automatically charged to your card once your application has been approved. Keep in mind that this will decrease the total available credit initially.
Balance Transfers & Cash Advances
The Classic primor® does not have the ability to conduct balance transfers. While cardholders can conduct cash advances, note that they are limited to half of your card balance and with a max of two per day. For example, if your total credit limit is $1,000 then you may only withdraw up to $500 in cash advances.
Should You Apply for the Green Dot primor® Secured Visa Classic Card?
The Green Dot primor® Secured Visa Classic Card certainly has its strengths, but even its best features are outweighed by the cons. For starters, the Classic primor® has a lower-than-average minimum deposit compared to other secured cards (ideal for those who are strapped for cash).
In terms of credit-building, the primor® Classic reports to all three major credit bureaus. This means that responsible use of the card over time can result in an increase in one's credit score, which is ideal whether you are rebuilding your credit or establishing a solid foundation for the first time. Another standout feature is that cardholders will be able to earn interest on their security deposits.
Compared to the two other secured cards offered by Green Dot (the Green Dot primor® Secured Visa Gold Card and the Green Dot Platinum Visa® Credit Card) the Classic primor® is the easiest to get with the highest likelihood of approval. If your credit score is still sensitive to hard inquiries and may need to carry a balance from time to time, this card will be able to handle small purchases and get you on the road to rebuilding your credit.
Related Article: What Are the Best Secured Cards for Rebuilding Credit?
For more information on bad credit and bad credit cards, visit our Comprehensive Credit Cards for Card Reference Page, featuring the best current credit card offers, detailed advice, and tips to help you build your credit history.
Browse Other Green Dot Credit and Prepaid Cards: