Last updated on September 28th, 2023
Advertiser Disclosure
close ×
Advertiser Disclosure – BestCards is an independent, Florida-based credit card comparison platform. Many of the card offers that appear on this site are from companies from which BestCards receives compensation. This compensation may impact how and where products appear on this site (including, for example, the order in which they appear). BestCards does not include all card companies or all card offers available in the marketplace.
Editorial Disclosure
close ×
Editorial Disclosure – The opinions expressed on BestCards' reviews, blogs, and all other content on or relating to the website are solely those of the content's author. They are not reflective of any card issuer or financial institution and have not been reviewed or approved by these entities unless otherwise noted. Further, BestCards lists credit card offers that are updated daily with information believed to be accurate to the best of our knowledge.
Green Dot primor® Secured Visa Gold Card
9.99%

Regular Purchase APR

18.99%

Cash Advance APR
Best Benefits
Rates & Fees
Why Should You Apply?
No penalty rates

Reports to all three major credit bureaus

Earn interest on your security deposit

Fast, easy application process. Choose your credit line and open your Personal Savings Deposit Account to secure your line
Regular Purchase APR: 9.99%
Cash Advance APR: 18.99%
Cash Advance Transaction Fee: Either $5 or 5% of the amount of each cash advance, whichever is greater.
Annual Fee: $49
Foreign Transaction Fee: 3% of the transaction amount in U.S. dollars.
Late Payment Penalty Fee: Up to $29
Return Payment Penalty Fee: Up to $29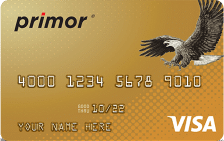 Green Dot primor® Secured Visa Gold Card Review
The Green Dot primor® Secured Visa Gold Card is the premium version of the two primor® secured cards available. In comparison to the blue "Classic" card, this one has a slightly higher annual fee but a much more competitive purchase APR.
If you have a mind to build your credit score, Green Dot's Visa secured credit cards may be a valuable tool. Payment activity is shared with all three major consumer credit bureaus (TransUnion, Equifax, and Experian) – a key factor to look for in a card for poor credit – so as long as you remain timely and responsible with your payments, you could see your credit score rise.
The Gold primor® card is slightly more selective than its counterpart (although both are designed to help fix bad credit). It can be an option for someone looking for their first credit card, though it's equally meant for someone whose credit score needs help but isn't feeling the direct impact of a recent negative financial situation like bankruptcy or foreclosure.
Related Article: What Are the Easiest Credit Cards for Bad Credit to Get?
Determining Your Credit Limit
Credit limits start at $200 (lower than average, a good option if you're short on cash) and go up to a maximum of $5,000. Primor® secured cards are unique in that credit lines are not solely determined by how much money is deposited as collateral. Instead, this amount is determined by the 'Approved Credit Limit', a figure set by Green Dot after assessing creditworthiness. Cardholders can add to their security deposit in $50 increments, the effects of which will take place 8-12 days after payment is received.
How to Pay your Security Deposit with the Green Dot Primor Visa Gold Secured Credit Card
While you do not have to be a member of Green Dot Bank prior to applying for one of their Green Dot Visa cards, you will need a Green Dot savings account to receive your card. Fortunately, savings accounts are automatically created once Green Dot has verified the following information:
Name, address, Social Security Number, and date of birth
Disposable income of at least $100
Funds to secure your account have been received
New card applicants have 30 days to make their deposit. If funds are not added to the account within this time frame, your application will be withdrawn, and you would have to apply for the card again. In the instance that a savings account is opened prior to an application that resulted in a denial, the funds will be returned to your account within 35 days.
Interest-Earning Security Deposit
The most unique feature of the Green Dot primor® Secured Visa Gold Card is one that is rarely seen in secured cards: a security deposit that earns interest. Rather than having your collateral sitting for months (or years) in an untouched account, Green Dot gives cardholders the opportunity to earn returns on their deposits. The APY (annual percentage yield) is 0.15%.
Upon the closure of your account, you will have your full deposit and any earned interest returned to you (as long as you are in good standing) – typically within 10 business days after any remaining balances or fees are paid. If your account is terminated by the issuer your deposit will be refunded in eight weeks.
Low Fixed-Rate APR
While most secured cards typically have APR's upwards of 20%, the Green Dot Gold Visa Gold Card is a sight for sore eyes with its impressively low, fixed-rate APR (that's almost half of the national average).
This makes the primor® Gold one of the best secured card options for cardholders who may need to carry a balance every now and again. However, this does not mean that the card is meant to fund purchases you can't afford. However low, an APR's interest charges can add up if you do not make full payments on your statement each billing cycle.
Should You Apply for the Green Dot primor® Secured Visa Gold Card?
The Green Dot primor® Secured Visa Gold Card is a strong candidate for those looking to build or repair their credit. While its strongest feature is its low, fixed APR, it is also bolstered by the fact that there is no minimum credit score required to apply. In addition, the fact that Green Dot credit cards report your payment activity to all three major credit bureaus (as opposed to just one) can increase the likelihood that your credit score will rise.
Though there is a fee for submitting a late payment, the card has no penalty APR – a fact that couples well with its already-low purchase interest rate. What's more, applying for the primor Gold takes only a few minutes, and you should receive a decision in just as little a time window.
If you are set on building your credit, or even if you do not have a credit history and want to begin establishing a solid standing, you can do so confidently with the Green Dot primor® Secured Visa Gold Card.
For more information on secured credit cards, visit our Comprehensive Secured Card Reference Page, featuring the best-secured card offers, detailed advice, and tips to help you build your credit history.
Browse Other Green Dot Credit and Prepaid Cards: