Last updated on September 13th, 2023
Advertiser Disclosure
close ×
Advertiser Disclosure – BestCards is an independent, Florida-based credit card comparison platform. Many of the card offers that appear on this site are from companies from which BestCards receives compensation. This compensation may impact how and where products appear on this site (including, for example, the order in which they appear). BestCards does not include all card companies or all card offers available in the marketplace.
Editorial Disclosure
close ×
Editorial Disclosure – The opinions expressed on BestCards' reviews, blogs, and all other content on or relating to the website are solely those of the content's author. They are not reflective of any card issuer or financial institution and have not been reviewed or approved by these entities unless otherwise noted. Further, BestCards lists credit card offers that are updated daily with information believed to be accurate to the best of our knowledge.
21.74% to 28.74% variable based on creditworthiness and the Prime Rate

Regular Purchase APR

21.74% to 28.74% variable based on creditworthiness and the Prime Rate

Balance Transfer APR

29.99% variable based on the Prime Rate

Cash Advance APR
At a Glance
The Aeroplan® Credit Card from Chase offers quite a lot of value for its $95 annual fee. The card comes with a lucrative sign-up bonus, monthly spending bonuses (up to 1,500 extra points), and 3X points on purchases.
Best Benefits
Rates & Fees
Why Should You Apply?
Earn 50,000 points - that's $625 in travel value when redeemed with Pay Yourself Back®

$95 Annual Fee

Earn 50,000 points after you spend $3,000 on purchases in the first three months your account is open.

Earn 3x points for each dollar spent at grocery stores, on dining at restaurants, and Air Canada directly.

No foreign transaction fees.

Free first checked bag.

500 bonus points for every $2,000 you spend in a calendar month - up to 1,500 points per month.

Earn 1x point for each dollar spent on all other purchases.

Member FDIC
Regular Purchase APR: 21.74% to 28.74% variable based on creditworthiness and the Prime Rate
Balance Transfer APR: 21.74% to 28.74% variable based on creditworthiness and the Prime Rate
Balance Transfer Transaction Fee: Either $5 or 5% of the amount of each transfer, whichever is greater
Cash Advance APR: 29.99% variable based on the Prime Rate
Cash Advance Transaction Fee: Either $10 or 5% of the amount of each transaction, whichever is greater
Penalty APR: Up to 29.99% variable based on the Prime Rate
Annual Fee: $95
Late Payment Penalty Fee: Up to $40
Return Payment Penalty Fee: Up to $40
You are Canadian and live in the U.S.

You frequently travel on Air Canada or another Star Alliance Partner

You plan to frequently use this card for both everyday and exceptional purchases

You want lucrative reward points with plenty of redemption options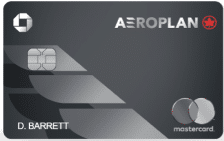 Aeroplan® Credit Card Review
The Aeroplan® Credit Card offers impressive perks not seen with many other co-branded airline cards, including scalable rewards, an obsession towards "value for money," and more transfer partners than any other frequent flyer program in the world.
Earn Up 100,000 Aeroplan Points
The highlights with the Aeroplan® Credit Card begin with a sizable welcome offer. New accounts can earn a Welcome Flight Reward worth up to $100,000 points. To receive this bonus, you'll first need to spend $4,000 with the card within 3 months of opening an account – this will grant you 60,000 bonus points. To receive the remaining 40,000 points, you'll need to spend $20,000 in purchases during the first 12 months your account is open.
Earn Miles with Everyday Spending
For an airline card to offer daily value, it needs to provide accelerated earning on the sort of purchases consumers make all the time. The Aeroplan® Credit Card from Chase does just that, earning additional points in the following categories:
3X points for every dollar spent on dining, takeout, and eligible delivery services
3X points for every dollar spent at grocery stores
3X points for each dollar spent directly with Air Canada
1X points for each dollar spent on all other purchases
The bonus categories with the Aeroplan Mastercard are fairly standard but still provide exceptional value. Triple points on dining (including meal delivery services like GrubHub, Postmates, UberEATS, and any of a hundred others) and groceries are always welcome – although the groceries category comes with the usual prohibitions of box stores (Walmart, Target, Costco, and other large stores with multiple sections).
Chase, Air Canada, and Mastercard set out to create a card that rewards everyday use.  The Aeroplan® Credit Card accomplishes this aim by offering up to 1,500 Aeroplan points each month for meeting spending targets.
Accountholders earn 500 bonus Aeroplan points everywhere they spend $2,000 a month on the card, up to 1,500 points per month. Spend $6,000 per month, get 1,500 points – or an additional 18,000 pots after spending $72,000 a year.
How to Redeem Aeroplan Points
The Aeroplan® Credit Card certainly earns big points, but how can you spend them? Redeeming points through Aeroplan is straightforward, with the best way to redeem being award flights with Air Canada, its affiliated regional airlines, and the other airlines with which it codeshares.
Air Canada currently partners with 45 global carriers, including its most recent addition, Oman Air. Other partners include the Star Alliance. Here's a full breakdown of all Air Canada Aeroplan's transfer partners:
| | | | |
| --- | --- | --- | --- |
| Aegean Airlines | Azul Brazilian | Eurowings Discover | Singapore Airlines |
| Aer Lingus | Brussels Airlines | EVA Air | South African Airways |
| Air China | Calm Air | GOL | SriLankan Airlines |
| Air Creebec | Canadian North | Gulf Air | Swiss |
| Air Dolomiti | Canadian Mountain Air | Juneyao Airlines | TAP Air Portugal |
| Air India | Cathay Pacific | LOT Polish Airlines | THAI |
| Air New Zealand | Copa Airlines | Lufthansa | Turkish Airlines |
| Air Serbia | Croatian Airlines | Middle East Airlines | United |
| ANA | EgyptAir | Olympic Air | Virgin Australia |
| Austrian Airlines | Ethiopian Airlines | Oman Air | Vistara |
| Asiana Airlines | Etihad | Scandinavian Airlines | Shenzhen Airlines |
| Avianca | Eurowings | | |
Points apply not only towards flights with partners, but Elite tier members receive 50% savings on point redemptions, with Global+1 (more later) reclaim 100% of their points on award travel. Award flights with Air Canada feature no seat restrictions, no blackout dates, and no fuel surcharges of any type.
Aeroplan users can redeem their points with hotel partners, car rental partners, and retail partners. Eligible car rental and accommodation partners include Accor Hotels, Avis, Best Western, Budget, Choice Hotels, Hilton, IHG, Marriott Bonvoy, Payless Car Rentals, Radisson, Wyndham, and more.
Other redemption options include gift cards, charitable donations, merchandise from over 175 merchants, vacations, and more. Aeroplan points after 18 months of inactivity on the Aeroplan members account.
Aeroplan and Chase have plans for other ways to redeem points. First is the option to use points to Pay Yourself Back. The Pay Yourself Back feature is a popular addition to Chase's proprietary cards, namely the Sapphire and Freedom family. Chase plans to extend this option to the Aeroplan card, allowing cardholders to redeem their points (up to 50,000 points per year) at 1.25 cents per point.
The second upcoming addition will be using points to offset carbon emissions. Aeroplan will purchase carbon offsets to reduce the impact of greenhouse gas emissions associated with cardmember travel when they fly Air Canada using an Aeroplan flight reward. This feature will apply to Chase Aeroplan primary cardmembers and travel companions on the same reservation for flight segments with Air Canada, Air Canada Express, and Air Canada Rouge.
Fourth Night Free with HotelSavers
Aeroplan cardmembers also enjoy a fourth night free when booking stays and nights through HotelSavers, Aeroplan's travel portal. Aeroplan credit cardholders hundreds of thousands of stays and destinations, with prices and locations to match any budget. The HotelSavers program includes over 7,000 points hotels worldwide, including 39 hotel brands across 11 chains with some of the world's most coveted hotels and unique properties. There are no caps on the number of fourth night free stays you can book, nor are there any blackout dates.
Even better, cardholders can stack free nights when they book more with points, and those booking a four-night consecutive stay will only need to redeem Aeroplan points for three nights. Credit cardholders need only redeem Aeroplan points for an eight-night consecutive stay for six nights. Aeroplan's Fourth Night Free offer calculates savings based on the average points cost of all four nights for maximum value.
The accelerator bonuses with the Aeroplan® Credit Card also extend to Aeroplan elite statuses. First, cardholders earn Aeroplan 25K Status through the next year after spending $15,000 in a calendar year.
Aeroplan 25K status typically requires a member to earn 25,000 SQM or 25 SQS, and offers the following benefits:
Priority reservations and seat selection
Priority airport check-in and standby
Complimentary checked baggage allowance of two bags
Priority boarding
Two Maple Leaf Lounge one-time passes
Twenty eUpgrade certificates
Spending heavily on the card offers further Aeroplan elite updates – something not seen elsewhere. Cardholders enjoy even more rewards when they hit elite status multipliers at the following annual spend thresholds:
$100,000 in annual spend
$250,000 in annual spend
$500,000 in annual spend
$750,000 in annual spend
Accountholders reach the next tier in Air Canada's loyalty program with each milestone, with the top-level being Golal+1 at $1 million in annual spending. Global+1 is the ultimate in travel perks – surpassing even the vaunted Companion Pass from Southwest Airlines.
Earning Global+1 entitles the account holder to recoup 100% points on all redemptions, thanks to the ability to select a companion to fly with them – anywhere, anytime. The Global+1 status means Aeroplan members can enjoy one free companion flight with them, anywhere in the world, on any of Aeroplan's 45 partner airlines, including Star Alliance carriers. The award bookings also cover any flight type and any cabin class – up to First Class.
Earning rewards on purchases is one thing but getting value for the $95 annual fee with the Chase Aeroplan® Credit Card requires tangible airport perks and protections. Fortunately, the Aeroplan card shines in this regard.
The card offers the usual features you'd expect from an airline rewards card at that annual fee price point. Cardholders enjoy $100 in TSA Precheck credits every four years, for instance. Interestingly, Chase extends this statement credit to TSA Precheck and Global Entry and Nexus – the bi-national, Canada-United States program for pre-approved, low-risk travelers entering Canada or the United States (U.S.) at designated air, land, and marine ports of entry.
Other airport features with the card include free first checked bags on Air Canada flights: one free checked bag for the primary cardmember and up to eight other travelers on the same itinerary, baggage delay insurance, trip delay reimbursement, and trip cancellation insurance through World Elite Mastercard.
Other notable features of the Chase Aeroplan® Credit Card include no foreign transaction fees, and World Elite Mastercard benefits, including:
| | | |
| --- | --- | --- |
| Zero Liability Protection | Airport Concierge | Cell Phone Protection |
| Mastercard Global Services | Priceless Experiences | Lyft Credits |
| ID Theft Protection | Priceless Golf | DoorDash Offers |
| Mastercard Travel Services | ShopRunner Membership | Hello Fresh Savings |
| Mastercard Hotel Stay Guarantee | Fandango Savings | |
FAQs About the Air Canada Aeroplan
Here are some of the most commonly asked questions regarding the Chase Aeroplan® Credit Card and the Aeroplan frequent flyer program, along with the answers:
JPMorgan Chase and Aeroplan Card Ratings
How does the Air Canada Aeroplan Card stack up? Here is a selection of expert reviews for the card, as well as an overview of JP Morgan Chase as a bank:
Should You Apply for the Aeroplan® Credit Card?
There are many airline credit cards on the market, so what sets the Chase Aeroplan® Credit Card apart from the rest? For starters, there aren't any credit cards for Canadian travelers in the U.S. market.
Canadians make up a significant proportion of the target clientele for Chase and Air Canada. The companies estimate there are roughly 2.5 million Canadians currently working and residing in the United States, either part-time or year-round.
Add to that the frequent travelers who want to earn versatile airline rewards points that they can transfer to partners. The Chase Aeroplan® Credit Card excels here – especially with an ever-growing number of partners (now at 45). The Aeroplan Card offers exceptional value for Star Alliance members – especially elite statuses (like 25K) come with point savings of award flights.
Finally, the Chase Aeroplan® Credit Card provides accelerators designed to reward cardholders that plan to really use the card. It's rare to see a credit card that plans ahead for people looking to spend $1 million+ on a Card each year – and even rarer when you consider that the Aeroplan Card features a $95 annual fee and not the $5,000 yearly charge with elite cards like the Centurion Card
Ultimately, it's the combination of everything that makes the Chase Aeroplan® Credit Card such an intriguing credit card Triple points on everyday categories, a generous welcome offer, airport perks, and the chance to quickly accelerate your frequent flyer status – what's not to like?
Browse Other Chase Credit Card Offers: