Last updated on February 24th, 2023
Advertiser Disclosure
close ×
Advertiser Disclosure – BestCards is an independent, Florida-based credit card comparison platform. Many of the card offers that appear on this site are from companies from which BestCards receives compensation. This compensation may impact how and where products appear on this site (including, for example, the order in which they appear). BestCards does not include all card companies or all card offers available in the marketplace.
Editorial Disclosure
close ×
Editorial Disclosure – The opinions expressed on BestCards' reviews, blogs, and all other content on or relating to the website are solely those of the content's author. They are not reflective of any card issuer or financial institution and have not been reviewed or approved by these entities unless otherwise noted. Further, BestCards lists credit card offers that are updated daily with information believed to be accurate to the best of our knowledge.
Union Plus Rate Advantage
15.9% - 25.9% variable based on creditworthiness and the Prime Rate

Regular Purchase APR

15.9% - 25.9% variable based on creditworthiness and the Prime Rate

Balance Transfer APR

28.99% variable based on the Prime Rate

Cash Advance APR

0% for the first 15 months

Intro Purchase APR
At a Glance
The Union Plus Rate Advantage Card is a balance transfer and low rate credit card issued through Capital One. The no annual fee card is open to AFL-CIO affiliated union members and provides a lengthy 15-month 0% intro APR period on both balance transfers and purchases. Once the intro period ends, the typical APR varies considerably, but those with excellent credit scores can expect a highly competitive APR.
Best Benefits
Rates & Fees
Why Should You Apply?
No annual fee

0% introductory APR on purchases and balance transfers

$0 Fraud Liability if the card is lost or stolen

24/7 U.S-based customer service
Intro Purchase APR: 0% for the first 15 months
Regular Purchase APR: 15.9% - 25.9% variable based on creditworthiness and the Prime Rate
Intro Balance Transfer APR: 0% for the first 15 months
Balance Transfer APR: 15.9% - 25.9% variable based on creditworthiness and the Prime Rate
Balance Transfer Transaction Fee: 3% of the transaction amount for the first 15 months; None after that
Cash Advance APR: 28.99% variable based on the Prime Rate
Cash Advance Transaction Fee: Either $10 or 4% of the amount of each Cash Advance, whichever is greater
Late Payment Penalty Fee: Up to $38
You're members of an AFL-CIO affiliated union

You have a strong credit history so they can take advantage of the best rates

You're planning to purchase a big-ticket item

You do't want to pay an annual fee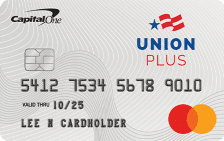 Union Plus Rate Advantage Card Review
The AFL-CIO is the nation's largest federation of unions, and the Union Plus Rate Advantage offers union members everywhere the chance to receive a low rate and generous introductory APR period with no annual fee.
The Union Plus Rate Advantage Card is a low rate credit card that also offers an impressive 0% introductory APR period on both balance transfers and cash advances. The 0% intro APR period is a long 15 months, which is at the very high-end of introductory interest rates. While there are a few cards that offer 18 months or even longer (such as the Citi® Diamond Preferred® Card or the U.S. Bank Visa Platinum), 15 months is nothing to scoff at – and offers new accounts ample time to finance significant purchases or pay down existing balances.
The one downside of this impressive intro period is that all balance transfers made incur a #% fee. Three percent of the transaction cost for a balance transfer fee is pretty standard, but the fact that transfers conducted after the 0% period feature no charges at all is a significant source of frustration. That nit-pick aside, the 3% fee is reasonable enough, and given the lengthy no interest period, is worth the price for those who are looking to slash their existing credit card debts.
Normal APR is Hit-or-Miss
Once the introductory interest-free period expires, the typical APR for purchases and balance transfers will vary significantly. The lower end of the APR range is extremely competitive (around the 12% to 13% range), while the higher-end is significantly less-appealing – topping out over 20%.
Capital One advertises the card for those with excellent credit scores, which makes the huge disparity in interest rates confusing, but this is because of the bank's "credit level" guidelines, which don't mesh with credit scores precisely. "Excellent" under this guise refers to those who have credit limits over $5,000 for at least the prior three years and have never declared bankruptcy. This leaves significant wiggle room, meaning the card's varying rates really refer to the discrepancies between those with a credit score in the 730s and those with a score in the 670s.
Regardless of the methodology, only those with the best credit scores can expect the lowest rate – and it for these individuals that the most long-term value with the card is found. For everyone else, however, the 15-month 0% intro period is definitely worth it, just as long as the majority of any existing balances (or large purchases) are paid off before that period ends.
Like other Mastercard products, the Union Plus Rate Advantage Card comes with consumer perks and protections, including $0 fraud liability should the card be lost or stolen. Cardholders also get Mastercard identity theft resolution services, price protection for purchases found cheaper elsewhere, and MasterRental Collision Damage Waiver for any accidents or theft of rental vehicles booked entirely with their card.
Unions exist to serve the best interest of their members, and that ethos is front-and-center with the Union Plus credit cards. All Union Plus Cardholders – including Rate Advantage Cardholders – are eligible to receive AFL-CIO hardship grants three months after opening an account.
Hardship grants provide financial cover for a wide variety of occurrences and can help members recover some of the losses they might experience. Hardship grants are payable by check and never have to be repaid – a fantastic perk and equally grand gesture by the organization.
There are four types of hardship grant for which a cardholder may be entitled:
Disability Grant: $1,600 to $2,700 for those suffering from long-term illness or disability
Hospital Grant: $1,200 for unreimbursed hospital expenses
Job Loss Grant: $300 for those laid off work
Strike Grant: $300 for those on union-sanctioned strikes or lockouts
While the benefits that come with the hardship grants are amazing, they also come with limitations. Cardholder accounts, for instance, must be in good standing. Additionally, cardholders can only receive one grant of each type, regardless of how many Union Plus accounts they have.
Member Rebates and Discounts
Union Cardholders also receive rebates and discounts just for being a Union Privilege members. These rebates and discounts include:
Up to $250 in rebates from AT&T
Up to 25% off car rentals when booking with Avis or Budget
$1 for the first month ($6.90 after that) on membership in the Union Plus Motor Club when using their Union Plus Card and selecting the "Family Plus" plan.
25% discount with Teleflora – 5% more than the typical union member discount
Should You Apply for the Union Plus Rate Advantage Card?
Getting a great rate on purchases and a lengthy interest-free period on balance transfers is great, but the Union Plus Rate Advantage Card from Capital One takes it to the next level by including an additional 05 intro APR period on purchases.
Fifteen months of 0% APR gives Union Plus Cardholders the purchasing power they need to buy the large ticket items they want – or need – and pay them back over time. This period can help save union members some serious money.
The 15 months of interest-free APR on balance transfers provide the catalyst for quickly eliminating existing credit card debts, helping new accounts get back on financial track without the fear of interest piling up. And, while the 3% fee on transfers might be frustrating, it's a small price to [ay for the peace of mind these intro periods provide.
The greatest peace of mind, however, comes from the grants the AFL-CIO offer to those cardholders who face hardships. Hardships happen every day, but the grants take some of the sting out of trying to get back on your feet – something that can provide comfort in a challenging time.
The information related to Citi Simplicity Card and Citi Diamond Preferred Card has been collected by BestCards.com and has not been reviewed or provided by the issuer or provider of this product or service.
Browse Other Capital One Credit Card Offers: