Last updated on February 24th, 2023
Advertiser Disclosure
close ×
Advertiser Disclosure – BestCards is an independent, Florida-based credit card comparison platform. Many of the card offers that appear on this site are from companies from which BestCards receives compensation. This compensation may impact how and where products appear on this site (including, for example, the order in which they appear). BestCards does not include all card companies or all card offers available in the marketplace.
Editorial Disclosure
close ×
Editorial Disclosure – The opinions expressed on BestCards' reviews, blogs, and all other content on or relating to the website are solely those of the content's author. They are not reflective of any card issuer or financial institution and have not been reviewed or approved by these entities unless otherwise noted. Further, BestCards lists credit card offers that are updated daily with information believed to be accurate to the best of our knowledge.
Union Plus Primary Access Card
28.24% variable based on the Prime Rate

Regular Purchase APR

28.24% variable based on the Prime Rate

Balance Transfer APR

28.99% variable based on the Prime Rate

Cash Advance APR
At a Glance
The Union Plus Primary Access from Capital One Card is an unsecured credit builder credit card that rewards AFL-CIO union members for their responsible use of credit. Cardholders receive a credit limit increase after making their first five monthly payments on-time.
Best Benefits
Rates & Fees
Why Should You Apply?
No annual fee

Access a higher credit line when you make your first 5 payments on time;

Credit limits between $300 and $5,000

$0 fraud liability
Regular Purchase APR: 28.24% variable based on the Prime Rate
Balance Transfer APR: 28.24% variable based on the Prime Rate
Cash Advance APR: 28.99% variable based on the Prime Rate
Cash Advance Transaction Fee: Either $10 or 4% of the amount of each Cash Advance, whichever is greate
Late Payment Penalty Fee: Up to $38
You're hoping to boost your credit score

You don't want to carry a balance

You're a member of an AFL-CIO affiliated union

You do't want to pay an annual fee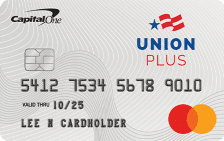 Union Plus Primary Access Card Review
Union Privilege is a non-profit arm of the AFL-CIO and provides consumer benefits to union members through the Union Plus benefits program. The program also collaborates with Capital One, issuing several credit cards, including the Union Plus Primary Access Card.
The card is an unsecured credit-building card designed to boost a flagging credit score with regular, on-time payments.
Higher Credit Limit After Five Months
One of the nicest perks of the Primary Access Card is that new cardholders may receive a credit limit upgrade in as little as five months from opening the account. If holders make their first five payments on-time, they'll have access to a higher credit line.
Receiving more available credit is a great way to boost your credit score, as the amount of credit an individual can pull from has a considerable impact on their overall credit health and score. "New credit" accounts for 10% of a person's credit score, while their payment history accounts for a whopping 35%, meaning making on-time payments and keeping reaching the increased credit line goal with the Primary Access Card is no insignificant achievement.
The other major factor in credit score calculations is the total amount a person owes in relation to how much credit they have. This is known as "credit utilization," and it makes up another 30% of the credit score pie.
Credit utilization should be kept below 30% so as not to impact a credit score negatively. Thirty percent would be like having a $300 balance on a $1,000 credit Limit. Ideally, however, a utilization rate of 10% is much more favorable and can go a long way to boosting a score.
Capital One understands that improving a credit score can be daunting – especially for those that have had issues in the past. The Union Plus Card comes with manageable credit limits designed to help people establish good practices by using their credit responsibly. Credit limits range from $300 to $3,500, which makes spending wisely and an important part of using this card – especially if the increased credit limit is the goal.
Since making regular payments is the only way to get a credit line increase or boost a score, it's only fitting that the Union Plus Primary Access Card makes carrying a balance as difficult as possible. The card features a high fixed-rate APR on purchases and balance transfers that sits in the 25%-range.
Such a high interest rate may be off-putting, but this card is for building credit. As such, the card is ideal for those who don't plan on carrying a balance – i.e., paying their statement in full every month. Taking this approach helps establish solid credit practices and bypasses the issues that might arise from the steep APR of the card.
Every Union Plus Cardholder can receive AFL-CIO hardship grants once their card account is open for at least three months.
These hardship grants provide financial cover unforeseen circumstances and can help mitigate some of the losses members might experience. Hardship grants never need to be paid back and are payable by check – a fantastic perk and equally grand gesture by Union Privilege.
There are four types of hardship grant in the program:
Disability Grant: $1,600 to $2,700 for individuals who have a disability or long-term illness
Hospital Grant: $1,200 for unreimbursed hospital expenses
Job Loss Grant: $300 for those laid off work
Strike Grant: $300 for individuals on union-sanctioned lockouts or strikes
Some limitations come with the Union Privilege hardship grants, including only one award of each type per member, regardless of how many Union Plus credit cards they have. Additionally, all Union Plus accounts must be current and in good standing.
Member Rebates and Discounts
Union Cardholders also receive rebates and discounts just for being a Union Privilege members. These rebates and discounts include:
Up to $250 in rebates from AT&T
Up to 25% off car rentals when booking with Avis or Budget
$1 for the first month ($6.90 after that) on membership in the Union Plus Motor Club when using their Union Plus Card and selecting the "Family Plus" plan.
25% discount with Teleflora – 5% more than the typical union member discount
Should You Apply for the Union Plus Primary Access Card from Capital One?
Overall, the Primary Access Card does precisely what it sets out to do: boost credit scores for union members serious about raising their credit profile. Access to an increased credit line after making just five on-time payments is great, notably as some of the other cards on the market that promise enhanced credit limits require a minimum of at least seven months before this takes place.
The addition of hardship grants from the AFL-CIO is another excellent feature of all Union Plus credit cards, but especially of the Primary Access. Hardships like strikes, unforeseen hospital bills, and job losses hurt all union members, but those with lower access to credit can suffer disproportionately. Having the chance to receive grants can go a long way – and is a perk that shouldn't be overlooked from Union Privilege.
The high fixed-rate APR on purchases and balance transfers may seem like something to turn people away, but for those serious about their credit, it is a reminder that paying your balance in full is a great way to raise a credit score and establish the good habits needed to be successful in the credit game. If you're serious about your credit health and are a union member, you'll like what you see with the Primary Access Mastercard from Capital One.  
Browse Other Capital One Credit Card Offers: