by Cory Santos | Last updated on November 9th, 2023
Capital One Platinum Credit Card
30.49% variable based on the Prime Rate

Regular Purchase APR

30.49% variable based on the Prime Rate

Balance Transfer APR

30.49% variable based on the Prime Rate

Cash Advance APR
At a Glance
Anyone looking to build up their credit should consider the Capital One Platinum Credit Card, which grants cardholders with average credit access to a higher credit line after showing they're responsible by making their first 5 monthly payments on time. The card's interest rate encourages paying down one's balance every month, creating the habits that will help users attain that better credit score they're striving for.
Best Benefits
Rates & Fees
Why Should You Apply?
No annual or hidden fees. See if you're approved in seconds

Be automatically considered for a higher credit line in as little as 6 months

Help build your credit through responsible use of a card like this

Enjoy peace of mind with $0 Fraud Liability so that you wo't be responsible for unauthorized charges

Monitor your credit score with CreditWise from Capital One. It's free for everyone

Get access to your account 24 hours a day, 7 days a week with online banking from your desktop or smartphone, with Capital One's mobile app

Check out quickly and securely with a contactless card, without touching a terminal or handing your card to a cashier. Just hover your card over a contactless reader, wait for the confirmation, and you're all set

Pay by check, online or at a local branch, all with no fee - and pick the monthly due date that works best for you
Regular Purchase APR: 30.49% variable based on the Prime Rate
Balance Transfer APR: 30.49% variable based on the Prime Rate
Balance Transfer Transaction Fee: 3% of the amount of each transferred balance that posts to your account at a promotional APR that we may offer you. None for balances transferred at the Transfer APR.
Cash Advance APR: 30.49% variable based on the Prime Rate
Cash Advance Transaction Fee: 3% of the amount of the cash advance, but not less than $3
Late Payment Penalty Fee: Up to $40
Over Limit Penalty Fee: None
You do not want to pay an annual fee

You want to build up your credit quickly

You enjoy the freedom and convenience of mobile banking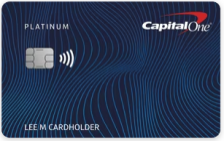 Capital One Platinum Credit Card Review
The Platinum Mastercard® from Capital One is designed for people looking to establish a positive credit history. The card provides the credit you need with no annual fee, making it a great choice for anyone who wants a no-fuss credit card with automatic credit line reviews.
Best for Average Credit
While the Capital One Platinum Credit Card certainly isn't the most exciting card on the market, it is attractive because it has no annual fee, built-in features to improve your credit score, and guarantees a minimum credit line of $300.
The card is ideal for anyone looking to prove their financial responsibility with unsecured credit (or anyone graduating from the Capital One Platinum Secured Credit Card). It offers a basic platform for credit growth thanks to unlimited access to the free credit monitoring tool CreditWise, monthly reporting to all the major credit reporting agencies (Experian, Equifax, and TransUnion), and the chance to be automatically considered for a higher credit line in as little as six months.
Capital One states that after five months of on-time payments will automatically make you eligible for a credit limit increase. As long as your spending stays the same, this boost can positively impact your credit utilization, which plays a big part in determining your credit score.
How to Improve Your Score
Getting to grips with your credit and reshuffling your deck to improve your standing takes time, practice, and plenty of patience. Here are some useful, evergreen credit tips to help you on your way:
| Tip | Explanation |
| --- | --- |
| Check your credit file | Checking your credit report is a great way to better understand your financial well-being. Checking your credit report helps you maintain an accurate credit history, protect against identity theft, and make informed financial decisions. You can ask for a free credit report from a credit-reporting agency every 12 months. |
| Keep credit utilization low | Aim to keep your credit card balances well below your credit limit. High credit card utilization, or the amount of your credit limit you actually use, can negatively impact your credit score. A general rule is to keep credit utilization below 30% of your credit limit. |
| Pay on time | Always pay your bills on time. Your payment history is a significant factor in your FICO Score and VantageScore credit scores. Always pay your bills, including credit cards, loans, and utilities, on time. Late payments can hurt your credit and may result in reduced credit limits or closed accounts. |
| Become an authorized user | Becoming an authorized user on someone else's credit card account can help supercharge your credit growth. When you're added as an authorized user, the card's payment history and credit utilization are often reported on your credit report, potentially boosting your credit score if the primary cardholder manages their credit responsibly. |
| Limit new applications | Always try to avoid applying for too many credit cards in a short timeframe. Each time you apply for credit, it results in a hard inquiry on your credit report, which can temporarily lower your score. Be selective about applying for new credit and you will rpotect your credit score. |
No Annual Fee Platinum Comparison
Here's how the Platinum Card stacks up with other comparable offers:
Things to Consider
If you were hoping to earn rewards while you rebuild your credit or manage your existing credit card debt, you'll have to look elsewhere. The Platinum Credit Card does not offer cash back (unlike Capital One's similarly structured Journey Student Card, which isn't only for students), no signup bonus, or introductory APR for purchases or balance transfers.
Other Card Features
For a fairly basic card, the Platinum Card offers the right amount of protection and features to streamline your financial routine. For starters, there's the basic security protections that come from Mastercard, including:
| | | |
| --- | --- | --- |
| Zero Liability Protection | Mastercard Global Services | ID Theft Protection |
Cardholders also enjoy 24/7 customer support, 24/7 access to a list of merchants that charge your Capital One card monthly, like subscriptions and bills on your account, account alerts, Eno®, your Capital One assistant that keeps an eye on your accounts 24/7, sends alerts when something's up, and is always ready to answer questions. You're also covered by $0 Fraud Liability if your card is lost or stolen.
Capital One Ratings
How is Capital One a credit card issuer? Here is a selection of reviews for the bank from consumers and experts alike:
Should You Apply for the Platinum Credit Card from Capital One?
Overall, the card is fine, but there are so many other better options for Fair credit scores that it's hard to find any real appeal for this card.
Aside from having no rewards (cash back or otherwise), it's quite surprising that a card intended to help improve credit would not have financial tools to assist cardholders with existing debt. The APR is high – which would necessitate that cardholders pay their balances off in full each month to avoid exorbitant interest payments – yet it doesn't offer an introductory 0% APR to try and offset it.
Despite Capital One's reputation for high-value rewards cards, their credit-building Platinum Credit Card is slightly more than a glamorized secured card sans deposit. There are certainly many more enticing options for poor or average credit out there than this one. Those with good credit might consider a card with one of the longest intro APR periods –the Citi Simplicity® Card and Citi® Diamond Preferred® Card.
Browse Other Card Offers:
Editorial Disclosure – The opinions expressed on BestCards.com's reviews, articles, and all other content on or relating to the website are solely those of the content's author(s). These opinions do not reflect those of any card issuer or financial institution, and editorial content on our site has not been reviewed or approved by these entities unless noted otherwise. Further, BestCards.com lists credit card offers that are frequently updated with information believed to be accurate to the best of our team's knowledge. However, please review the information provided directly by the credit card issuer or related financial institution for full details.