Last updated on February 23rd, 2023
Advertiser Disclosure
close ×
Advertiser Disclosure – BestCards is an independent, Florida-based credit card comparison platform. Many of the card offers that appear on this site are from companies from which BestCards receives compensation. This compensation may impact how and where products appear on this site (including, for example, the order in which they appear). BestCards does not include all card companies or all card offers available in the marketplace.
Editorial Disclosure
close ×
Editorial Disclosure – The opinions expressed on BestCards' reviews, blogs, and all other content on or relating to the website are solely those of the content's author. They are not reflective of any card issuer or financial institution and have not been reviewed or approved by these entities unless otherwise noted. Further, BestCards lists credit card offers that are updated daily with information believed to be accurate to the best of our knowledge.
9.50% to 17.50% variable based on creditworthiness and the Prime Rate

Regular Purchase APR

9.50% to 17.50% variable based on creditworthiness and the Prime Rate

Balance Transfer APR

17.50% variable based on the Prime Rate

Cash Advance APR

0% for 6 months

Intro Purchase APR
At a Glance
Earn 2% cash back rewards and enjoy no hidden fees with the impressive Onyx Mastercard® from Texas Dow Employees Credit Union. The no annual fee card offers big credit limits, an even bigger rewards cap, and more.
Best Benefits
Rates & Fees
Why Should You Apply?
No annual fee

No foreign transaction fees

No fees for balance transfers or cash advances

Earn 2% on all eligible purchases
Intro Purchase APR: 0% for 6 months
Regular Purchase APR: 9.50% to 17.50% variable based on creditworthiness and the Prime Rate
Intro Balance Transfer APR: 0% for 12 months
Balance Transfer APR: 9.50% to 17.50% variable based on creditworthiness and the Prime Rate
Cash Advance APR: 17.50% variable based on the Prime Rate
Late Payment Penalty Fee: Up to $25
Return Payment Penalty Fee: Up to $25
You're a current member of TDECU or qualify for membership

You have excellent credit

You want a versatile rewards card that also doubles as a balance transfer credit card

You do't want to pay an annual fee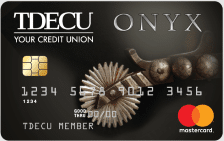 The Onyx Mastercard® from Texas Dow Employees Credit Union (TDECU) offers exceptional cash back and no hidden fees with a $0 annual fee.
Earn Unlimited 2% Cash Back
The main headline with TDECU's Onyx Mastercard® is the ability to earn 2% cash back on all eligible purchases. That cash back rate is on par with the very best cash back cards on the market, with the only notable exception being Alliant's Cashback Visa Signature which earns 2.5% back after meeting minimum Alliant high-yield checking account balance minimums.
While Alliant CU offers more cash back, it comes with a caveat, something not found with the TDECU Onyx Card. Instead, cardholders get the satisfaction of earning double cash back on regular purchases without any confusing fine print. This, in turn, places the card on par with other 2% cash back options, including the Citi Double Cash, Wells Fargo Active Cash, and TD Double Up Cards.  
While the Onyx offers 2% back on all eligible purchases, it's important to remember what purchases are not eligible for cash back rewards. Ineligible purchases with the card include:
Cash advances
Balance transfers
ATM disbursements
Money orders
Gambling purchases
Tax payments and other finance charges
Cash back rewards with the TDECU Onyx apply to the first $500,000 in annual spending, with a cap of $10,000 cash back rewards every year.
How to Redeem Cash Back Rewards with TDECU
Rewards with the Onyx Card automatically apply to the account during October each year. The accumulation period begins the day the account holder receives their TDECU Onyx Card through September 30th of the same year.
Cash back rewards with TDECU expire as soon as the account is voluntarily closed. Additionally, rewards may not post to the account if the Onyx cardholder's account is delinquent or not in good standing.
Beyond impressive rewards, the Onyx Card also provides the ideal platform for financing a large purchase or paying down an existing balance. The card features two introductory APR periods, one on purchases and the other on transfers.
The card offers 0% APR for six months on purchases, which, while not exceptional, provides some value. The same cannot be said for the 0% APR on balance transfers that runs for 12 months. That period provides an excellent platform for paying down balances – particularly given the exceptionally low rates the card typically charges.
An Impressive APR Every Day
Credit union credit cards feature some of the most competitive interest rates on the market today – and the Onyx Mastercard® certainly fits that billing. Interest rates with the card start as low as 9.5% – significantly below the average APR for a cash back credit card (currently around 16%) and even other low-rate credit union cards (currently around 11%).
The rate is excellent even at the higher end of the interest rate spectrum, never topping more than 18%. This, of course, makes sense as the Onyx Mastercard is geared towards applicants with an excellent credit history.
No Hidden Fees of Any Kind
Solid cash back rewards and exceptional APRs are one thing, but the Onyx Mastercard® from TDECU takes things a step further with the lack of any penalty fees. There are no annual fees, maintenance fees, or foreign transaction fees, for example. Additionally, the card charges no fees for cash advances or balance transfers – a rarity for a card offering so much.
Other notable features of the Onyx Mastercard® from Texas Dow Employees Credit Union include:
Worldwide acceptance and ATM access
Mastercard Zero Fraud Liability
Mastercard ID Theft Protection
Baggage Delay Insurance
$100,000 Travel Accident Insurance
Mastercard® global services
25-day grace period
Should You Apply for the TDECU Onyx Mastercard®?
The Onyx Mastercard® is certainly impressive, but is it right for you? First, you'll need to be able to qualify for TDECU membership. That membership is restricted to residents of 30 Texas counties, family members of current residents, or employees or members of TDECU affiliated companies or organizations.
Qualified members will also need excellent credit and a penchant for spending. Like the Alliant Cashback Visa Signature, the Onyx Card is designed with high spenders in mind. TDECU reports that Onyx cardholders spend $56,000 per year on the card, which is huge for most.
Finally, potential applicants need excellent credit. According to reports, TDECU requires a minimum FICO score of 720 to qualify for the card, far higher than the credit requirements of many of the other card offerings from the CU.
Meet all these requirements? If so, then the Onyx Mastercard® is a hugely impressive cash back rewards credit card that provides rewards-earning, low rate saving, and absolutely no hidden fees in one unique package.
Browse Other Card Offers: