Last updated on September 1st, 2023
Advertiser Disclosure
close ×
Advertiser Disclosure – BestCards is an independent, Florida-based credit card comparison platform. Many of the card offers that appear on this site are from companies from which BestCards receives compensation. This compensation may impact how and where products appear on this site (including, for example, the order in which they appear). BestCards does not include all card companies or all card offers available in the marketplace.
Editorial Disclosure
close ×
Editorial Disclosure – The opinions expressed on BestCards' reviews, blogs, and all other content on or relating to the website are solely those of the content's author. They are not reflective of any card issuer or financial institution and have not been reviewed or approved by these entities unless otherwise noted. Further, BestCards lists credit card offers that are updated daily with information believed to be accurate to the best of our knowledge.
34.99% variable based on the Prime Rate

Regular Purchase APR

34.99% variable based on the Prime Rate

Cash Advance APR
At a Glance
The First Phase Visa® is a credit builder credit card issued by The Bank of Missouri. Packed with the basics, the credit card offers manageable credit limits, dynamic credit card protection tools and, overall, a solid option for people with limited access to credit.
Best Benefits
Rates & Fees
Why Should You Apply?
Build credit with a card that reports to all major credit bureaus

On-call representatives with reliable customer service

Peace of mind with Visa® Zero Liability Policy

No cash advance fees in the first year

Secure a manageable credit limit from $300 to $1,000
Regular Purchase APR: 34.99% variable based on the Prime Rate
Cash Advance APR: 34.99% variable based on the Prime Rate
Cash Advance Transaction Fee: None for the first year (introductory). After that, either $10 or 3% of the amount of each cash advance, whichever is greater
Annual Fee: $75 for the first 12 months. After that, $48
Late Payment Penalty Fee: Up to $40
Return Payment Penalty Fee: Up to $40
You're looking for a starter credit card to build credit

You struggle to gain access to credit due to a subprime credit score or no credit score

You seek a manageable credit limit to support better budgeting habits

You want to feel secure in all credit card purchases with dynamic security tools in place

You don't mind investing in your credit journey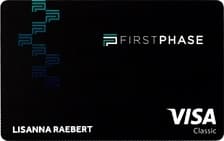 First Phase Visa® Credit Card Review
The First Phase Visa® is not meant to be your "forever" card, but it can be the steppingstone that will kick off your credit score journey into a brighter future. With this card, you may start building credit for the future you deserve.
A Brighter Financial Future
The journey to better credit can feel rocky if you've had no luck getting credit card approvals. The First Phase Visa® credit card may be the start to navigating your credit score into a better phase. The card intends to help those with less-than-perfect credit by delivering access to credit. No matter where your credit score stands, with the First Phase Visa® credit card, your approval odds may be greater.
Like most other credit cards, the First Phase Visa® helps build credit by reporting to major credit bureaus. With responsible use, any cardholder can be well on their way to building up their credit score for a better future.
To apply for the First Phase Visa® you will need:
To be at least 18 years or older
An acceptable debt-t0-income ratio
Verification checks compliant with the USA PATRIOT Act.
Manage With Ease
High credit limits can bring about risky consequences. Sometimes a higher credit limit can lead to overspending and not sticking to a budget, especially as a beginner credit cardholder. Similarly, a well-seasoned credit card user rebuilding their credit may fall short on practicing disciplined budgeting. If the discipline is not there, the road to better credit may get bumpy.
However, the credit limit offered by the First Phase Visa® is manageable. If approved, the available credit limit can range anywhere between $300 to $1,000. With a smaller credit limit, cardholders can easily practice budgeting while not spending above their means. Staying disciplined with your budget and on-time payments is an essential part of evolving a subprime credit score into a prime score.
Visa Benefits
Moreover, with the First Phase Visa® credit card, you as a cardholder will benefit from the benefits included with the Visa network. Worry less with Visa's Zero Liability policy – meaning you will not be held responsible for any unauthorized charges on your credit card. Another protection tool provided by Visa includes LifeLock from Norton, which prevents identify theft by monitoring threats, trends, and data. With these Visa protection tools, you can stay empowered to live your digital life safely from any credit card fraud.
How to Apply
The application process for the First Phase Visa® is simple. A three-step process, once approved you can have your new card in as little as five to seven business days. Part of the application is a one-time Program Fee of $89 (if approved). While an $89 charge may not be ideal, there are also other fees to consider.
Other Fees
While the First Phase Visa® credit card opens a door for access to credit, it also comes with a few fees to consider before applying. Along with the $89 one-time Program Fee, card applicants should also expect to pay a $75 annual fee the first year ($48 annually afterward). There is also a $6.25 Monthly Servicing Fee that is waived in the first year. In other words, in the first year, a new applicant should expect to pay $164 in fees ($123 annually afterward). Furthermore, this does not include fees associated with adding an authorized user ($29 annually per additional card), requesting a credit limit increase (25% of increase amount), or requesting express card delivery ($35). The fees add up alongside a significantly higher interest rate offer than other "no credit" credit cards.
Above all, the card presents an alternative option for applicants who struggle with credit card approvals. However, other subprime credit cards serve similar individuals with significantly fewer fees. For instance, the Applied Bank® Secured Visa® Gold Preferred® Credit Card or the Boost Platinum Card offer lower APRs, fewer fees, and the opportunity to build or rebuild credit. You can explore similar credit cards here.
Additional Card Benefits:
No cash advance fees in the first year
Automatic payments and reminders
VISA Account Updater serves as an automated, dedicated, and secure clearinghouse
Should You Apply for the First Phase Visa® Credit Card?
The First Phase Visa® credit card empowers cardholders to take a hold of their future. Responsible use of the card opens the door to better credit. You may enjoy a manageable credit limit alongside Visa Identity Protection benefits for peace of mind. A less-than-perfect credit score doesn't have to mean zero access to credit, thanks to the First Phase Visa's® simple 3-step application process. While the card does introduce several fees and a high-interest rate, it's not built to be your "forever" card. The First Phase Visa® credit card is a stepping stone towards a brighter credit score.