Last updated on February 24th, 2023
Advertiser Disclosure
close ×
Advertiser Disclosure – BestCards is an independent, Florida-based credit card comparison platform. Many of the card offers that appear on this site are from companies from which BestCards receives compensation. This compensation may impact how and where products appear on this site (including, for example, the order in which they appear). BestCards does not include all card companies or all card offers available in the marketplace.
Editorial Disclosure
close ×
Editorial Disclosure – The opinions expressed on BestCards' reviews, blogs, and all other content on or relating to the website are solely those of the content's author. They are not reflective of any card issuer or financial institution and have not been reviewed or approved by these entities unless otherwise noted. Further, BestCards lists credit card offers that are updated daily with information believed to be accurate to the best of our knowledge.
Speedy Rewards® Mastercard®
29.74% variable based on creditworthiness and Prime Rate

Regular Purchase APR

29.74% variable based on creditworthiness and Prime Rate

Balance Transfer APR

29.99% variable based on the Prime Rate

Cash Advance APR
At a Glance
The Speedy Rewards® Mastercard® packs on the points by rewarding shoppers with up to 50X points per dollar on purchases – with above average rewards for purchases outside of Speedway gas stations. Points can be redeemed for gas savings, merchandise, or gift cards from popular retailers through the Speedy Rewards loyalty program.
Best Benefits
Rates & Fees
Why Should You Apply?
Earn 25,000 bonus points when you spend at least $500 in the first 3 billing cycles

50X points per $1 spent at Speedway

10X points per $1 spent elsewhere

Redeem points for items in-store or through the Speedy Rewards Marketplace

No annual fee
Regular Purchase APR: 29.74% variable based on creditworthiness and Prime Rate
Balance Transfer APR: 29.74% variable based on creditworthiness and Prime Rate
Balance Transfer Transaction Fee: Either $10 or 5% of the amount of each transfer, whichever is greater
Cash Advance APR: 29.99% variable based on the Prime Rate
Cash Advance Transaction Fee: Either $15 or 5% of the amount of each cash advance, whichever is greater
Foreign Transaction Fee: 3% of the transaction amount in U.S. dollars
Late Payment Penalty Fee: Up to $40
Return Payment Penalty Fee: Up to $35
You frequently partake in road trips

You spend a lot of time on the road for work

You live in close proximity to Speedway gas stations

You live in a state where Speedy Rewards Fuel Discounts are eligible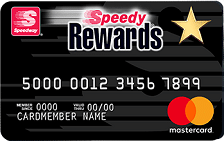 Speedy Rewards® Mastercard® Review
The Speedy Rewards® Mastercard® (issued by First Bankcard) has surprisingly strong earning potential for a gas station credit card. Although individual point valuations are on the low end of the spectrum (less than a hundredth of a cent), the card supplements that weakness with an aggressive category bonus on both gas and non-gas purchases, no annual fee, and a decently sized signup bonus.
Earning Points with the Speedy Rewards Mastercard
New cardholders will earn 25,000 bonus points after spending $500 within the first 3 months of opening an account – that alone is nearly enough points to earn a $25 gift card (which, on average costs 30,000 points). In terms of bonus categories, the Speedy card keeps it simple:
50 points per $1 spent at Speedway stations (includes gas and in-store purchases)
10 points per $1 spent everywhere else
You'll earn rewards points at a pace that the card's name implies (i.e. fast) but don't let those big numbers full you, each point is virtually worthless and on average comes out to about $0.0008.
Redeeming Speedy Rewards Points & Point Values
Due to the low point valuations and limited redemption options, most cardholders will find themselves better off redeeming their Speedy points towards Speedway-related purchases, where the point valuations are slightly better (but not by much). The key to maximizing the value of your Speedy Rewards points requires patience: accumulating larger numbers of points (at least 4,000 or more) yields the best redemption values.
Between the café items, prepaid cards, and fuel savings, Speedway food-related gift cards have the best redemption value, a $10 card for 7,900 points (which is still far below average in point value). Speedway also has options for combined fuel & merchandise gift cards, but those are far less lucrative. For those looking for a credit card that provides broader
rewards, the Citi Rewards+® Card is another popular gas rewards credit card that earns 2X on
groceries and gas, plus 1X on all other purchases.
Food Items
The lowest point redemption options, food items can be redeemed for amounts starting at 1,000 points (individual and pre-packaged food items like cookies, sodas, bags of chips, etc.) upwards of 5,000 for hot items from the Speedy Café.
Retailer Gift Cards
Speedway carries a surprisingly diverse array of gift cards from big-name retailers including from Amazon, Home Depot, JCPenny, and Netflix. Unfortunately, these offer dismal redemption rates and should be avoided.
To earn enough points for the average $25 gift card (30,000 points) one would have to spend $600 in gas or a whopping $3,000 in non-Speedway purchases. A flat-rate cash back rewards card would yield far greater returns on those spending amounts ($12 and $60 respectively).
Beginning at values of $10 and going up to $200, gift cards offer a useful but expensive option for redeeming Speedy Rewards points. Typically, gift cards can be obtained at a more competitive rate for the larger values (and thus, point costs) but this doesn't seem to be the case here.
Speedway Gift Cards
Offering four gift card options of their namesake, customers can choose between a $5 and $10 fuel and merchandise card, a $10 food and merchandise gift card, and a $10 food-only gift card. Strangely, the gift cards that include fuel purchases are just as bad a deal of the retailer gift cards and it is only the non-fuel ones ($10 Food and Merchandise, and the $10 Speedy Good to Go) which cost 7,900 actually offer a huge leap in value, where points become worth $0.001 each.
Speedway Fuel Discounts
Speedway offers three tiers of per-gallon savings at the pump: 10¢, 25¢, and 50¢. Based on their point costs, here's how much one would have to spend (at Speedway for the 50X points rate) in order to earn these discounts:
10¢ off per gallon (1,750 points) = $35 dollars
25¢ off per gallon (4,375 points) = $87.50 dollars
50¢ off per gallon (8,750 points) = $175 dollars
The fuel savings discount of 10, 25, or 50-cents per gallon is restricted to a 25-gallons, but you could potentially save $2.50, $6.25, $12.50 on your next fill up. Regardless of which tier of gas savings you spring for, point values are the same among each fuel discount option, meaning that you don't need to hoard your points for the highest fuel discount in order to get the best savings.
Unfortunately, the fuel savings redemption option has one huge limitation that could put a major dent in the card's appeal: 12 states where Speedway fuel saver discounts are not available.
Connecticut
Florida
Massachusetts
New Jersey
North Carolina
Pennsylvania
Rhode Island
South Carolina
Tennessee
Virginia
West Virginia
Wisconsin
Should You Apply for the Speedy Rewards® Mastercard®?
While the low value of the points might not make it suitable for use as your go-to card (despite the 10X on non-Speedway purchases), as a gas station card it gets the job done, providing temporary relief against rising gas prices and the occasional free snack. The ultra-low point value is a big detriment for this card's supporting rewards system (Speedy Rewards), and thus, this card could really only be utilized by an individual that does a substantial amount of driving (likely someone who has to be on the road to make their living).
In terms of availability, Speedway is the second-largest convenience store chain in the nation and has over 3,900 stores in 36 states and is a decent option for those who travel frequently involve leaving their own state. However, if you live in one of the 12 states where fuel discounts aren't available, this card won't have much to offer you.
Overall, if you are a casual driver or traveler looking for gas rewards, a generic cash back credit card would serve you much better, providing better value, ease of reward redemptions, and a much wider range of use.
Browse Other First Bankcard Credit Card Offers: