Last updated on September 21st, 2023
Advertiser Disclosure
close ×
Advertiser Disclosure – BestCards is an independent, Florida-based credit card comparison platform. Many of the card offers that appear on this site are from companies from which BestCards receives compensation. This compensation may impact how and where products appear on this site (including, for example, the order in which they appear). BestCards does not include all card companies or all card offers available in the marketplace.
Editorial Disclosure
close ×
Editorial Disclosure – The opinions expressed on BestCards' reviews, blogs, and all other content on or relating to the website are solely those of the content's author. They are not reflective of any card issuer or financial institution and have not been reviewed or approved by these entities unless otherwise noted. Further, BestCards lists credit card offers that are updated daily with information believed to be accurate to the best of our knowledge.
Sephora Visa® Credit Card
21.99% or 30.74% variable based on creditworthiness and the Prime Rate

Regular Purchase APR

26.99% variable based on the Prime Rate

Balance Transfer APR

31.74% variable based on the Prime Rate

Cash Advance APR
At a Glance
The Sephora Visa was made for beauty lovers and earns 4% back on Sephora purchases – a return that general credit cards can't match. But the rewards program can be tricky to navigate – and even more difficult to generate tangible rewards – as such, only those who spend thousands at the brand should consider owning this card.
Best Benefits
Rates & Fees
Why Should You Apply?
4% back on all Sephora purchases

1% back on all other purchases

$20 signup bonus after spending $500 outside of Sephora within 90 days

No annual fee
Regular Purchase APR: 21.99% or 30.74% variable based on creditworthiness and the Prime Rate
Balance Transfer APR: 26.99% variable based on the Prime Rate
Balance Transfer Transaction Fee: Either $10 or 5% of the amount each balance transfer, whichever is greater
Cash Advance APR: 31.74% variable based on the Prime Rate
Cash Advance Transaction Fee: Either $10 or 3% of the amount each cash advance, whichever is greater
Foreign Transaction Fee: 3% of the transaction amount in U.S. dollars
Late Payment Penalty Fee: Up to $41
Return Payment Penalty Fee: Up to $41
You're a current VIB Rouge member (minimum $1000 spend per year)

You have access to a standalone branch (not located within a JCPenny)

You already have a rewards credit card for everyday purchases such as dining or travel

You live in the United States

You want a card with no annual fee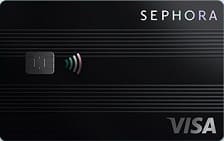 Sephora Visa® Credit Card Review
The Sephora Visa is a co-branded retail credit card issued by Comenity Bank (one of the leading store credit card issuers). It rewards beauty shoppers with cash vouchers and operates separately from Sephora's Beauty Insider program. As is expected of retail credit cards, it offers cardholders a decent return on purchases at their stores but has few perks beyond that.
Welcome Bonuses
There are two distinct welcome bonuses with the Sephora Visa® – and one which is exclusive to the open loop retail card. The first is 25% off your first purchase at Sephora on the same day you apply for and open your account. The second offer is $20 in Sephora Credit Card Rewards after spending $500 outside of Sephora within the first 90 days of opening an account. While this requirement isn't hard to reach – this also isn't a compelling enough bonus to justify owning the card.
It's also worth noting that the latter sign-up bonus – the $20 credit – is unavailable for those with the closed-loop Sephora Credit Card.
Store Card Vs. Visa
What's the difference? When you apply for the Sephora Visa, you are actually applying for both the Visa and a store card version that is only usable at Sephora locations or at Sephora online. This type of credit card is known as a "store card" and offers better approval odds than a credit card using the Mastercard or Visa network.
The upside? You might get the store card if you don't qualify for the Sephora Insider Rewards Visa. The downside? You won't get access to the statement credit welcome bonus or rewards outside Sephora stores.
Here's a quick breakdown of how the two Sephora credit cards differ:
| | Sephora Visa® | Sephora Credit Card |
| --- | --- | --- |
| Annual fee | $0 | $0 |
| Welcome offer | $20 Sephora Reward after your first $500 spent outside Sephora within the first 90 days 25% off first purchase at Sephora the day you open your account | 25% off your first purchase at Sephora on the same day you open your Sephora Credit Card account |
| Credit Card Rewards | 4% back in stores or online at Sephora, 1% elsewhere | 4% back in stores or online at Sephora |
| Beauty Insider Points | 2X at Sephora | 2X at Sephora |
How to Earn Rewards with the Sephora Visa
In terms of everyday earnings, beauty shoppers will earn a decent return of 4% in rewards when using their card at Sephora (both in-store or online), which is extra valuable considering that beauty supplies MCC code (5977) as "Beauty Shops & Supplies" rarely allows it to qualify for bonuses with other more general rewards cards. Unfortunately, the 4% return does not apply to purchases made at brand branches in JCPenney or outside of the United States.
For all non-Sephora purchases, the card will generate a standard 1% back, which means that this card should only be considered for use outside of the store to meet the signup bonus or if this is the only rewards card that you own.
Interestingly, cardholders also earn 2X in Beauty Insiders Points for every $1 they spend at Sephora, with no cap on the total number of points they can earn. Even better, Beauty Insider Points and cash back as Rewards are combinable and can then be redeemed for credit Card Rewards (a reward dollar) once enough "points" have been earned. Beauty Insider Points expire after 12 months.
Sephora Credit Card Rewards are essentially coupon vouchers for in-store and online purchases. They are the currency of the card's reward program and function as store credit. These reward dollars are applied at checkout to lower your total purchase price. Earning one dollar's worth of a Credit Card Reward requires 25 Reward Dollars (points) – the equivalent of spending $625 at Sephora.
Sephora Visa Card Alternatives
Deciding if the Sephora Visa (or even the Sephora Credit Card) is right for you depends on several key factors. Consider things like how much you typically spend with Sephora annually, your long-term appreciation for Sephora products, and how much you would prefer rewards towards beauty supplies – and not more versatile options like statement credits, travel, and more.
The Sephora credit card offers 4% cash back on Sephora purchases and 1% on other purchases. Cardholders also earn 2X Beauty Insider points on Sephora purchases. Typically, you judge your average spending in those categories against the annual fee, but with the Sephora credit cards, there is no annual fee to worry about.
Instead, focus on your other spending habits and see if other retail or cash back cards better mesh with your spending habits – especially if you prefer greater reward flexibility. Here are a few other offers to consider:
| | | | |
| --- | --- | --- | --- |
| | Bread Cashback Amex | Citi® Double Cash Card | Wells Fargo Active Cash Card |
| Annual fee | None | None | None |
| Rewards | Unlimited 2% cash back on all eligible purchases | Unlimited 2% back on all purchases (1% back when you purchase and 1% back when you pay) | Unlimited 2% back on all purchases |
| Intro APR | N/A | 0% for 18 months on balance transfers | 0% for 15 months on balance transfers and purchases |
Sephora Reward Redemption Limitations
Besides having a ton to earn a single reward, there are limitations when it comes to using Sephora Credit Card Reward Dollars. If you've somehow gained multiple $5 vouchers, there is a cap of three vouchers per in-store transaction. Online purchases are limited to one voucher, so most cardholders will want to use their Sephora credit card rewards in person.
However, these vouchers are not accepted at JCPenney-based branches and cannot be used to purchase gift cards.  Should the item you purchase be worth less than the voucher amount, any remaining value is forfeited (i.e., if you purchase a $3 item with your $5 Sephora Credit Card Reward, the leftover $2 will be lost).
Other Card Features
There are plenty of decent card member features with the Sephora credit card lineup from Comenity. There are members-only exclusive events and offers, for example. Members also enjoy easy in-store account lookups and all the great perks of the Beauty Insiders loyalty program, including a yearly birthday gift, free shipping, access to exclusive rewards, and so much more.
Cardholders also enjoy essential fraud and purchase protections from the Visa Platinum payment network. This network provides the following:
| | | |
| --- | --- | --- |
| Zero Fraud Liability | Cardholder Inquiry Services | Emergency Card Replacement |
| Roadside Dispatch and Auto Collision Damage Waiver | Lost/Stolen Card Reporting | ID Navigator from Norton |
FAQs About Sephora Rewards and the Sephora Credit Card
Comenity Bank (Bread) Ratings
What's it like living with Bread Financial (Comenity Bank) as a credit card lender? Here is a selection of reviews and ratings for Comenity:
Should You Apply for the Sephora Visa Credit Card?
The Sephora Visa offers a decent bonus for brand-related purchases, but the rewards redemption system is so restrictive – and the minimum spend needed to generate a reward so high – that cardholders will rarely see any results for their loyalty.
In order to earn a $5 voucher, cardholders would have to spend $3,125 which is a dismal return rate even for a retail card. Compared to a generic cash back card, spending that same amount would yield
Overall, the Sephora Visa card fails to deliver a compelling reason to own it, $62.50 in rewards, even for the most loyal of customers. The Sephora Visa would not be a good fit for the average shopper or even a makeup artist, as both would do better with a flexible cash-back card that would generate significantly larger returns and have the additional benefit to use those earnings as they please.
Browse Other Card Offers: