Last updated on September 25th, 2023
Advertiser Disclosure
close ×
Advertiser Disclosure – BestCards is an independent, Florida-based credit card comparison platform. Many of the card offers that appear on this site are from companies from which BestCards receives compensation. This compensation may impact how and where products appear on this site (including, for example, the order in which they appear). BestCards does not include all card companies or all card offers available in the marketplace.
Editorial Disclosure
close ×
Editorial Disclosure – The opinions expressed on BestCards' reviews, blogs, and all other content on or relating to the website are solely those of the content's author. They are not reflective of any card issuer or financial institution and have not been reviewed or approved by these entities unless otherwise noted. Further, BestCards lists credit card offers that are updated daily with information believed to be accurate to the best of our knowledge.
15.23%, 21.24%, or 25.24% variable based on creditworthiness and the Prime Rate

Regular Purchase APR

26.99% variable based on the Prime Rate

Balance Transfer APR

27.24% variable based on the Prime Rate

Cash Advance APR
Best Benefits
Rates & Fees
Why Should You Apply?
Earn up to 3 points for every dollar spent inside DSW

Earn 1 point for everything else

Free return shipping on all orders

Recieve $25 after spending $500 outside DSW within first 90 days

Receive $25 after your card arrives in the mail
Regular Purchase APR: 15.23%, 21.24%, or 25.24% variable based on creditworthiness and the Prime Rate
Balance Transfer APR: 26.99% variable based on the Prime Rate
Balance Transfer Transaction Fee: Either $10 or 5% of the amount of the balance transfer, whichever is greater
Cash Advance APR: 27.24% variable based on the Prime Rate
Cash Advance Transaction Fee: Either $5 or 3% of the amount of the cash advance, whichever is greater
Foreign Transaction Fee: 3% of the transaction amount in U.S. dollars
Late Payment Penalty Fee: Up to $41
Return Payment Penalty Fee: Up to $41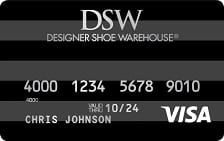 At a Glance
The DSW Visa® Credit Card is a great credit card for shoe lovers that makes it easy to save every time you buy new footwear. DSW customers to earn between 2X-3X points per dollar spent at Designer Shoe Warehouse (both in-store and online) and up to $50 in signup bonuses.
Ideal for Those Who:
Shop at Designer Shoe Warehouse at at least every 2-3 months
Would normally find it too difficult to spend $500 to reach DSW VIP Elite status
Want a card with no annual fee
DSW Visa® Credit Card Review
The DSW Visa® Credit Card is a co-branded retail card issued by Comenity Bank and available to applicants with Fair credit (630) or higher. The benefits of being a DSW Visa cardholder include free return shipping, a $25 application bonus, and another $25 bonus for spending $500 outside of DSW. Although the DSW Visa® has no annual fee, point expiration, earning caps, and redemption limits might make this card difficult for casual DSW shoppers to utilize.
The DSW Visa card has a very straightforward earning and redemption structure that supplements the perks of the DSW loyalty program (DSW VIP Rewards). This means that shopping perks such as free shipping or an annual birthday coupon are reliant on your level within the membership program; being a cardholder will not automatically grant you those privileges nor will it automatically bump anyone up to a higher tier.
Instead, the primary benefit of this card is that it provides each membership tier with one additional point per dollar spent than what they would normally earn (saving them the time and money of having to earn their way into a higher tier). While one extra point per dollar may not sound terribly exciting, this card actually turns out to be surprisingly lucrative for cardholders of any VIP level.
Earning & Redeeming DSW Reward Points
Earning points essentially falls into two categories: shoe purchases and non-shoe purchases. While the card can be used anywhere that Visa is accepted, shopping at DSW is the best way to earn a significant enough amount of points to make having the DSW Visa card worthwhile. How much you will earn from DSW purchases will vary depending on whether you are a Club, Gold, or Elite level member (although all outside purchases will earn 1X points regardless of membership status):
VIP Club & Gold members = 2 points per dollar spent at DSW for cardholders vs. 1 point per dollar for non-cardholders
VIP Elite members = 3 points per dollar spent at DSW vs. 2 points per dollar for non-cardholders
Points will typically post to an account within 48 hours of a purchase and expire 2 years from the date that they are earned. If your account has no activity for two consecutive years your card may be subject to termination.
Designer Shoe Warehouse customers will earn automatically issued rewards in the form of $5 vouchers after accumulating 100 points. These rewards are used during checkout to reduce the total purchase amount (with a limit of three per transaction) and can be earned with surprising regularity for a card with no outside bonus categories. For DSW VIP Club & Gold members, this translates to earning $5 for every $50 spent – a decent earning rate that is sure to keep a healthy number of vouchers cycling into their accounts. VIP Elite members will earn their rewards even more quickly at a rate of one $5 reward per $33.33 spent. In terms of individual point value, points are worth 10¢ for Club and Gold level members (very high value) and 15¢ for Elite members (extremely high value).
All three membership tiers can essentially earn a $5 reward after purchasing a single pair of shoes which puts the DSW Visa® Credit Card well above-average of other retail rewards cards in terms of reward-earning capabilities.
DSW Reward Redemption Limitations and Restrictions
Unfortunately, there is a cap of 50 DSW reward certificates that can be earned per year – if you are a VIP Club or Gold level member you will have max out your rewards once you have spent $2,500 and if you are a VIP Elite member, you won't earn any more rewards after spending $1,667 per calendar year (not including point-earning potential from donating shoes, up to 50 points per pair per week). As this is a relatively easily attainable number of rewards so DSW Visa® credit card cardholders will probably want to (temporarily) retire this card until their eligibility to earn more $5 DSW vouchers resets for the year.
Weaknesses of the DSW Card
The biggest weakness of the DSW Visa® Credit Card is that the card is so heavily reliant on the rewards program to provide any significant difference in benefits to its cardholders. While the additional point per dollar is useful, the card is noticeably lacking in its ability to enhance the shopping experience since all of the best (and most lucrative) perks are locked away inside of the reward program tiers.
A more practical detriment is that points expire 2 years from the date that they were earned while earned rewards (the $5 credits) expire 75 days from being earned – approximately 2.5 months. This will hardly be an issue for the frequent DSW shopper, but cardholders who shop less often will need to keep a close eye on their account rewards to ensure they don't have an automatically generated $5 reward that is at risk of expiring. Besides the risk of having your account closed for 24 months of inactivity, Comenity is infamous for suddenly decreasing credit limits (or accounts altogether) meaning cardholders are potentially at risk of their credit score being adversely should the card issuer dislike their current spending habits.
Should You Apply for the DSW Visa® Credit Card?
As with most other retail credit cards, the DSW Visa card is designed to expedite the point-earning capabilities for loyal customers – and little else. In short: it's a great credit card for shoe lovers but isn't suited for use outside of Designer Shoe Warehouse stores (except to earn the signup bonus). There are no additional bonus categories for earning DSW points (not even popular categories such as gas or groceries) and even if there were, DSW purchases would likely still be the best use of this card.
Despite the lack of versatility – you won't be replacing this card with your go-to rewards card any time soon) – it has surprising earning potential that outperforms other retail cards, and even casual shoppers can generate decent returns from the occasional shoe purchase. Overall, this card has an above-average earning potential, rewards should be easy to come by even for the most infrequent of shopper.
Browse Other Comenity Credit Cards: