by BestCards Team | Last updated on October 27th, 2023
First Tech® Federal Credit Union Platinum Secured Mastercard®
14% to 18.00% variable based on creditworthiness and the Prime Rate

Regular Purchase APR

15% to 18.00% variable based on creditworthiness and the Prime Rate

Cash Advance APR
At a Glance
If you are looking to build or rebuild your credit, then the Platinum Secured Mastercard® from First Tech Federal Credit Union may be the right fit. It offers a low-interest rate and the opportunity to earn rewards on every purchase. Furthermore, there is no annual fee for this card. Keep reading to learn more.
Best Benefits
Rates & Fees
Why Should You Apply?
No annual fee

No fees on foreign transactions or cash advances

Earn 1 rewards point for every $1 spent

Low APR
Regular Purchase APR: 14% to 18.00% variable based on creditworthiness and the Prime Rate
Cash Advance APR: 15% to 18.00% variable based on creditworthiness and the Prime Rate
Late Payment Penalty Fee: Up to $25
Return Payment Penalty Fee: Up to $25
Minimum Deposit Required: $500
You need to build up your credit score

You do not qualify for a non-secured credit card

You want to earn rewards points on your purchases

You don't want to pay an annual fee or fees for balance transfers, cash advances, and foreign transactions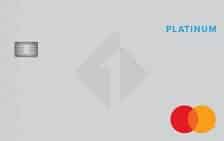 Platinum Secured Mastercard® Review
Many credit card issuers may punish applicants who have poor credit or no credit with high interest rates and fees. That's not the case with First Tech FCU. The Platinum Secured Mastercard never charges an annual fee, and cardholders are never responsible for paying fees for cash advances, balance transfers, or foreign transactions. What's more, cardholders take advantage of a low APR.
Related Article: What Are the Easiest Credit Cards for Bad Credit to Get?
High Credit Limits
One of the key features of this card that sets it apart from many other secured credit cards is the high credit limit cardholders can have. In fact, the Platinum Secured card offers the same credit limit range as two other First Tech credit cards.
Cardholders can receive up to $25,000 in credit on this card, which is a lot of purchasing power. As with most secured cards, however, applicants will need to make a security deposit. When you apply for this card, you must make a minimum deposit of $500. This deposit will equal your credit limit.
So, if you deposit $2,523, you will have a credit limit of $2,523. This deposit also serves as collateral in case you cannot pay off your credit card balance. In such a case, your First Tech will use your deposit to cancel any debt. If you close your account after paying off your card balance, then the deposit is refunded to you.
One Low APR to Rule Them All
Most credit cards offer a variable APR that applicants can be approved for. There's no sure way to know your APR until you apply. If you're unsure where your credit rating stands, this can add a lot of uncertainty when choosing a credit card.
While many secured cards offer a flat interest rate to all cardholders, it is usually considerably higher than APRs on non-secured credit cards. The reason for this is that the issuer cannot be certain that the cardholder will pay off his or her credit card debt based on past credit history.
The Platinum Secured Mastercard® charges one flat rate that is actually on par with the national average for any class of credit card. This way, you don't feel punished for trying to build or repair your credit.
No Fee Makes It (Almost) Free
Another great feature of the Platinum Secured card is the fact that there are no fees involved with many types of transactions. First of all, there is no annual fee for this card, which can be rare with secured credit cards.
Additionally, you don't have to pay fees when you transfer a balance from another account onto your secured card. If you need to withdraw some cash, you don't have to pay any fee for that, either.
What's more, you can travel the world with your Secured Platinum Mastercard and not worry about paying any foreign transaction fees. You truly can use this card like almost any other credit card.
Rewards
Earning rewards points isn't something many people associate with secured credit cards, which is one of the reasons why First Tech's secured Platinum Mastercard is so attractive to consumers. Even though you are building up your credit, you can still earn points on most purchases.
This card features a straightforward one-to-one points system. That is, you earn one point for every dollar you spend. This excludes gambling transactions and financial transactions like balance transfers and cash advances.
You can redeem your points for merchandise, travel, or contributions to your favorite charities. Your points do not expire, and there is no limit to how many points you can earn. So, you can save up your points and cash them in for big rewards, like a vacation.
Should You Apply for the Platinum Secured Mastercard®?
This credit card is perhaps one of the most competitive secured credit cards on the market. No annual fee, a low APR (for a secured card), and rewards points truly set it apart from similar types of cards from other issuers. No fees for foreign transactions, cash advances, and balance transfers only make this card that much more appealing.
There are a couple of details, however, that prevent this credit card from being a dream card. For one, cardholders must make a security deposit in order to be approved. That security deposit will equal the credit limit.
While there is a maximum credit limit of 25,000, an actual cardholder's credit limit may only be a small fraction of that amount. Most applicants for secured cards may not have that type of cash or may need to borrow funds in order to supply the deposit amount, which can land them further into debt.
The other detail pertains to credit union membership. First Tech FCU is a private credit union, and membership is only open to people who work or live in Lane County, work for the State of Oregon, or work for a company on First Tech's partner list.
Other Cards to Consider
Other cards to consider include the Odyssey Rewards World Elite Mastercard® for good credit, or the First Progress Platinum Prestige Mastercard® as another excellent secured card that features a tantalizingly-low APR.
Related Article: What Are the Best Secured Cards for Rebuilding Credit?
Browse Other Secured Credit Card Offers:
Browse Other First Tech Credit Card Offers:
Editorial Disclosure – The opinions expressed on BestCards.com's reviews, articles, and all other content on or relating to the website are solely those of the content's author(s). These opinions do not reflect those of any card issuer or financial institution, and editorial content on our site has not been reviewed or approved by these entities unless noted otherwise. Further, BestCards.com lists credit card offers that are frequently updated with information believed to be accurate to the best of our team's knowledge. However, please review the information provided directly by the credit card issuer or related financial institution for full details.