Looking to repair your credit with a new card but are wary of the impact on your credit score? A soft pull credit card does just the trick to boost your score and avoid any initial negative impacts. Here are some of the best soft pull credit cards of 2020.
A "soft pull" is a form of credit check where a bank or card issuer pulls basic information from an applicant's credit report without doing a deep dive. Soft pulls, also known as "soft inquiries" or a "soft credit check", can occur without an applicant's authorization (which is not required) and do not include a full look into a person's credit reports.
Soft credit pulls differ from "hard inquiries" because they have no impact on your credit score. 
Because a hard inquiry allows a lender to view your full credit report, these types of pulls lower your credit score in the short term. Hard inquiries will nudge your credit score down for several months and remain on your credit report for two years.
The total number of hard inquiries on your credit report is one of the factors lenders consider when reviewing applications for new credit.  Too many inquiries may indicate you are under financial strain and need more credit to manage your existing debts. This indication, in turn, can lead to a greater chance of applications being rejected.
Here is a quick breakdown in the major differences between soft and hard credit inquiries: 
Type
Credit impact
Examples
Hard inquiry
Requires your consent and can impact your credit score

Applying for an installment loan
Credit card applications
Collection agency tracing of late payments and collections (skip tracing)
Applying for a mortgage

Soft inquiry
Doesn't require your consent and won't harm your credit score

Checking credit scores with free apps
Employment credit checks
Insurance credit checks
Credit card pre-approval offers
Benefits of a Soft Pull Credit Card
Because a soft pull has no impact on your credit score, it is preferable to hard inquiries. Those with low credit scores can especially benefit from credit cards that only require a soft pull, since it may give them better chances of receiving new credit.
Getting a soft pull credit card allows those with sub-prime (or deep sub-prime) credit to gain access to new credit, improve their payment history, and decrease their credit utilization – all without the short-term impact of a credit check.
The Best Soft Pull Credit Cards
So what are the best credit cards that only use a soft pull to apply? Here are some of our favorite offers:
OpenSky Secured Visa® Credit Card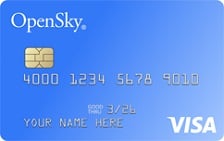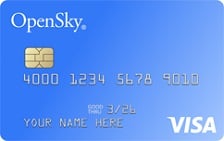 Build credit with on-time payments

Reports to the three leading credit bureaus
There are plenty of credit cards on the market for people with bad credit or no credit. One of the more popular options, however, is the OpenSky Secured Visa. Perhaps the best reason to consider adding the OpenSky Visa credit card to your wallet is that it requires no credit check. The application process with the OpenSky Secured Visa is straightforward and takes just a few minutes. Decisions are equally quick, making the entire process as painless as possible.
Part of repairing damaged credit is learning the skills to use credit properly. OpenSky is excellent in this aspect, as it provides cardholders with free access to a credit knowledge base. The OpenSky credit education hub offers a range of articles on building credit. These topics include how to receive a free copy of your credit score, how credit scores are calculated, tips on boosting credit, and other advice that relate specifically to the OpenSky card.
Other reasons why the OpenSky is among the best soft credit check cards on the market today include the relatively low minimum deposit required, regular reporting to the three major credit bureaus (Equifax, Experian, and TransUnion), and the global purchasing power of the Visa payment network.
Applied Bank Secured Visa® Gold Preferred®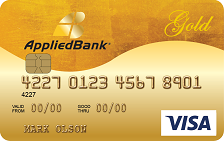 When Other Banks Say No We Say Yes!
Build credit with on-time payments

A real Visa credit card with monthly reporting
The Applied Bank Visa Gold is another excellent secured card that does not require a hard inquiry to receive. Like the OpenSky, Applied Bank offers a quick and easy application process, a decision in minutes, and regular reporting to the three major credit reporting bureaus.
Where the Applied Bank Visa Gold Preferred differs, however, is in its impressive regular APR and potentially high credit limits.
The Applied Bank Visa Gold preferred features a fixed-rate APR of just 9.99% on purchases and cash advances. This interest rate is among the lowest in the market, comparable to the First Progress Platinum Prestige Mastercard. This impressive APR makes carrying a balance with the Applied Bank secured card very cost-effective.
The second benefit of the Applied Bank Secured Visa Gold Preferred is the generous credit limits. The card's minimum deposit is $200, which is on par with many other secured card offers. Those looking to boost their overall credit and lower their credit utilization quickly, however, can raise their credit line to $5,000 through an additional deposit.
First Progress Platinum Prestige Mastercard Secured Credit Card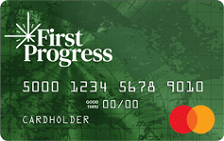 Build Credit One Step at a Time
Earn 1% Cash Back Rewards on payments!

Reports to all 3 major credit bureaus.

Mastercard $0 Fraud Liability
The Platinum Prestige Mastercard Secured Credit Card from First Progress is an excellent secured credit card option for those who want a great rate while building their credit. The Platinum Prestige offers the same low APR as the Applied Bank Card, with a reasonable annual fee of just $49.
While the Platinum prestige does not feature the same cash advance APR of the Applied Bank Gold Preferred, it does offer Mastercard features, which both the Applied Bank and OpenSky cards lack. Mastercard offers ID Theft Protection, which monitors a cardholder's credit bureau files from all the major credit bureaus for changes. It also sends instant alert notifications on suspicious activity, and offers white-glove ID theft resolutions service. Visa does not provide this service.
Beyond the unique Mastercard features and protections, the First Progress Secured Card offers the same regular reporting to Equifax, Experian, and TransUnion, the same reasonable minimum deposit requirement, and the ability to build or repair credit with on-time payments.
Actually, all the First Progress secured credit cards are great options for people looking to boost their score but not suffer any credit dings from opening those accounts. Here are how the First Progress cards stack up: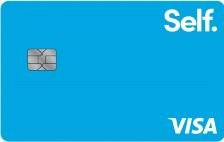 Get the Savings Plan That Helps Build Credit Today!
Monthly reporting to 3 major credit bureaus
The Self Visa® Credit Card is a secured credit card that pairs with an existing Self Credit Builder Account.  Because the card requires a Credit Builder Account to open, there is no credit check when applying. After opening an account, you'll need to make three monthly payments on time – and have more than $100 in your Self CD account – only then can you open a Self secured card account. 
The Self Visa reports to the major credit bureaus every month. This regular reporting to Equifax, Experian, and TransUnion allow users to quickly raise their credit score through a series of on-time payments. And because the card is linked to a Self Credit Builder Account, you can increase their secured card credit limit as you continue to build your FICO Score with on-time payments. And as your Credit Builder Account grows, that money can be moved toward the credit line with the Self Visa® Credit Card.
Featured image by Sarah Pflug from Burst
Editorial Disclosure – The opinions expressed on BestCards.com's reviews, articles, and all other content on or relating to the website are solely those of the content's author(s). These opinions do not reflect those of any card issuer or financial institution, and editorial content on our site has not been reviewed or approved by these entities unless noted otherwise. Further, BestCards.com lists credit card offers that are frequently updated with information believed to be accurate to the best of our team's knowledge. However, please review the information provided directly by the credit card issuer or related financial institution for full details.