Last updated on September 7th, 2023
Advertiser Disclosure
close ×
Advertiser Disclosure – BestCards is an independent, Florida-based credit card comparison platform. Many of the card offers that appear on this site are from companies from which BestCards receives compensation. This compensation may impact how and where products appear on this site (including, for example, the order in which they appear). BestCards does not include all card companies or all card offers available in the marketplace.
Editorial Disclosure
close ×
Editorial Disclosure – The opinions expressed on BestCards' reviews, blogs, and all other content on or relating to the website are solely those of the content's author. They are not reflective of any card issuer or financial institution and have not been reviewed or approved by these entities unless otherwise noted. Further, BestCards lists credit card offers that are updated daily with information believed to be accurate to the best of our knowledge.
Ultamate Rewards® Mastercard
23.24%, 29.24%, or 32.24% variable based on creditworthiness and the Prime Rate

Regular Purchase APR

26.99%

Balance Transfer APR

33.24% variable based on the Prime Rate

Cash Advance APR
At a Glance
If you love all things beauty, the Ultamate Rewards® Mastercard® is the credit card offer for you. Beauty lovers will be able to earn 2X points on all Ulta purchases, a modest 500 bonus points for spending after the first purchase (valued at $17.50), and 20% off all products and services using the Ultamate Rewards credit card.
Best Benefits
Rates & Fees
Why Should You Apply?
Earn 500 bonus points after spending $500 outside of Ulta Beauty within the first 90 days

Earn 2 points for every $1 spent at Ulta Beauty

Earn 1 point for every $3 spent elsewhere

20% off your first Ulta Beauty Purchase
Regular Purchase APR: 23.24%, 29.24%, or 32.24% variable based on creditworthiness and the Prime Rate
Balance Transfer APR: 26.99%
Balance Transfer Transaction Fee: Either $10 or 5% of the amount of the balance transfer, whichever is greater
Cash Advance APR: 33.24% variable based on the Prime Rate
Cash Advance Transaction Fee: Either $10 or 5% of the amount of the cash advance, whichever is greater
Foreign Transaction Fee: 3% of the transaction amount in U.S. dollars
Late Payment Penalty Fee: Up to $41
Return Payment Penalty Fee: Up to $41
You spend at least $50 at Ulta Beauty per year

You're a Platinum-level Ultamate Rewards member or higher

You want a credit card with no annual fee

You want an open-loop card to use anywhere Mastercard is accepted

You will pay off the balance in full every month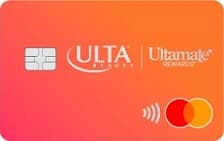 Ultamate Rewards® Mastercard® Review
The Ultamate Rewards® Mastercard® rewards loyal Ulta Beauty customers with points that can be cashed in for discounts towards future purchases. New cardholders will immediately receive 20% off their first purchase (including salon services), 2X points per dollar spent at Ulta both in-store and online, and a one-time 500 bonus points for the $500 spent outside of Ulta (a value of $17.50). Heavily reliant on the Ulta rewards program, the card has limited benefits to offer on its own and is best for expediting the accrual of points for Ulta coupons.
The Ultamate Rewards loyalty program, not the retail credit card itself, provides the most tangible perks, such as free shipping, $10 birthday coupons, and, most importantly, points that don't expire.
Welcome Bonus Offers
Once approved, new cardholders can use their card immediately without having it physically on hand. In addition to being able to start points from the get-go (an extra point over the basic member earning rate), they will also receive a 20% coupon via email (which can be used on their first purchase or at a later date).
The Ultamate Mastercard is only one Comenity and Ulta Beauty credit card option. When you apply for the Mastercard, you also apply for the closed-loop store card, the Ultamate Rewards Credit Cards, from Comenity.
The biggest difference between the two cards is their ability to use them anywhere. The Mastercard version of the card can be used anywhere the Mastercard network is accepted worldwide. In contrast, the store card version is what is known as a "closed loop" store card, meaning cardholders can only use it in-store or online with Ulta. This difference means reduced rewards for store cardholders, although the rewards outside of Ulta are paltry, to begin with – so they won't cause much lost sleep.
Store card members also miss out on the 500 bonus points after spending $500 outside of Ulta Beauty within the first 90 days – a very easy way to amass many points. That offer is only available to new Ultamate Rewards® Mastercard® accounts.
How to Earn Rewards with Ulta Beauty Rewards Cards
The primary strength of the Ultamate Rewards® Mastercard® is that it earns 2X points on every dollar spent at Ulta beauty stores, but without having a minimum spending requirement. This multiplier is average compared to a general rewards card and still seems fairly unremarkable when compared to Ulta loyalty program rates.
Earn Even More with Elite Status
Ultamate Platinum and Ultamate Diamond members enjoy even more value from points. Even better, points don't expire if you hold one of these elite tiers. Here is a breakdown of how much Ulta cardholders can earn based on each loyalty tier:
| | | | |
| --- | --- | --- | --- |
| | Member | Platinum | Diamond |
| Minimum spend req. | – | $500 | $1,2500 |
| Points per $ at Ulta | 1X | 1.25X | 1.5X |
| 10% coupon | No | Yes | Yes |
| $25 services rewards | No | No | Yes |
The card also only makes sense for the Ulta fanatic because it performs quite poorly for earning Ulta coupons through everyday purchases like gas, groceries, or dining. The Ulta Mastercard requires spending $3 to earn a single point when using your card outside of Ulta stores and discourages using the card elsewhere (after earning the signup bonus). Once you've spent $500, the best use of the Ulta credit card is solely for funding your purchases at Ulta Beauty.
Who Can Benefit Most from the Ulta Credit Card?
The Ultamate Rewards® Mastercard® makes the most sense for those who spend heavily at Ulta Beauty. This might seem like obvious advice, but Ultamate rewards points expire if you are not in one of the two elite tiers. Baseline rewards members, including new Ultamate Rewards® Mastercard® members, enjoy a base value of one cent per point, with points expiring 12 months after being earned.
Normally, if you were to move up through the Ulta loyalty program, your point-earning bonus wouldn't increase until you reached the new level's spending threshold ($450 for Platinum, $1,200 on Diamond), resulting in several hundred dollars' worth of potential Ultamate Rewards points lost. Until you reach Platinum status, you'll earn points at the Platinum multiplier (1.25X) and so on.
A non-cardholder would earn 450 points by the time they reach Platinum (basic members earn 1X points) and then 937.5 points from spending enough to reach Diamond status.
This would result in a total of 1,387.5 points, enough for a $50 coupon. Cardholders, on the other hand, will earn 2X points the entire time they work their way up the membership ladder which would result in 2,400 points – enough for a $125 coupon.
Beauty Credit Card Comparison
| | | |
| --- | --- | --- |
| | Ultamate Rewards® Mastercard | Sephora Visa® |
| Annual fee | $0 | $0 |
| Beauty rewards | 2X on all Ulta purchases | 4% back on all Sephora purchases |
| Other rewards | 1X per every $3 spent elsewhere | 1% back on all other purchases |
| Special perks | 20% off first purchase, birthday gift, special members events and offers | 25% off your first purchase, special members events and offers |
Redeeming Rewards Points
Ultamate Rewards has two redemption methods but can only be exchanged through the Ultamate Rewards program or Comenity. Points are redeemable on a sliding scale and have a higher value when they're redeemed in larger quantities:
| Points | Voucher value | Points value |
| --- | --- | --- |
| 100 | $3 off | $0.03/pt. |
| 250 | $8 off | $0.032/pt. |
| 500 | $17.50 off | $0.035/pt. |
| 750 | $30 off | $0.04/pt. |
| 1,000 | $50 off | $0.05/pt. |
| 2,000 | $125 off | $0.0625/pt. |
Cardholders can also redeem points for statement credits through Beyond Ultamate Rewards. Earn cash back paid as a statement credit and get personalized offers from your favorite brands. This service requires a separate application.
How to Get the Most Value from Ultamate Rewards
You can take plenty of practical steps to maximize your rewards with Ulta.
One of the easiest things you can do to get even more value with Ulta is to keep checking the Ulta Beauty mobile app for bonus offers that can quickly multiply your points. These offers are frequently tailored towards specific brands but can provide up to 5X points per $1 spent when they drop through the app. You can also stay on top of the latest bonus offer drops.
Every so often (maybe once a year or so), Ulta will also drop a special 20% off voucher for Rewards members. These bonus offers provide exceptional value and can be a great windfall if you ever need to stock up on loads of beauty supplies or cosmetics. And, if you are a prospective applicant, timing your application with these bonus offers can provide even more savings. As noted, new card members enjoy 20% off all products and services on their first Ulta Beauty purchase- meaning up to 40% off!
Finally, take advantage of your birthday month! Ulta offers cardholders two impressive birthday promotions that can provide serious savings:
Earn double points on all your purchases during your birthday month at Ulta Beauty. And,
Get a free gift on your birthday. And if you're Platinum or Diamond, you get an extra birthday gift.
Other Card Features
Other notable features with the Ultamate Rewards Mastercard and Credit Card include no annual fee and access to Ulta's exclusive 21 Days of Beauty, which lets members snag must-haves and discover new favorites with 50% off Daily Beauty Steals®—for three full weeks each year.
The open-looped Ultamate Mastercard also enjoys EMV chip technology, mobile wallet compatibility with Google Pay, Apple Pay, and PayPal, plus Mastercard® benefits, including $0 fraud liability, ID Theft Protection™, travel assistance, and travel protection. Here's a quick recap of what you can expect from a Mastercard credit card:
| | | |
| --- | --- | --- |
| Zero Liability Protection | Mastercard Global Services | ID Theft Protection |
Comenity (Bread) Ratings
How do Breads Financial and Comenity stack up as a bank and credit card issuer? Here is a selection of expert and consumer ratings for the bank:
Should You Apply for the Ultamate Rewards Mastercard?
Since there is no annual fee, even the infrequent Ulta customer who spends as little as $50 a year could benefit from keeping this in their wallet. However, to make the most of the card's perks (the expedited 2X point-earning capabilities), cardholders should aim to achieve at least Platinum status (minimum spend of $450) where points don't expire – which is doubly important because Ultamate Rewards points are most valuable when they're redeemed in large numbers.
In terms of rewards on beauty purchases, this card is unrivaled even by the most competitive of cash-back rewards cards. The Ultamate Rewards redemption tiers offer a higher point value than most other cards – a difference that becomes drastically more competitive towards the larger end of the redemption scale (spending $500 would net you $10 with a 2% cash back card, but a minimum $17.50 in Ulta Reward points).
Additionally, the Ulta credit card does a decent job of providing immediate but modest value to cardholders, although the signup bonuses alone don't provide a compelling enough incentive to apply for this card. If you were hoping for in-store discounts and savings – or rely on those as your incentive to shop at Ulta – this card will probably disappoint.
Browse Other Card Offers: