by Cory Santos | Last updated on November 13th, 2023
Security Service Power Business Cash Back Credit Card
14.49% to 17.49% variable based on creditworthiness and the Prime Rate

Regular Purchase APR

7.90%

Balance Transfer APR

18.00% variable based on the Prime Rate

Cash Advance APR

0% for 6 months from account opening date

Intro Purchase APR
At a Glance
The Security Service Power Business Cash Back Card gives companies the purchasing power they need with essential rewards on top. The card earns 3% cash back in several categories, plus enjoys 0% intro APR for six months- all for no annual fee.
Best Benefits
Rates & Fees
Why Should You Apply?
No annual fee

3% back on travel, gas, dining, and wholesale clubs

1% cash back on all other purchases

Rewards never expire
Intro Purchase APR: 0% for 6 months from account opening date
Regular Purchase APR: 14.49% to 17.49% variable based on creditworthiness and the Prime Rate
Intro Balance Transfer APR: 0% for 6 months from account opening date
Balance Transfer APR: 7.90%
Balance Transfer Transaction Fee: 3% of the amount of each transfer
Cash Advance APR: 18.00% variable based on the Prime Rate
Foreign Transaction Fee: 1.5% of the transaction amount in U.S. dollars
Late Payment Penalty Fee: $25
Return Payment Penalty Fee: $20
Over Limit Penalty Fee: $15
You live or operate a company in Texas, Colorado, or Utah

You spend heavily on gas, dining, or business travel

You already carry a balance or plan to do so with your new card

You do't want to pay an annual fee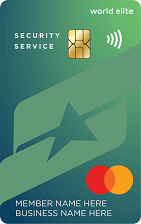 Security Service Power Business Cash Back Credit Card Review
The Security Service Power Business Cash Back Credit Card is a business rewards card that provides a lot of bang for its no annual fee buck. The Card, from Security Service FCU, earns extra cash back on an eclectic set of categories and comes with a 0% intro APR period on both purchases and balance transfers.
Who Can Join Security Service FCU?
Security Service FCU is a full-service federal credit union based in San Antonio, Texas. The FCU also serves those who qualify that live in other parts of Texas, as well as Colorado and Utah. Membership is open to companies that meet one of the following criteria:
Individuals or companies that live, work, worship, volunteer, attend a school or have their business address in Colorado, Texas, or Utah
Worked with select military units or branches, or are a Department of Defense employee at military bases within those three states
Family members or household members of an existing Security Service FCU member
How to Earn Cash Back
The Security Service Power Business Cash Back Credit Card earns 3% cash back on four distinct categories. Those 3% back categories are:
Gas
Travel
Restaurants
Wholesale Clubs
The ability to earn extra cash back on these four categories is helpful but differs considerably from several other business cash back cards. The Vectra Bank AmaZing Cash for Business Card, for instance, earns 3% back on office supplies, phone and telecommunications services, and internet. The same can be said for the Zions Bank version of the AmaZing Cash Business Card. Both cards are available to potential Security Service members, as those banks are in Colorado and Utah respectively. The reason these cards are mentioned is that they offer 3% back in categories in which nearly every business spends heavily. While companies no doubt spend on gas, travel, and restaurants, these are categories that businesses who either entertain or send employees afield spend heavily. Ut simply, these aren't categories that resonate as well with companies as utilities and office supplies. To compound matters, the 3% back on wholesale clubs comes with the caveat that Costco does not count towards additional rewards. Purchases made with the Security Service Power Business Cash Back Credit Card here earn just 1% back. This is the base rate for cash back that applies to all other purchases with the card.
A Modest Signup Spending Bonus
The Security Service Power Business Cash Back Credit Card also comes with introductory cash back bonus. Companies that spend $1,000 on purchases within the first 90 days earn an extra $50 cash back. The $50 back equates to 5% cash back on the first $1,000 spent. While this is an easy-to-0achieve bonus and additional earning, it isn't a big enough bonus to entice potential applicants who are on the fence.
How to Redeem Cash Back
Redeeming cash back rewards with Security Service FCU is straightforward. Companies have the option of a statement credit or a direct deposit into an account associated with the card account. Companies must redeem cash back in increments of $25, though automatic redemptions are possible, though only as a statement credit. Reward cash back with Security Service FCU never expire, which is always nice.
Introductory Interest-Free Period
If the rewards with the Security Service Power Business Cash Back Card struggle, the rates and fees soar. The card enjoys two 0% intro APR periods – one on purchases and one on balance transfers. These 0% intro periods run for the first six months. While six months is less than is found with some other business cards, it is more than enough time for a company to finance investment in their infrastructure or pay down some of their existing credit card balances.
An Extremely Competitive APR
Once that six-month 0% introductory APR period ends, companies can anticipate a very competitive standard interest rate. While that rate varies, even at the higher end, it is well below 15%. At its lowest, the rate is around 11% to 12%. Considering the national average low for a business card is approximately 15.5%, the Cash rewards Card offers exceptional value for money. This variable APR applies only to purchases, as balance transfers come with the same fixed-rate as the Security Service Power Mastercard for Business. That rate is fixed at below 8%, meaning the Cash Back Card offers companies that want basic rewards an excellent option for transferring – and paying down – existing credit card debts. Combines with the low purchase APR, the Security Service Power Business Cash Back Card is a reliable tool for carrying a balance.
Other Card Features
Other features of the card include additional savings via the Mastercard Easy Savings Program. This program allows businesses to earn extra savings on a variety of everyday spends. Savings include:
4% back on over 5,000 midscale and economy hotels
4% back on over 18,000 U.S. restaurants
5% back on business travel
1% back on fuel purchases at over 19,000 service stations across the U.S.
Of course, since the Mastercard Easy Savings Program reduces the cost to companies on things like dining and travel, it provides additional savings on top of the cash back companies earn with the Security Service Power Business Cash Back Card. The card also features the typical Mastercard perks that come with business cards. These include Zero Liability fraud protection, identity theft resolution free of charge, MasterRental Insurance coverage for vehicle rentals, and 24/7 Mastercard Concierge. Also of note with the card is the 1.5% foreign transaction fee. That fee is lower than those found with many other business credit cards, but it is still an additional cost that can be avoided with a no foreign transaction fee card.
Should You Apply for the Security Service Power Business Cash Back Card?
The Security Service Power Business Cash Back Card is a decent cash back business card that suffers from a lazy cash back rewards structure. The 3% back the card earns is competitive with other similar cards, but the categories are tailored more towards small businesses and consumers than small-to-medium sized companies in general. The gas, travel, and dining categories are something that all companies spend on, but the options of office supplies or telecommunications found with cards like the AmaZing Cash Back Cards may offer more value to a broader array of businesses. Those cards are from Zions Bancorp brands, which include Zions Bank, Vectra Bank, and Amegy Bank. These three banks serve the same states as Security Service FCU, meaning businesses that want better rewards have excellent local options to consider. Where Security Service FCU shines, however, is its interest rates. The Security Service Power Business Cash Back Card is no different in this regard, as it offers a purchase APR almost 4% lower than the national average low for a business card. The APR for balance transfers is even better – and maybe among the best in the entire nation. Overall, the Security Service Power Business Cash Back Card is a mixed bag of satisfactory and exceptional. The reward might not be the best, but the rates are a different story. This card offers the value companies need to compete and succeed every day, with the added benefit of a basic rewards structure.
Browse Other Credit Cards from Security Service CU:
Editorial Disclosure – The opinions expressed on BestCards.com's reviews, articles, and all other content on or relating to the website are solely those of the content's author(s). These opinions do not reflect those of any card issuer or financial institution, and editorial content on our site has not been reviewed or approved by these entities unless noted otherwise. Further, BestCards.com lists credit card offers that are frequently updated with information believed to be accurate to the best of our team's knowledge. However, please review the information provided directly by the credit card issuer or related financial institution for full details.