Last updated on February 24th, 2023
Advertiser Disclosure
close ×
Advertiser Disclosure – BestCards is an independent, Florida-based credit card comparison platform. Many of the card offers that appear on this site are from companies from which BestCards receives compensation. This compensation may impact how and where products appear on this site (including, for example, the order in which they appear). BestCards does not include all card companies or all card offers available in the marketplace.
Editorial Disclosure
close ×
Editorial Disclosure – The opinions expressed on BestCards' reviews, blogs, and all other content on or relating to the website are solely those of the content's author. They are not reflective of any card issuer or financial institution and have not been reviewed or approved by these entities unless otherwise noted. Further, BestCards lists credit card offers that are updated daily with information believed to be accurate to the best of our knowledge.
Security Service Power Mastercard®
11.99% to 18.00% variable based on creditworthiness and the Prime Rate

Regular Purchase APR

8.90% to 9.90% variable based on creditworthiness

Balance Transfer APR

11.99% to 18.00% variable based on creditworthiness and the Prime Rate

Cash Advance APR
At a Glance
The Security Service Power Mastercard® is a no-nonsense credit card offering some of the lowest rates available. This includes minimal fees on foreign transactions, cash advances and balance transfers, as well as low APRs all around for those with decent credit. Qualified individuals and families looking for a card to meet their month-to-month budgeting needs may find that this simple Mastercard feels right at home in their wallets.
Best Benefits
Rates & Fees
Why Should You Apply?
Low APRs on purchases and cash advances

Even lower fixed rate APRs on balance transfers

Balance transfer fees capped at $200

No annual fee
Regular Purchase APR: 11.99% to 18.00% variable based on creditworthiness and the Prime Rate
Balance Transfer APR: 8.90% to 9.90% variable based on creditworthiness
Balance Transfer Transaction Fee: Up to 2% of the transfer amount, with a $200 cap
Cash Advance APR: 11.99% to 18.00% variable based on creditworthiness and the Prime Rate
Cash Advance Transaction Fee: Up to 2% of the amount of each cash advance
Foreign Transaction Fee: Up to 1.10% of the transaction amount in U.S. dollars
Late Payment Penalty Fee: Up to $25
Return Payment Penalty Fee: Up to $20
You live or work in Colorado, Texas or Utah, or qualify for membership through employment/association

You're interested in transferring over one or more large balances

You want a card with low fees all around, including those for foreign transactions and cash advances

You tend to maintain a balance, but always make at least the minimum payment each month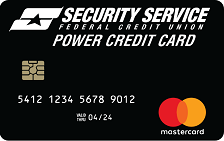 ​
Security Service Power Mastercard® Review
The Security Service Federal Credit Union Power Card from Mastercard is neither flashy nor bursting with rewards. Instead, the value of this card lies in the fact that it puts some financial power back in your hands through stripped down fees and interest rates. The result is a credit card that's more budget-friendly than most other offers. Rather than punishing you for carrying balances, it takes some of the pressure off managing your monthly finances, so emergency expenses won't feel like the end of the world. Moreover, these low rates make it effective for paying down debt and building up credit.
Security Service Credit Union's Lowest Personal Rates
With the average APR for credit cards hovering between 15% and 18%, the Security Service Power Mastercard will likely feel like a breath of fresh air. The best rate you can get with it sits several percentage points lower than the average rate, meaning carrying a balance won't necessarily break the bank. Of course, the exact rate you get will depend on your credit score and the current Prime Rate. Yet even if your credit can use some work, the purchase APR for this card caps at around an average rate. This can make it a helpful tool for rebuilding credit, as well as maintaining a budget.
The APRs and fees for cash advances are also surprisingly low compared to even some of the best credit cards. Cash advances tend to have higher APRs than purchases or balance transfers, but in the case of the Power Card, they're around the same rate. Even so, it's best to avoid taking out advances on a credit card, as it can quickly increase your debt. The fee for foreign transactions (1.1%) is also lower than bigger banks tend to offer, which hovers around 3%. While this can't compare to a credit card with no foreign transaction fees at all, it may offer some savings if you don't yet have a dedicated travel card. Despite all of these low rates, this credit card charges no annual fee, so you don't have to worry about factoring an extra expense into your budget for the year.
Balance Transfer Rates, Fees, and Limitations
While the low purchase and cash advance APRs are great perks in and of themselves, the Power Mastercard's balance transfer rates and fees are the real selling point. Balance transfers made with this card have a rate that's fixed on the lower end of the APR spectrum, dipping into the single digits. That's an incredible offer, considering that with most balance transfer credit cards, these APRs tend to mirror the purchase interest rates. Though there's no 0% introductory APR offer, you're guaranteed to have this rate for the life of the balance. This means you can easily calculate your monthly interest accrual based on the payments you plan to make.
If you're able to make consistent payments, you can even calculate exactly how long it will take to pay off your entire debt. On top of that, the fee for balance transfers is also a little different with this card. Typically, issuers set a minimum fee for each transfer, along with a percentage. The Power Card has one fixed rated fee, further capped at $200. So, matter how large your balance transfer is, you'll never pay more than $200 to complete the transaction. This is obviously most helpful when you have large balances to transfer, but since there's no minimum fee, it can also help you save a little if you have multiple smaller balances to transfer.
Power Mastercard® Personal Touches and Security Features
While not a game changer, the ability to personalize your Security Service Credit Union credit card can make for a welcome addition to your wallet. You'll get to add you favorite family photo to the face of the card for everyone to see.  Other noteworthy features include the ability to freeze and unfreeze your card, and real-time transaction alerts. Once you have your account set up, you can access these features easily either online through myBranch Online Banking or the associated mobile app.
Many major credit cards offer these security features nowadays, but they may be harder to find with other credit union cards.  You can simply freeze the account at any time, and unfreeze it once you've located the card without interrupting any pending transactions. When you set up real-time alerts, you'll also get notified for transactions of certain types or amounts, according to your specifications. That way, you never need to worry about misplacing your card or any unauthorized transactions slipping through the cracks.
How to Join Security Service Federal Credit Union
Credit unions like this one often have requirements for becoming a member. For SSFCU, these requirements center around location and occupation. In particular, membership is open to those who meet one or more of the following circumstances:
Serve in a particular military unit or Department of Defense position within an SSFCU service area
Live, work, conduct business, or attend school in Utah, Colorado, or Texas
Are related to or living with a current SSFCU member
Should You Apply for the Security Service Power Mastercard®?
If you have some balances to pay off and qualify for membership with SSFU, it's hard to go wrong with the Power Mastercard. While it's a fairly simple credit card that offers no rewards, it gives you the tools you need to get your debt under control as painlessly as possible. It's a straightforward card that doesn't try to take advantage of you with hefty interest rates and fees, and even helps you out with fee caps and fixed rates in the areas that matter.
That said, if you would rather have a card that earns Mastercard Power Rewards, you can compare this card to the Security Service Power Rewards Mastercard®. This rewards version offers many of the same perks, including the fixed low rate for balance transfers, but adds on 1 point per dollar spent. Of course, you won't earn rewards on transfers, and the minimum purchase APR is a few points higher.
Browse Other Credit Cards:
Browse Other Credit Card Offers from SDCCU: