by Cory Santos | Last updated on November 13th, 2023
Security Service Power Mastercard® Business Credit Card
10.99% to 12.99% variable based on creditworthiness and the Prime Rate

Regular Purchase APR

7.90%

Balance Transfer APR

18.00% variable based on the Prime Rate

Cash Advance APR
At a Glance
The Security Service Power Mastercard® Business Card provides Texas companies with the purchasing power they need and the excellent low rate they want. The card enjoys one of the lowest APRs available on purchases, plus great rates on balance transfers and cash advances.
Best Benefits
Rates & Fees
Why Should You Apply?
No annual fee

APR as low as 7.995 of purchases

Low, fixed rate on balance staffers

Mastercard Easy Savings Program access
Regular Purchase APR: 10.99% to 12.99% variable based on creditworthiness and the Prime Rate
Balance Transfer APR: 7.90%
Balance Transfer Transaction Fee: 3% of the transaction amount
Cash Advance APR: 18.00% variable based on the Prime Rate
Foreign Transaction Fee: 1.5% of the transaction amount in U.S. dollars
Late Payment Penalty Fee: $25
Return Payment Penalty Fee: $20
Over Limit Penalty Fee: $15
You operate a business in Texas, Colorado, or Utah

You prefer an exceptionally low APR to rewards and introductory bonuses

You're a current or retired member of the armed forces, or otherwise qualify for Security Service FCU membership

You do't want to pay an annual fee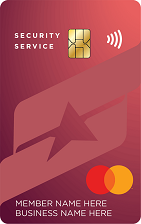 Security Service Power Mastercard® Business Card Review
The Security Service Power Mastercard® Business Card is a no annual fee, low rate business card that hits all the right notes.
Who Can Join Security Service Federal Credit Union?
Security Service FCU is a full-service federal credit union based in San Antonio, Texas. The FCU also serves those who qualify that live in other parts of Texas, as well as Colorado and Utah. Membership is open to companies that meet one of the following criteria:
Individuals or companies that live, work, worship, volunteer, attend a school or have their business address in Colorado, Texas, or Utah
Worked with select military units or branches, or are a Department of Defense employee at military bases within those three states
Family members or household members of an existing Security Service FCU member
One of the Lowest Purchase APRs in the Nation
Many businesses place a considerable amount of spending on their company cards. Business credit cards offer the most value to companies because they allow them to make purchases while managing their available cash flow. Often, this can come at a price thanks to higher-than-average interest rates. Security Service FCU understands the concerns that come with running a business. That's why their Security Service Power Mastercard® Business Card features one of the lowest purchase APRs we've ever seen on a business card. That rate is an exceptional value for those with the perfect credit score – and even those who barely slides in under the acceptance criteria. At the lowest end of the scale, that rate is around 8%; at the upper end, it's below 10%. Considering that the average APR for a business credit card is approximately 15%, and the average for a low APR card is about 14.5%, that rate is challenging to pass up.
Great Rates on Balance Transfers and Cash Advances
The Security Service Power Mastercard® Business Card also benefits from excellent rates on both balance transfers and cash advances. The APR for balance transfers is of particular note, as it offers two impressive features. First, the rate for balance transfers is fixed. This fixed rate means companies don't have to worry about any changes – either to creditworthiness or the Prime Rate. Second, the balance transfer APR is actually lower than the purchase APR. While it isn't significantly lower, the interest rate for transfers is below 8%, making the card just as valuable to businesses for paying down existing credit card balances and financing purchases. The interest rates for cash advances are more in-tune with the national average. That's not to say, however, that they aren't favorable. The cash advance APR is a variable in the 18% range, which is still a few percentage points lower than the typical average you'd see from a similar card.
The Ideal Card for Carrying a Balance
Thanks to these impressive rates, the Security Service Power Mastercard® Business Card is probably one of the best company cards for carrying a balance. Why carry a balance? Carrying balances allows a company to pay for their purchases and pay them down over time. Financing purchases provides companies with the available cash flow they need to not only survive but to thrive. Thanks to the great low rate with the Power Business Mastercard, companies can invest in themselves and pay down that interest at significant savings versus most offerings from major issuers. The Bank of America Platinum Plus Mastercard for Business, for example, enjoys seven months of 0% intro APR but features a typical APR from around 12% to almost 23%. While the first seven months may sound appealing after that companies would be subject to significantly higher interest than Security Service offers every day. This likely makes the Power Mastercard® Business Card the better bet.
Beware the Foreign Transaction Fee
Security Service Federal Credit Union centers around the San Antonio, Texas area, though they also have members in Colorado and Utah. As such, it is likely many of the companies that may benefit from the Security Service Power Mastercard® Business Card conduct business south of the border. For those companies that do have business dealings with Mexico, they should be wary of the presence of a foreign transaction fee with this card. That fee, 1.5% of the transaction cost, isn't too high, but it is still a fee. While the typical foreign transaction fee for a credit card is around 2% or 3%, there are still plenty of business cards available that charge no foreign transaction fees.
Other Card Features
Other features of the Security Service Power Mastercard® Business Card include additional savings through the Mastercard Easy Savings Program. This program offers companies the ability to earn savings on the types of things businesses spend heavily on. Savings include:
4% back on over 5,000 midscale and economy hotels
4% back on over 18,000 U.S. restaurants
5% back on business travel
1% back on fuel purchases at over 19,000 service stations across the U.S.
The card also features the typical Mastercard perks that come with business cards. These include Zero Liability fraud protection and identity theft resolution free of charge. MasterRental Insurance coverage for vehicle rentals and 24/7 Mastercard Concierge is also included. While none of these features is unique to the card, they're still quality perks that add significant value and protection.
Should You Apply for the Security Service Power Mastercard® Business Card?
The Security Service Power Mastercard® Business Card doesn't provide points and won't offer companies any 05 intro APR periods. What it does offer, however, is exceptional savings through one of the lowest interest rates around. Many issuers try to lure companies towards their offerings with huge signup bonuses and lengthy introductory periods. Security Service FCU, on the other hand, places the premium on what companies really want – a great, low rate. This it offers in spades. The Security Service Power Mastercard® Business Card features some of the lowest rates we've ever seen. These rates, for balance transfer and purchases, are significantly below what can be found elsewhere, more than making up for the lack of an interest-free introductory period. As a card to live with – and work with – every day, there isn't a whole lot to hate. The major drawback with the card comes from the 1.5% foreign transaction fee it charges. For companies that deal with foreign suppliers, this may pose a challenge. Fortunately, that fee is lower than those found with many other business cards. Still, it's not ideal.
Browse Other Credit Cards from Security Service CU:
Editorial Disclosure – The opinions expressed on BestCards.com's reviews, articles, and all other content on or relating to the website are solely those of the content's author(s). These opinions do not reflect those of any card issuer or financial institution, and editorial content on our site has not been reviewed or approved by these entities unless noted otherwise. Further, BestCards.com lists credit card offers that are frequently updated with information believed to be accurate to the best of our team's knowledge. However, please review the information provided directly by the credit card issuer or related financial institution for full details.