Last updated on February 21st, 2023
Advertiser Disclosure
close ×
Advertiser Disclosure – BestCards is an independent, Florida-based credit card comparison platform. Many of the card offers that appear on this site are from companies from which BestCards receives compensation. This compensation may impact how and where products appear on this site (including, for example, the order in which they appear). BestCards does not include all card companies or all card offers available in the marketplace.
Editorial Disclosure
close ×
Editorial Disclosure – The opinions expressed on BestCards' reviews, blogs, and all other content on or relating to the website are solely those of the content's author. They are not reflective of any card issuer or financial institution and have not been reviewed or approved by these entities unless otherwise noted. Further, BestCards lists credit card offers that are updated daily with information believed to be accurate to the best of our knowledge.
Insight Visa Secured Credit Card
*See Terms

Regular Purchase APR

*See Terms

Balance Transfer APR

*See Terms

Cash Advance APR
At a Glance
The Insight Visa Secured Credit Card is an essential tool for those who are looking to rebuild or establish their credit score. The card, an offering from Insight Credit Union in Florida, is basic but is a great way for college students, those new to credit, or anyone who has experienced a few bumps in the financial road to building a positive credit history with regular payments.
Best Benefits
Rates & Fees
Why Should You Apply?
No annual fee

Rebuild your credit score or establish a positive credit history

Enjoy Visa protections
Regular Purchase APR: *See Terms
Balance Transfer APR: *See Terms
Balance Transfer Transaction Fee: Either $10 or 2% of the amount of each balance transfer, whichever is greater
Cash Advance APR: *See Terms
Cash Advance Transaction Fee: Either $10 or 2% of the amount of each cash advance, whichever is greater
Foreign Transaction Fee: 1% of the transaction amount in U.S. dollars
Late Payment Penalty Fee: Up to $35
Return Payment Penalty Fee: Up to $25
You have no prior credit history

You want to rebuild your credit score

You already bank with Insight Credit Union

You do't want to pay an annual fee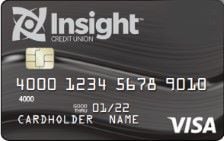 Insight Visa Secured Credit Card Review
The Insight Visa Secured Card is a quality secured credit card for those who already bank with Insight Credit Union in Central Florida.
What Is a Secured Card?
Secured cards work by requiring applicants to put a deposit down to open the account. This security deposit "secures" the line of credit and serves as protection for the issuer, should the cardholder fail to make regular payments. If the holder makes their payments on time, the issuer – in this instance Insight Credit Union – reports this positive behavior to the major credit bureaus – Experian, Equifax, and TransUnion – and, in time, they may graduate to an unsecured card with the credit union.
Related Article: What Are the Best Secured Cards for Rebuilding Credit?
Who Can Benefit from a Secured Credit Card?
While no one sets out to have bad credit, it's a reality that many Americans face – and Is nothing of which to be ashamed. Since secured cards, the Insight Visa Secured Card, require a deposit as collateral, they are an excellent option for those looking to regain their financial footing.
Secured cards are also an excellent option for college students or those new to credit. Most credit cards require at least good credit for acceptance, while the best rewards cards need an excellent credit score. Even the most basic credit cards typically require some credit history, meaning a secured card is the easiest – and safest – route into establishing a good credit history for many.
Is the Insight Secured Visa a Good Secured Card?
The Insight Visa Secured Card is in most ways very similar to many other secured credit cards out there, except for cards like the Discover It Secured, which earn rewards with every purchase. The card features a fixed-rate APR, which isn't surprising, but that fixed-rate isn't too bad at all. The rate varies with the Prime Rate but can be counted on to hover around 18%, which is well below the interest rates of cards from larger banks, but comparable to other credit union offerings.
Of course, the APR isn't something that a responsible secured card user should worry about. Cards like these are designed for establishing proper financial habits, which should always include paying off the entire balance each month. If this is adhered to, there's no need ever to fret an interest rate.
One of the nice features of the Insight Secured Card is that the credit limit is tied to the cardholders' Insight savings account. The more you put in your savings, the higher your credit limit – it's that easy. That also makes it easy to sue the card to make purchases of any size. Typically, raising the credit limit on a secured card requires contacting the lender, submitting additional funds for collateral, and waiting while they clear.
One of the best features of the card is its lack of an annual fee. Many secured cards feature an annual fee, which almost seems like a tax on those with less-than-stellar credit. With Insight, however, you never have to worry about having to pay an annual membership fee to build your credit.
Should You Apply for the Insight Visa Secured Credit Card?
A secured card is never anyone's first choice, but if you bank with Insight CU and are hoping to boost your credit score, the Visa Secured Card is a good option. Since the credit limit is directly tied to the funds already in an Insight savings account, getting the card is a hassle-free experience for current customers.
The decent fixed-rate APR is helpful, but payments should always be made in full each month, so it's little more than just a number to those who plan to work hard at boosting their credit score. The addition of Visa purchase protections and perks are nice incentives for cardholders and provide extra security just in case of fraud or any issues with merchants.
Related Article: What Are the Easiest Credit Cards for Bad Credit to Get?
Browse Other Secured Card Offers:
Browse Other Insight Credit Union Card Offers: