by BestCards Team | Last updated on October 27th, 2023
Insight Visa Platinum + Rewards Credit Card
*See Terms

Regular Purchase APR

*See Terms

Balance Transfer APR

*See Terms

Cash Advance APR
At a Glance
The Insight Visa Platinum + Rewards Credit Card is a reliable reward credit card that is hurt by a crowded marketplace. The card, offered by Central Florida credit union, Insight Credit Union, offers a single pint for every dollar spent on eligible purchases, plus a great, low APR on purchases, balance transfers, and cash advances – all for no annual fee.
Best Benefits
Rates & Fees
Why Should You Apply?
Earn 1 point for every dollar spent on eligible purchases

No annual fee

Great low APR
Regular Purchase APR: *See Terms
Balance Transfer APR: *See Terms
Balance Transfer Transaction Fee: Either $10 or 2% of the amount of each balance transfer, whichever is greater
Cash Advance APR: *See Terms
Cash Advance Transaction Fee: Either $10 or 2% of the amount of each cash advance, whichever is greater
Foreign Transaction Fee: 1% of the transaction amount in U.S. dollars
Late Payment Penalty Fee: Up to $35
Return Payment Penalty Fee: Up to $25
You already bank with Insight Credit Union

You carry a balance but still want to earn rewards with purchases

You don't want to pay an annual fee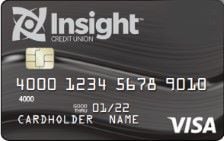 Insight Visa Platinum + Rewards Credit Card Review
The Insight Visa Platinum + Rewards Credit Card is a quality rewards and low APR credit card that hits many of the right notes.
A Low APR for Those with Excellent Credit
Credit union credit cards usually come with an excellent interest rate for purchases, balance transfers, and cash advances. In this regard, the Insight Visa Platinum with Rewards is no different. For those with excellent credit scores, the typical APR for all the above-mentioned categories will be equally excellent – with rates in the 12% range.
Those with lower credit scores can expect a higher interest rate, but even those who receive the lowest possible rate can expect an APR that is close to the national average of around 17.5% While these rates may seem high, they are miles ahead of the higher-end interest rates with almost any major-issuer credit card, where interest rates usually top off at about 24%.
Earn UChoose Rewards with Every Purchase
The Visa Platinum with Rewards Card earns rewards with every dollar spent on eligible purchases. Each dollar spent with the card earns a single point. Points apply towards the UChoose Rewards Program, a rewards program that is a popular option amongst credit unions throughout the United States.
UChoose Rewards offers a variety of redemption options, including:
Cash Back: Cash back is redeemable in the form of statement credits
Gift Cards: There are a wide variety of gift card options to choose from, including major names in the restaurant, travel, and retail sectors.
Merchandise: The Rewards portal has a wide selection of merchandise to select from, including computers, televisions, video games, and more.
Travel: Use your points to book travel by purchasing airline tickets, cruises, rental cars, hotels, and more.
Other Perks
As the card is a Visa product, Platinum with Rewards Cardholders gets the usual suite of Visa perks and protections. These include auto rental insurance, travel and emergency accident assistance, additional product protections through Warranty Manager, and more. These benefits aren't particularly impressive – especially since they come with all Visa cards, but they are nice, regardless.
Who Can Join Insight Credit Union?
Insight Credit Union is a Central Florida credit union. As with most other credit unions, membership in Insight is exclusive, meaning potential members must meet the criteria for joining.
Insight Credit Union membership is open to those who live or work in the following Central Florida counties:
Brevard County
Citrus County
Columbia County
Desoto County
Dixie County
Gilchrist County
Hardee County
Hernando County
Highlands County
Lake County
Levy County
Marion County
Orange County
Osceola County
Pasco County
Putnam County
Seminole County
Sumter County
Suwanee County
Taylor County
Volusia County
Membership with Insight CU is also open those who contribute to the Insight Community Foundation. The Insight Community Foundation is a non-profit charity that provides funding and support to the communities that Insight Credit Union serves. In order to qualify as a contributor to the foundation, a non-member must give a tax-deductible donation of at least $25.
Should You Apply for the Insight Visa Platinum + Rewards Credit Card?
So, should you apply for the Visa Platinum Rewards Card from Insight Credit Union? That depends. If you already bank with the credit union and want to receive a solid interest rate while earning basic rewards, there isn't too much to complain about. If you live in Central Florida, want to earn travel or merchandise rewards with your credit card and plan to carry a balance, the answer is similarly yes.
If you don't currently bank with Insight, aren't considering joining for other savings or account products, or never carry a balance, however, you will be able to find better value elsewhere.
The Insight Visa Platinum + Rewards Credit Card offers no sign-up bonus in terms of points or a 0% introductory APR period. Countless quality rewards Insight Credit Union Credit Cards(Opens in a new browser tab)cards from not only larger lenders but also credit unions provide these bonuses, which severely hinders this card's appeal. Take the BBVA ClearPoints Card, for example. The card comes with a very competitive APR, plus the added bonus of 0% intro APR on purchases for the first 13 months – and that's without even mentioning the 2x points cardholders receive in their chosen category.
While the BBVA ClearPoints Card isn't the most obvious comparison, it demonstrates that the Insight Visa Platinum with Rewards is easily boxed out in a highly competitive marketplace. The addition of charges for balance transfers, cash advances, and foreign transactions further hurt the card.
That's not to say, however, that the Insight Visa Platinum with Rewards is a bad credit card – far from it. It just has a limited appeal, and if you fit into that small window, this is a decent rewards credit card to consider.
Browse Other Insight Credit Union Offers:
Editorial Disclosure – The opinions expressed on BestCards.com's reviews, articles, and all other content on or relating to the website are solely those of the content's author(s). These opinions do not reflect those of any card issuer or financial institution, and editorial content on our site has not been reviewed or approved by these entities unless noted otherwise. Further, BestCards.com lists credit card offers that are frequently updated with information believed to be accurate to the best of our team's knowledge. However, please review the information provided directly by the credit card issuer or related financial institution for full details.