Last updated on September 12th, 2023
Advertiser Disclosure
close ×
Advertiser Disclosure – BestCards is an independent, Florida-based credit card comparison platform. Many of the card offers that appear on this site are from companies from which BestCards receives compensation. This compensation may impact how and where products appear on this site (including, for example, the order in which they appear). BestCards does not include all card companies or all card offers available in the marketplace.
Editorial Disclosure
close ×
Editorial Disclosure – The opinions expressed on BestCards' reviews, blogs, and all other content on or relating to the website are solely those of the content's author. They are not reflective of any card issuer or financial institution and have not been reviewed or approved by these entities unless otherwise noted. Further, BestCards lists credit card offers that are updated daily with information believed to be accurate to the best of our knowledge.
BBVA ClearPoints Credit Card
11.24% to 29.24% variable based on creditworthiness and the Prime Rate

Regular Purchase APR

11.24% to 29.24% variable based on creditworthiness and the Prime Rate

Balance Transfer APR

22.24% to 29.24% variable based on creditworthiness and the Prime Rate

Cash Advance APR

0% for 13 months from account opening date

Intro Purchase APR
Best Benefits
Rates & Fees
Why Should You Apply?
3X points in the category of your choice with BBVA Build Your Own Rewards

2X points in a second category of your choice

1X point rewards in all other categories

Unlimited earnings

No annual fee
Intro Purchase APR: 0% for 13 months from account opening date
Regular Purchase APR: 11.24% to 29.24% variable based on creditworthiness and the Prime Rate
Intro Balance Transfer APR: 0% for 13 months on transfers made within 60 days from account opening date
Balance Transfer APR: 11.24% to 29.24% variable based on creditworthiness and the Prime Rate
Balance Transfer Transaction Fee: Either $10 or 4% of the amount of each transfer, whichever is greater
Cash Advance APR: 22.24% to 29.24% variable based on creditworthiness and the Prime Rate
Cash Advance Transaction Fee: Either $10 or 4% of the amount of each cash advance, whichever is greater
Foreign Transaction Fee: 3% of the transaction amount in U.S. dollars
Late Payment Penalty Fee: Up to $37
Return Payment Penalty Fee: Up to $20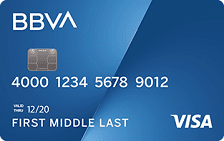 At a Glance
The BBVA ClearPoints Credit Card offers customizable rewards on up to 10 categories; each quarter cardholders can choose one 3X category and one 2X category. The card also features no annual fee, introductory purchase and balance APR, and modest $100 signup bonus.
Ideal for Those Who:
Want a card that can adapt to their changing lifestyle
Are looking for rewards for unusual bonus categories (like medical costs and home/car maintenance)
Don't mind having to update their bonus preferences every 3 months
Want the option to pay for purchases directly with points
BBVA ClearPoints Credit Card Review
For existing BBVA banking customers who are looking to expand their financial toolkit with a cash back reward card, the BBVA ClearPoints Credit Card offers a great opportunity to do so. With enough frills to make it exciting, but not so many moving parts that you constantly have to monitor your card activity, this card makes it quite simple to earn rewards in the ways that fit your lifestyle. There is no annual fee and new applicants will have access to a year long 0% APR offer as well as a one-time bonus of $100.
Signup Bonus
New cardholders will receive a modest $100 statement credit for spending $1,500 within the first three months of opening an account. It's certainly not the most impressive signup bonus available and in fact, has a rather higher spending requirement considering the small return. If your natural spending habits would find you spending that amount of money anyways then you could consider this very easy money, however, it would be ill advised to increase your spending (and put yourself at risk of incurring interest charges) for this introductory offer.
Introductory APR Offers
If you were looking to consolidate your existing debt or were simply looking for a vehicle to improve your overall credit score, the BBVA ClearPoint card offers 13 months of 0% APR for both purchases and balance transfers. While this is not the longest introductory period available (there are cards with up to 21 months of interest-free payments) these longer rates can be difficult to acquire if you have less than Excellent or Very Good credit. However, cardholders should be wary that the card carries slightly higher than average balance transfer fees which could end up eating all the money you were trying to save.
Earning BBVA ClearPoint Rewards
The highlight of the BBVA ClearPoint card is the flexibility of the Build Your Own Rewards program and the breadth or purchase categories available. Every quarter, cardholders will be able to customize their credit card rewards by choosing from 10 purchase categories:
Business Services
Dining
Entertainment
Gas Stations
Utilities
Health Care
Maintenance (vehicle, property, etc.)
Retail
Travel
Groceries (excludes wholesale clubs)
Of these options, cardholders can designate which one will be their 3X category and which will be their 2X category (all other purchases will yield 1 point per dollar). Keep in mind that whether a purchase qualifies for bonus points is determined by the MCC (Merchant Category Code). Points can take up to 7 days to be posted to your account, but they'll be worth the wait since points are rounded up to the nearest whole number.  Unfortunately, these earnings have an expiration date and will expire 36 months (3 years) from the date that they were earned.
Selecting Bonus Categories Each Quarter
The one downside of the ability to customize your rewards is that such a process isn't automatic. BBVA ClearPoint cardholders will be required to pay attention to the calendar as they must choose and activate their rewards prior the start of a new quarter. Failing to do so will result in a default earning rate of 1X point per dollar. Quarters follow the yearly calendar and begin on the following dates:
January 1st
April 1st
July 1st
October 1st
You can select bonus categories for an upcoming quarter as early as the start date of the previous one (ex. You can choose your categories for the January 1st category beginning October 1st). The last day to make your selections is the day before the new quarter begins. Cardholders can change their selections as often as they would like before the beginning of a new quarter, but will be locked in once the new bonus period term begins. To manage your reward categories, visit or call the BBVA Rewards Redemption Center at 844-285-8383.
How to Redeem BBVA Points
There are multiple options when it comes to redeeming BBVA points. Earnings can be redeemed for travel, merchandise, gift cards, and statement credit (starting at a minimum of 2,500 points, a $25 value. Regardless of redemption type, each point has an individual value of $0.01 value which can be redeemed both online, or over the phone.  If you have a smart phone, you can also download the award-winning BBVA Wallet app which allows for points to be applied to purchases in real time – helpful if you're trying to keep your monthly balance statement low.
Best Uses of the BBVA ClearPoint Credit Card
Unique bonus categories like 'Health Care' and 'Maintenance' make it easy for this card to fill a specific niche in your wallet, making for a wonderful supplement to your wallet if you already own several other rewards cards. Plus, those categories can have very high costs – making them all the more lucrative when you use your card to pay for them. If you intend on making the BBVA ClearPoint your primary credit card, you should have a clear idea of the types of expenses you expect to have and whenthey'll be occurring (example: surgery scheduled for 6 months from now, planning a home renovation project to begin next year, foreseeing that the bulk of your travel plans will take place during holidays). Doing so will ensure that you can update your categories appropriately each quarter. The other method to making this card work would be to play it safe and rely on the popular credit categories that you are more likely to make purchases from on a regular basis (gas, dining, utilities, groceries).
Should you Apply for the BBVA ClearPoints Credit Card?
While customizable rewards aren't anything new, the BBVA ClearPoint has a huge leg up on the competition since there are no caps on earnings – even in the top earning categories. The inclusivity of a broad range of bonus categories mean that this card has much more than the potential to reward cardholders for their most frequent purchases, but the option to earn bonuses in areas that no other credit cards offer. If you have Good to Excellent credit and anticipate incurring a substantial amount of medical bills or undergoing a home renovation, this card would work well in conjunction with your current go-to credit cards. If you were planning on making this your go-to card, it'll do the job…but there are better options out there. For those who like to make sure they're on top of their spending, BBVA offers an award-winning mobile banking app so you can track your purchases, get alerts, and even block or unblock your card whenever you'd like. No annual fee and free enrollment mean you'll maximize your rewards without spending a single cent more than you want to.
Browse Other BBVA Credit Cards: