by Cory Santos | Last updated on October 4th, 2023
21.99

Regular Purchase APR

26.99%

Balance Transfer APR

24.99%

Cash Advance APR
At a Glance
Furnishing and redecorating your home becomes five times more rewarding with the IKEA® Visa® credit card. Earn 5% back on all IKEA purchases and an extra 3% bonus on dining, groceries, and utility bills with no annual fee.
Best Benefits
Rates & Fees
Why Should You Apply?
Receive $25 off for making an IKEA purchase the same day the card is opened

Receive $25 off for spending $500 outside of IKEA

5% back in rewards on IKEA purchases (includes the restaurant), Traemand installation and TaskRabbit assembly services

3% back in rewards on dining

3% back in rewards on groceries

3% back in rewards on utilities

1% back in rewards on all other purchases
Regular Purchase APR: 21.99
Balance Transfer APR: 26.99%
Balance Transfer Transaction Fee: Either $10 or 5% of the amount of each transfer, whichever is greater
Cash Advance APR: 24.99%
Cash Advance Transaction Fee: Either $10 or 5% of the amount of each cash advance, whichever is greater
Late Payment Penalty Fee: Up to $41
Return Payment Penalty Fee: Up to $41
You spend at least $300 at IKEA every three years

You want to earn rewards for utilities such as electric, gas, cable, and phone services

You frequently dine at the IKEA restaurant

You already an IKEA FAMILY member

You live near an IKEA showroom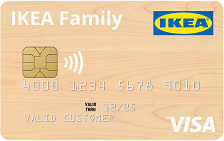 IKEA® Visa® Credit Card Review
Having no annual fee, the IKEA Visa Credit Cardis a great option for those with an upcoming move, tenants who want to make rental-friendly upgrades or DIY-ers looking for their latest craft project. This card is very user-friendly, with a straightforward rewards structure that conveniently lacks any of the membership or spending requirements that many other retail cards require.
While this card will not offer much in the way of an enhanced shopping experience (Free meatballs? We wish. No free shipping or delivery, either) if you always turn to IKEA when you want to inexpensively try new home décor trends, the IKEA® Visa® is the easiest way to save on their already affordable product range.
Earning Reward Dollars with IKEA Visa Bonus Categories
There's a lot to like regarding the IKEA Visa card's bonus categories (it would easily be our top choice if it offered cash back as a redemption method). It has surprisingly lucrative rewards with a 5/3/1 bonus structure, making for an above-average return on coveted categories without any limitations or caps on earnings. Rather than points, the IKEA rewards program refers to these earnings as Reward Dollars.
IKEA Visa bonus categories are as follows:
5% back on IKEA, IKEA restaurant, Traemand, and TaskRabbit purchases
3% back on dining, grocery, and utility purchases
1% back on all other purchases
Cardholders have a rare opportunity to earn bonuses on utilities, a very seldom included bonus category. Utility services are categorized as those with MCCs between 4800–4999 and include a wide range of services you probably rely on daily. Besides being one of the easiest ways to earn points passively, this card won't compete with the other credit cards in your wallet. You'll get the best value by using your IKEA Visa to pay for utilities, television and radio subscriptions, cable, phone, internet, and other similar purchases. 
While the rewards for dining and groceries are less of a novelty, they're still much more than a nice-to-have – 3% is a competitive return rate that rivals some of the most popular dining credit cards currently in the market, like the SavorOne by Capital One and no-annual-fee grocery rewards from the Blue Cash Everyday AMEX.
Redeeming Rewards
Reward Dollars function as "points," each with an individual value of 1¢. They are earned with every single purchase made on the IKEA Visa and can take up to two weeks to post to an account. However, cardholders can view their Reward Dollars balance on their monthly account statement.
Reward Dollars have a limited shelf life and expire 36 months (3 years) from their earned date. While this isn't a terribly short period of time, those who don't see themselves shopping at IKEA within this time frame run the risk of having their earnings expire.
The IKEA Visa Credit Card has only one redemption method: $15 Reward Certificates. These function as coupons, allowing users to take $15 off the total price at checkout. Reward Certificates are automatically generated every time the cardholder has accumulated 15 Reward Points. Effectively, IKEA card owners will be able to generate a $15 for every:
$300 spent at IKEA,
$500 spent on dining, groceries, and utilities, and
$1,500 spent anywhere else.
Cardholders enrolled in paperless billing can see and access their rewards through their account center and be notified via email. Those not enrolled and receiving physical copies of the card statements will have Reward Certificates mailed out within 60 to 90 days after qualifying for a reward. Additionally, Comenity Bank will not replace any lost or undelivered Reward Certificates so its all the more reason to enroll in paperless billing.
IKEA® Visa® Credit Card vs. IKEA Projekt Store Card
IKEA offers three credit cards to consumers, all issued by Comenity Bank: the IKEA Projekt, IKEA Visa®, and IKEA Visa® Signature (identical to the IKEA Visa but with additional protections). All three are fantastic options for the homeowner or renter looking to furnish, decorate, or otherwise spruce up their space on a budget – but the closed-loop and the open-loop cards serve two distinct purposes.
The closed-loop IKEA card, IKEA Projekt, offers shoppers special 0% APR financing plans for purchases of $500 or more but can only be used in IKEA stores. The open-loop IKEA Visa card (as well as its Signature-versioned counterpart) can be used anywhere that Visa is accepted and instead earns up to 5% back on everyday purchases on popular home-centric bonus categories in addition to IKEA purchases. These earnings, called "Reward Dollars," can then be redeemed for $15 Reward Certificates and applied at checkout for savings on your final purchase total.
Here's a quick rundown of how the IKEA store card and the Ikea credit card differ – and which is best for whom:
| | | |
| --- | --- | --- |
| | IKEA® Visa® Credit Card | IKEA Projekt Store Card |
| Open-loop? | Yes | No |
| Ideal for | Everyday purchases, dining | Large purchases, projects |
| Special financing? | No | 0% APR for up to 24 months |
Signup Bonuses & Introductory Offers
New IKEA Visa cardholders also receive a one-time $25 discount on your first purchase after being approved for the IKEA Visa and making an IKEA purchase with your card the same day. For those who apply online, this offer will appear as a statement credit (may take up to two billing cycles to appear). Note that this discount cannot be applied towards IKEA gift cards or the assembly services of TaskRabbit and Traemand.
Unfortunately, those looking for 0% interest must rely on the IKEA Projekt credit card as the IKEA Visa has no special financing offer.
Limitations & Restrictions with the IKEA Visa Card
By far the most restrictive aspect of owning the IKEA Visa card is when it comes time to redeem rewards.
Rewards cannot be combined with other discounts or Reward Certificates, meaning that the maximum you'll be able to save is $15 at a time. An easy workaround, however, would be to purchase items individually and apply a different Rewards Certificate for each item – just make sure that your item is worth more than your voucher.
When it comes to the types of purchases IKEA Reward Certificates can be used towards, they can only be applied to IKEA merchandise which, sadly, excludes the IKEA restaurant, gift cards, and shipping costs.
A Rewards Certificate can only be used once, so any remaining value will be lost. Additionally, items that were purchased with a Rewards Certificate and later returned will not have the voucher replaced. As such, cardholders should exchange unwanted items rather than a full refund which would then result in the waste of a reward.
Other Card Features
Other features of Comenity Bank's IKEA Visa include EMV chip technology for contactless payments, and handy mobile app access for 24/7 banking. The credit card also enjoysVisa Platinum benefits and protections. These benefits include the following: 
| | | |
| --- | --- | --- |
| Zero Fraud Liability | Cardholder Inquiry Services | Emergency Card Replacement |
| Roadside Dispatch and Auto Collision Damage Waiver | Lost/Stolen Card Reporting | ID Navigator from Norton |
Comenity Ratings
How does Comenity rate as a credit card issuer? Here is a selection of reviews and ratings for the bank and its parent, Bread Financial:
Should You Apply for the IKEA® Visa® Credit Card?
While this card might seem like a no-brainer for the recent college graduate looking to furnish their home for the first time or a first-time homeowner that finds themselves with several empty rooms to fill, this card doesn't make sense for the person who only shops at IKEA for their big-ticket items (like beds and sofas).
The ability to earn 5% in rewards on IKEA rewards is better suited for the person who always turns to IKEA for accent pieces and accessories or frequently rotates their home décor for the seasons newest style trends. This card would be even better for those who turn to IKEA's sensible and affordable marketplace to shop for everyday home items like flatware, cutting boards, or storage containers. This shopping style also ties into the best way to use IKEA's restriction-laden Reward Certificates, which is easily the card's biggest drawback.
Overall, if you live near an IKEA showroom, are the type to stop by "just to see what's new," and then find it difficult (or even impossible) to leave without something new in hand, the IKEA® Visa® Credit Card would be a great fit. Since it has no annual fee, it's a low-maintenance card to own. An IKEA-lover can use every shopping trip (or IKEA restaurant break) can fund their next one.
Browse Other Comenity Credit Cards:
Editorial Disclosure – The opinions expressed on BestCards.com's reviews, articles, and all other content on or relating to the website are solely those of the content's author(s). These opinions do not reflect those of any card issuer or financial institution, and editorial content on our site has not been reviewed or approved by these entities unless noted otherwise. Further, BestCards.com lists credit card offers that are frequently updated with information believed to be accurate to the best of our team's knowledge. However, please review the information provided directly by the credit card issuer or related financial institution for full details.