by Cory Santos | Last updated on September 27th, 2023
At a Glance
Cryptocurrencies offer significant growth for investors, and the Fold Visa Prepaid Debit Card is an intriguing way to earn rewards in BTC for your everyday purchases. The card offers all the benefits of the Fold mobile app with the payment network of Visa, making it easy to earn Bitcoin online or in-store.
Best Benefits
Rates & Fees
Why Should You Apply?
Get access to Fold+ member pricing on Amazon gift cards

Each purchase activates a spin on the Spin Wheel Sweepstakes

Enjoy boosted merchant offers

Get up to 100% back in rewards after your purchases
Annual Fee: Up to $150
Foreign Transaction Fee: See Terms
Over Limit Penalty Fee: See Terms
Minimum Deposit Required: See Terms
You don't want an inquiry on your credit score or distrust credit cards

You prefer to earn rewards in Bitcoin versus Ethereum, Litecoin, or other cryptocurrencies

You're vigilant to ensure your use your wheel spins and don't let them expire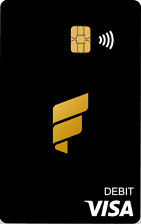 Fold Visa Prepaid Debit Card Review
The Fold Visa Prepaid Debit Card is a crypto rewards card that allows users to earn Bitcoin with every purchase.
What Is Fold?
| | |
| --- | --- |
| | Exclusive Fold-branded Visa cards that offer a variety of perks |
| Earn free Satoshi's by spinning the Fold wheel | Gift cards that provide significant cashback in Bitcoin |
| Gamified interface that gives users a chance to win 1 whole Bitcoin or 100% cashback on purchases | Earn free Satoshi's by spinning the Fold wheel |
Prepaid Vs. Debit: What's the Difference?
A prepaid card is a type of payment card that you load with funds and can use to make purchases, pay bills, and withdraw cash from ATMs. Either you can add funds to the card, or the funds can be added by a third party, like an employer or the IRS. On the other hand, a debit card is linked to a checking account and can be used to make purchases and withdraw cash from ATMs.
The funds for your transactions are taken directly from the connected account. The main difference between the two is that with a prepaid card, the cardholder is spending money they have already loaded onto the card. In contrast, the cardholder spends money in their linked account with a debit card.
| Prepaid Card | Debit Card |
| --- | --- |
| Preloaded with funds | Connected to checking account |
| Must be reloaded | Funds replenish with direct deposits |
| No overdraft | Overdraft available |
| | |
How to Earn Bitcoin
Fold is one of the most popular options for earning Bitcoin rewards, and it is easy to see why. The Fold platform is an online shopping app that lets users earn cash back rewards for their online spending. However, those cash back rewards take the form of Bitcoin rather than "fiat money," or government-backed currencies like the U.S. dollar.
The Fold Card is a crypto debit card that works like the Fold app (available in both iOS and Android formats) but with the purchasing power of the Visa payment network – the world's largest network by the number of merchants. Because Fold is a Visa debit card, the Fold Card enjoys the benefit of being used online, in-store, or through mobile wallets.
Spin the Wheel
Fold cardholders earn a spin every time they make an eligible purchase of $3 or more. Make a purchase, get a spin. It's that simple. Some of the rewards on offer include 25% back in Bitcoin rewards, fixed amounts (around $2.50 worth of Bitcoin crypto), or even a single Bitcoin – currently trading at over $30,000 per coin!
Users also have the chance at extra spins if they don't enjoy the rewards they get on their first spin. There are numerous ways to get free extra spins, including one free extra spins every Friday starting at 12 pm ET just for having added funds to your Fold Card at least once. Other ways to get spins:
Winning them on the prize wheel
One free spin every day your balance is over $1,000
Two free spins every day your balance is over $10,000
One free spin every time you make a qualifying purchase over $250
Keep in mind that spins are time-sensitive. After making a purchase, intro tier members have one hour to use their spin before losing it; premium members have 24 hours to make their bonus spin.
Refer Friends and Help Them Grow
Fold app or card users can earn extra rewards for referring friends. The rewards take the form of sats (or satoshis), which are a part of a Bitcoin. For new referrals, the new users get 5,000 satoshis (0.00005 BTC) in their rewards balance to get them started. The user gets priority on the Fold Card waitlist – which is less exciting than BTC.
How to Redeem Rewards
Redeeming rewards with the Fold Visa Prepaid Card is straightforward. Once that accountholder's sats have reached 50,000, they can withdraw their rewards to their Bitcoin wallet. Fold currently accepts on-chain wallets only, including those from competitors like Coinbase or native Segwit addresses.
Fold Tiers
As previously mentioned, Fold breaks down into two membership tiers: Intro and Premium. The intro tier requires no annual fee and offers bonuses of up to 25% back on purchases through the wheel.
On the other hand, the Premium tier features up to 100% back, extra spins per week, and a $150 annual fee. The premium tier also offers access to the much more lucrative premium wheel, with better odds at Bitcoin, and the chance to get the Fold Card once live at no additional cost.
Fold Card Fees
Crypto debit cards come with fees that you won't find when making purchases through mobile apps – the Fold Card is no different in this regard. The card features fees for a variety of potential charges, including OTC (over the counter) cash withdrawals ($2 per transaction), cash back fees at the point of sale (1% of the cash back), and replacement card fees.
Unlike mobile apps, the Fold Visa charges several international fees, including a foreign transaction fee of 3% of the transaction in U.S. dollars, foreign ATM use fees ($2.50 per use), and international ATM balance inquiry fees of $1, regardless of your tier.
How does the Fold Prepaid Visa stack up? Here is a selection of expert reviews for the card:
Should You Consider Getting the Fold Visa Prepaid Debit Card?
Bitcoin rewards are a trend that looks likely to grow – both in debit and credit card rewards programs. The Fold app is a great foot in the door into these rewards and offers the chance to earn up to a full Bitcoin in rewards for every purchase.
Now, don't go into the Fold Visa thinking you'll earn tens of thousands of dollars regularly. In fact, that is an exceedingly rare reward (though not unheard of). Still, the Fold app and the Fold Visa Prepaid Debit offer plenty of excellent rewards that exceed what you'd typically expect from a cash back card.
The Fold crypto debit card is an exciting option to consider for those that don't want the hard inquiry on their credit report but want to earn rewards with every purchase. And, since the market for Bitcoin has generally been hot over the past few years, the chance is there to make significantly more money in BTC than you'd typically get with a credit card.
Fold is currently available in all 50 U.S. states plus the District of Columbia. 
Browse Other Crypto Card Offers
Editorial Disclosure – The opinions expressed on BestCards.com's reviews, articles, and all other content on or relating to the website are solely those of the content's author(s). These opinions do not reflect those of any card issuer or financial institution, and editorial content on our site has not been reviewed or approved by these entities unless noted otherwise. Further, BestCards.com lists credit card offers that are frequently updated with information believed to be accurate to the best of our team's knowledge. However, please review the information provided directly by the credit card issuer or related financial institution for full details.