Last updated on September 23rd, 2023
Advertiser Disclosure
close ×
Advertiser Disclosure – BestCards is an independent, Florida-based credit card comparison platform. Many of the card offers that appear on this site are from companies from which BestCards receives compensation. This compensation may impact how and where products appear on this site (including, for example, the order in which they appear). BestCards does not include all card companies or all card offers available in the marketplace.
Editorial Disclosure
close ×
Editorial Disclosure – The opinions expressed on BestCards' reviews, blogs, and all other content on or relating to the website are solely those of the content's author. They are not reflective of any card issuer or financial institution and have not been reviewed or approved by these entities unless otherwise noted. Further, BestCards lists credit card offers that are updated daily with information believed to be accurate to the best of our knowledge.
At a Glance
The Coinbase Card is a crypto rewards debit card that features up to 4% back on all purchases in crypto for no annual fee. The card provides seamless integration with a user's Coinbase wallet but comes with a number of transaction fees.
Best Benefits
Rates & Fees
Why Should You Apply?
Spend any asset in your Coinbase portfolio and earn rewards for each purchase

Spend crypto everywhere Visa debit cards are accepted

No annual fee or signup fee

Phone and email support available whenever you need it
Foreign Transaction Fee: See Terms
Over Limit Penalty Fee: See Terms
Minimum Deposit Required: See Terms
You already use Coinbase

You want to use your crypto to make purchases

You prefer to earn cash back rewards in crypto and are willing to gamble on Stellar Lumens

You do't want to pay an annual fee

You understand the transaction fees the card charges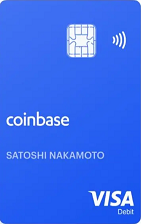 Coinbase Card Review
The Coinbase Card is a Visa debit card that lets holders spend any asset in their Coinbase portfolio and earn rewards for each purchase – for no annual fee.
Spend Crypto and Earn Crypto Rewards
The card, like other crypto debit cards on the market, links to a user's account – in this case, Coinbase. Users simply sign up for a Coinbase account, load their wallet with crypto (from a vast array of cryptocurrencies, including Dogecoin), and then use their card to make purchases anywhere Visa is accepted worldwide.
Earn Up to 4% Back
Coinbase cardholders can earn up to 4% back – but with a catch. The card earns 4% back in Stellar Lumens (XLM) or 1% back in Bitcoin (BTC). Getting 4% back is an excellent option, but the value of Stellar Lumens (an up-and-coming crypto token) is relatively volatile compared with the general stability of Bitcoin. Additionally, XLM is far less valuable than BTC, but for those who like to gamble on crypto futures, XLM offers a great opportunity for wealth-building.
Spend Crypto
One of the great features of Coinbase and its platform is that it offers so many cryptocurrencies. Coinbase currently supports approximately 50 cryptocurrencies, including all of the major names (Bitcoin, Litecoin, Ethereum) and lesser-known options (Stellar Lumens, Ripple, Augur, etc.) The platform also includes formerly "joke" coin, Dogecoin.
With the Coinbase Visa Debit Card, users can use any of their cryptocurrency to make purchases anywhere Visa is accepted. This feature makes the card one of the most potent crypto debit cards on the market today. Add to that the card's availability in 30 countries and its tough to find much wrong with the card.
Transaction Fees
One issue with the Coinbase Card is the fee for making purchases. Coinbase charges a flat 2.49% transaction fee on all purchases, including ATM withdrawals made with other cryptocurrencies. Keep in mind that using the card at an ATM may incur ATM fees from the machine, so it's easy to see how fast charges can rack up.   
Coinbase also charges fees for selling or buying cryptocurrency, as well as conversion charges. These fees vary depending on location but are as follows for U.S. accountholders: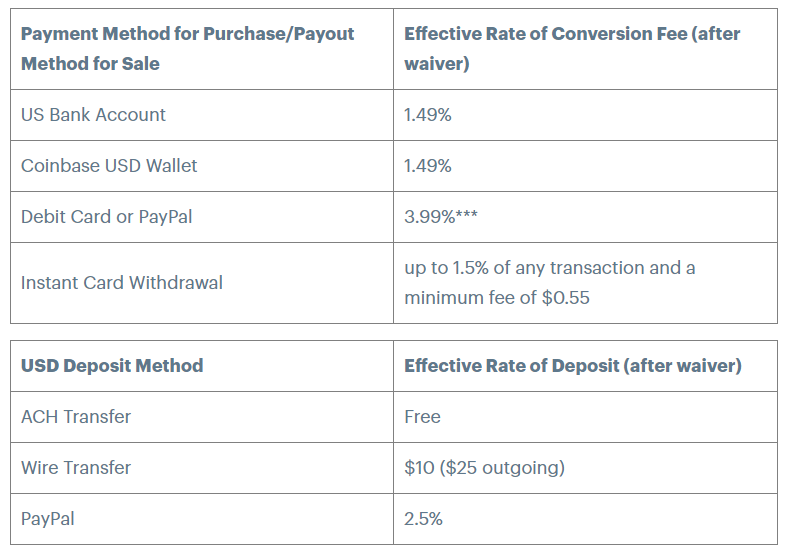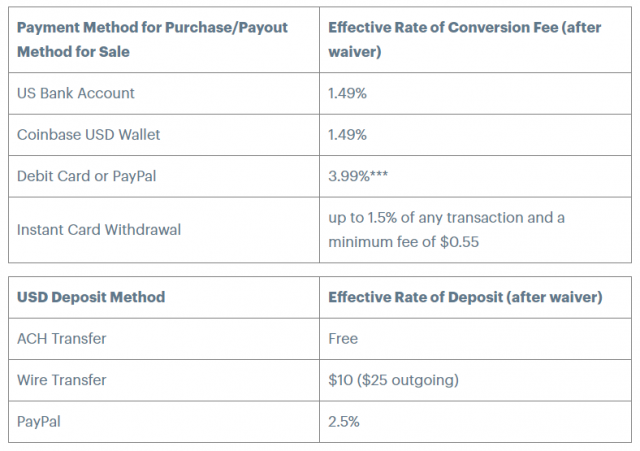 Other Card Features
Other notable features with the Coinbase Visa Card include:
No annual fee
Complimentary virtual card with order of a physical debit card
24/7 customer support
Push notifications for online purchases
Mobile wallet compatibility
EMV chip and contactless payment technology
Visa Zero Fraud Liability
Should You Consider Getting the Coinbase Visa Debit Card?
The Coinbase Visa Card is an attractive crypto debit card that offers seamless compatibility with Coinbase, its platform, and its digital wallet. The card earns up to 4% back on purchases in Stellar Lumens and a significantly reduced 1% back in BTC.
The cash back rewards with the card are great but less generous than other crypto cards. That said, the card does come with no annual fee, while others, such as the BlockCard or Crypto.com Card, charge a fee unless specific spending thresholds are crossed.
The major downside of the Coinbase Card is the transaction fees that it charges. The 2.49% charge might not hurt too much for sizeable purchases, but for everyday purchases, the card simply isn't practical – as fees can quickly mount. Overall, the card is very versatile, especially given the number of cryptocurrencies supported and the countries in which it can be used.
Browse Other Crypto Card Offers