Last updated on August 21st, 2023
Advertiser Disclosure
close ×
Advertiser Disclosure – BestCards is an independent, Florida-based credit card comparison platform. Many of the card offers that appear on this site are from companies from which BestCards receives compensation. This compensation may impact how and where products appear on this site (including, for example, the order in which they appear). BestCards does not include all card companies or all card offers available in the marketplace.
Editorial Disclosure
close ×
Editorial Disclosure – The opinions expressed on BestCards' reviews, blogs, and all other content on or relating to the website are solely those of the content's author. They are not reflective of any card issuer or financial institution and have not been reviewed or approved by these entities unless otherwise noted. Further, BestCards lists credit card offers that are updated daily with information believed to be accurate to the best of our knowledge.
At a Glance
With the Yotta Debit Card, you can be a winner. It can help you save money the fun way, with prizes and sweepstakes. The card operates like any other debit card except with winning potential and no fees. Earn 10% of your purchases back in the form of tickets for prize sweepstakes, with prizes ranging from 10 cents to $10 million. Additionally, with every debit card swipe, you get a chance to win a paid purchase by Yotta.
Best Benefits
Rates & Fees
Why Should You Apply?
Win up to $10M every week saving money in an FDIC-insured account with a base savings reward of 0.20% APY

The only debit card that could literally make someone a millionaire including odds up to 1 in 100 Yotta will cover your entire purchase

Earn 10% of your purchase amount back in the form of tickets into the following week's sweepstakes

Get paid up to 2 days early when you use your Yotta account as your direct deposit/paycheck destination

Direct deposit users also receive 1-in-150 Lucky Swipe odds

Every paycheck earns 5% extra bonus tickets
You're a fan of using mobile banking

You're looking to open an FDIC-insured savings account

You're interested in getting direct deposit two days in advance

You want to use your debit card abroad with no fees or hassles

You would enjoy prize drawings and sweepstakes as a benefit

You would like a chance to win paid-for purchases with Lucky Swipes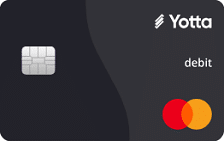 The Yotta Debit Card Review
More than just your average debit card – the Yotta Debit Card makes saving money fun. Saving money with Yotta earns you a chance to frequently win up to $10 million. It's a prize-linked savings account where you can win money but never lose any. It is a game of chance. However, your odds of winning get better the more money you save. And most importantly, you will never lose.
When you add funds to your savings account, you have a chance to earn tickets for the sweepstakes drawings. For every $25 deposited, you will receive one ticket for the prize sweepstakes. For example, if you add $50 to your savings account, you will receive two tickets for the sweepstakes to better your odds of winning. If you add $100, that will earn you four tickets to the prize sweepstakes.
It is important to note that Yotta is a mobile app and a full-featured bank account. Cardholders can manage their account through mobile and do things such as view statements, account balances, tickets, and prizes. On top of prize drawings, banking and saving money with Yotta will offer a base savings reward of 2.7% APY.
How To Win Free Stuff with Yotta?
Furthermore, the potential to earn life-changing money comes with the Yotta Debit Card territory. Through something Yotta calls Lucky Swipes, your next debit card purchase could be free, and the Yotta app will notify you instantly if you're a winner. Better your odds of getting a Lucky Swipe by referring a friend, making a dining purchase, or shopping with partner Lucky Deal Merchants.
Better Your Odds at Winning Lucky Swipes:
Yotta Debit Card
1 in 200 base odds
1 in 100 odds for 30 days with every referral or dining purchase
Up to 1 in 5 odds for purchases made at partner Lucky Deal Merchants
Are you worried about how you will cash out with mobile banking? Don't be. The Yotta Debit Card has thousands of free-to-use ATMs (55K+), so you can have cash handy whenever you need it. Feel secure in your purchases as the Yotta Debit Card is supported by the Mastercard payment network and features Mastercard liability protection. In addition, the Yotta Debit Card has no foreign transaction fees making it a reliable debit card to take abroad without having to worry about additional fees on your travel adventures. And who knows? Maybe your flight purchase will be your next Lucky Swipe.
The Yotta App offers other money-saving features. With the Yotta Buckets, you can save money, set goals, track your spending, and more. Instead of losing money through other banks with fees, deposit your money in your Yotta account where you don't lose but instead might get lucky and win a free purchase.
Should You Apply for the Yotta Debit Card?
In closing, the Yotta Debit Card is for the person that doesn't mind using mobile and online banking – after all, it is a fintech company. The opportunity to win prizes with the Yotta Debit Card and Bucket features may be of interest if you're looking to save money and have fun while you do it plus, the Yotta app has a variety of tools to help manage your savings. Not to mention the debit card may be a good fit for your lifestyle if you plan to use a debit card abroad because it has no foreign transaction fees to worry about in your travel endeavors.