Last updated on July 26th, 2023
Advertiser Disclosure
close ×
Advertiser Disclosure – BestCards is an independent, Florida-based credit card comparison platform. Many of the card offers that appear on this site are from companies from which BestCards receives compensation. This compensation may impact how and where products appear on this site (including, for example, the order in which they appear). BestCards does not include all card companies or all card offers available in the marketplace.
Editorial Disclosure
close ×
Editorial Disclosure – The opinions expressed on BestCards' reviews, blogs, and all other content on or relating to the website are solely those of the content's author. They are not reflective of any card issuer or financial institution and have not been reviewed or approved by these entities unless otherwise noted. Further, BestCards lists credit card offers that are updated daily with information believed to be accurate to the best of our knowledge.
Zolve Azpire Credit Builder Card
At a Glance
The Zolve Azpire Credit Builder Card is a combination bank account and debit card designed to help immigrants and those new to credit. The card features no annual fee and the ability to upgrade to unsecured credit in as little as four months.
Best Benefits
Rates & Fees
Why Should You Apply?
Build credit with no minimum deposits and no annual fee

Unlimited 1% cash back on all eligible purchases

Upgrade to an unsecured Zolve Credit Card in as little as 4 months

FDIC-insured savings account
You are a new arrival to the United States and want to begin building credit

You prefer a card program that grows with you - not one you grow out of

You want an insured deposit account that earns interest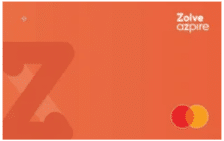 Zolve Azpire Credit Builder Card & Checking Account Review
Zolve is a fintech specializing in helping the underbanked, including recent newcomers to the U.S. The company provides a range of banking products, including the Zolve Azpire Credit Builder Card and an interest-earning checking account.
Zolve Bank Account Required
Like other credit-builder cards, the Zolve Azpire features a dedicated checking account that acts as the line of funds. That account, operated by Community Federal Savings Bank, features no traditional fees and takes just minutes to set up.
Information required for opening a new Zolve Azpire account includes:
Name
Birthdate
Nationality and residence
U.S. contact information
Social Security Number, Individual Taxpayer Identification Number, or valid passport
Once set up, you can fund the account almost effortlessly via international money transfers (if outside the United States or by routing money from another bank account).
The benefits of the Azpire credit builder checking account are far more varied than just building credit. The Azpire account offers 24/7 complimentary ATM access from in-branch partners, a physical debit card to use anywhere Mastercard is accepted worldwide, and the account accrues interest at a rate of 2% APY – an offer not typically found in similar products.
Building Credit with Every Purchase
The stated goal of Zolve, and its Zolve Azpire credit card, is building credit for those traditionally struggling to establish a credit profile in the United States. As such, the major selling point of the card is that it allows you to build credit without a credit check.
Zolve, however, regularly reports your credit history to the three major credit bureaus in the U.S. (Equifax, TransUnion, and Experian). This regular reporting can help to quickly raise your credit score after a series of on-time payments. This benefit is often under-appreciated, as payment history is the single biggest determining factor in calculating your credit score (35% of a FICO Score and 30% for VantageScore).
With the Zolve Azpire Card, you may also qualify for an upgrade to the unsecured Zolve credit card in as little as four months from opening an account. Upgrading does not close the Azpire account but instead provides access to a new, unsecured line of credit. In this case, the Azpire account can be used as a traditional banking and debit card product.
Credit-Builder Card Comparison
Here's how Zolve stacks up against two other popular credit-builder options:
Earn Basic Rewards on All Purchases
Zolve actually offers rewards on all purchases – something not all secured or credit builder cards can state. Cardholders earn an unlimited 1% cash back on all eligible purchases (officially 1X points per $1 spent), with rewards redeemable for gift cards at a minimum of 1,000 points. The reward options with the card are fairly poor, but it is still a decent perk to be rewarded double for all your hard credit work.
Other Card Features
The card also provides additional savings through Zolve Offers. Like Amex Offers, or Chase Offers, Zolve Offers is a card-linked offers portal providing savings of up to 10% off with select retailers via the Zolve mobile app.
Other notable features of the Zolve credit builder debit card include:
No annual fee
No foreign transaction fees
Fee-free ATM withdrawals at over 65,000 in-system cash machines
Mastercard debit protections and benefits
Zolve Ratings
Here is how Zolve and Community Federal Savings Bank rate based on expert and public opinions:
Should You Consider the Zolve Azpire Credit Builder Card and Checking Account?
The Zolve Azpire Card and its accompanying credit-building program can be valuable for individuals looking to establish or rebuild their credit history. By responsibly using this card and making timely payments, you can work towards gradually improving your credit score. However, be mindful of the security deposit, fees, and interest rates associated with the card. If you're serious about building credit, use this card wisely and consider upgrading to an unsecured product once you've established a positive credit history.
Browse Other Card Offers: