Last updated on September 8th, 2023
Advertiser Disclosure
close ×
Advertiser Disclosure – BestCards is an independent, Florida-based credit card comparison platform. Many of the card offers that appear on this site are from companies from which BestCards receives compensation. This compensation may impact how and where products appear on this site (including, for example, the order in which they appear). BestCards does not include all card companies or all card offers available in the marketplace.
Editorial Disclosure
close ×
Editorial Disclosure – The opinions expressed on BestCards' reviews, blogs, and all other content on or relating to the website are solely those of the content's author. They are not reflective of any card issuer or financial institution and have not been reviewed or approved by these entities unless otherwise noted. Further, BestCards lists credit card offers that are updated daily with information believed to be accurate to the best of our knowledge.
See Terms

Regular Purchase APR
At a Glance
The Affirm Debit+™ Card is a fee-free Buy Now, Pay Later debit card that links to an existing bank account. The card, from Affirm and Evolve Bank & Trust, allows users to split purchases of $100 or more with no credit score impact – and no annual fee.
Best Benefits
Rates & Fees
Why Should You Apply?
No annual fee

Pay up front, or pay over time—interest-free

Split big purchases at 0% APR
Regular Purchase APR: See Terms
You're looking for a Buy Now, Pay Later service and not a credit card

You meet the eligibility requirements for the card

You do't want to pay an annual fee or any extraneous fees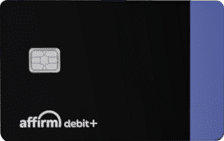 Affirm Debit+™ Card Review
The Affirm Debit+™ is a combination debit/checking account and a Buy Now, Pay Later (BNPL) service from industry-leader Affirm. The card provides the flexibility of a BNPL service with the impressive lack of any fees – including interest – on big purchases.
Buy Now, Pay Later – with No Credit Impact
Because the Affirm Debit Card is a full-fledged debit card, there is no credit check to apply for or receive the account. The Debit+ card works with your existing, linked bank account. This process ensures that purchases can be split over time without the need for credit – meaning no impact on your credit score.
No Fees of Any Kind
Even better, because the Affirm Debit+ Visa links with an existing bank account, paying over time doesn't involve any hidden fees. Gone are the annual fees, sign-up fees, overdraft fees, and late payment charges found with other credit cards.
Eligible purchases of $100 are even free from interest charges. Select merchants may offer 0% promotional APR on purchases, with other purchases incurring an APR of between 0% and 30% APR, subject to creditworthiness (based on a soft credit pull). Loans are simple interest loans, which means that interest, if any, accrues daily on the unpaid principal balance, up to the amount of the finance charge, until you pay the loan in full.
How to Get Affirm
Applying for Affirm+ is very simple. Applicants must be 18 years old or older, live in the United States (U.S. territory and New Mexico residents are not eligible at the moment, however), have a valid Social Security Number (SSN), and have an eligible bank checking or savings account.
How Does Affirm Work?
The Affirm+ Debit Visa works through the dedicated Affirm Debit+ app. The app, available in both the Google Play and Apple App Store, provides a streamlined, single destination where cardholders can view, manage, and split their purchases.
After an accountholder makes an eligible purchase of $100 to $1,000 with their Affirm Visa, they'll have 24 hours to choose to split the purchases using Affirm's BNPL service. Before splitting the purchase, the cardholder will see the APR for that BNPL service before accepting the terms and splitting the purchase. Payments are then automatically debited from the linked bank account.
Keep in mind that Affirm sets a daily limit on the total amount a user can spend. The card has a flexible spending limit based on the available balance in the linked personal bank account – with daily limits reaching a maximum $2,500 daily limit and a maximum $15,000 monthly spending limit.
Other Card Features
One important note with the Affirm+ Visa Debit Card is that the card will not work at ATMs. This restriction means the Affirm Card will not operate as a traditional debit card – despite being linked to an existing bank account. Additionally, the card does not currently work outside of the United States, meaning if you are looking for a global purchasing tool that offers BNPL capabilities, this isn't your best bet.
Other notable features of the Affirm Debit+™ Visa include:
Mobile wallet compatibility with Apple Pay or Google Pay through the Affirm+ mobile app
EMV chip technology and contactless payment integration
Visa Zero Fraud Liability
Fraud monitoring
Should You get the Affirm Debit+™ Visa Card?
The Affirm Debit+™ Card is an interesting BNPL debit card from industry-leader, Affirm. Buy Now, Pay Later services are surging in popularity thanks to more accessible access to financing than traditional credit cards, with the Affirm card the latest example of this trend.
While the Affirm Debit+ offers free-free access to BNPL solutions, the card won't build credit like some other debit cards (notably the Tomo Credit Card, which essentially functions in the same manner). Secured credit cards, or even credit builder cards that offer basic rewards (such as the Revvi Card or Surge Platinum Secured Card) may provide a better platform for those looking to establish a positive credit history.
Ultimately, the Affirm Debit+™ Card serves the BNPL niche very well. It might not offer the chance to build credit, but it hits all the right notes for those who don't worry about things such as that.