Advertiser Disclosure
close ×
Advertiser Disclosure – BestCards is an independent, Florida-based credit card comparison platform. Many of the card offers that appear on this site are from companies from which BestCards receives compensation. This compensation may impact how and where products appear on this site (including, for example, the order in which they appear). BestCards does not include all card companies or all card offers available in the marketplace.
Editorial Disclosure
close ×
Editorial Disclosure – The opinions expressed on BestCards' reviews, blogs, and all other content on or relating to the website are solely those of the content's author. They are not reflective of any card issuer or financial institution and have not been reviewed or approved by these entities unless otherwise noted. Further, BestCards lists credit card offers that are updated daily with information believed to be accurate to the best of our knowledge.
Last updated on October 27th, 2022
Aspiration Debit Card
Up to 10% Cash Back on Debit Card Purchases
Annual Fee

None ($7.99/month for the Aspiration Plus)

Credit NeededBestCards.com uses a variation of FICO Score 8, which is one of many different types of credit scores. A financial institution may use a different score when deciding whether to approve you for a credit card.

No Credit Required

Processing Network

Mastercard
Get a sleek debit card made from recycled plastic

Earn up to 1% APY interest on your Save Account

Get one out-of-network ATM fee reimbursed per month

Deposits do not fund fossil fuel exploration or production

Option to plant a tree with every roundup
Annual Fee: None ($7.99/month for the Aspiration Plus)
Foreign Transaction Fee: 1% of the transaction amount in U.S. dollars when using foreign ATMs
Minimum Deposit Required: $10
Browse these credit card deals and thousands of other offers by becoming a Bestcards Member.
Join today!
At a Glance
The Aspiration Debit Card lets users do their part in conservation while earning impressive cash back on eligible purchases at the same time. The card, which features two tiers, offers up to 10% cash back on Conscience Coalition purchases, the opportunity to plant a tree with all eligible purchases, and more.
Ideal for Those Who:
Are conscientious shoppers who want to help the environment
Want to offset the carbon footprint of their gas purchases
Want to earn cash back on shopping with ethical businesses
Aspiration Debit Card Review
The Aspiration Debit Card is a combination debit and savings program that ensures your hard-earned money is never used to fund the oil or coal industries. The card, which comes in two different plans, lets users do their part in saving the environment while also enjoying exceptional cash back on eligible purchases. Aspiration is issued through Coastal Community Bank, a Washington-based community lender.
How Aspiration Works
Aspiration is a unique debit product in that it actively seeks to help better the world – and not just profit. Unlike other banks, which invest in industries that result in the best profits (regardless of the environmental impact), Aspiration pledges to never invest funds into fossil fuel exploration or production.
Aspiration also allows users to further the company's environmental goals by offering the opportunity to plant trees – via an optional purchase round-up – or track their spending through its personal impact score. The personal impact score monitors where customers are shopping and helps to identify retailers that match the user's personal values.
The Aspiration Card also provides impressive rewards on eligible purchases. Users can earn between 3% to 10% cash back on purchases made through Conscience Coalition businesses, depending on the card tier. Eligible companies (that Aspiration says are "doing the right thing" include names such as Warby Parker, TOMS, Blue Apron, and more.  
Aspiration Debit Card Tiers
The Aspiration Debit Card comes in two tiers, as previously mentioned: Aspiration and Aspiration Plus.
Aspiration
The basic tier offers a "pay what fair" pricing model is. This model means users can pay a fee that they believe is fair for the services provided – even if that is $0.
For this optional fee, users get access to an impressive selection of perks and environmental benefits, including:
Deposits never used to fund fossil fuel companies
Access to a network of more than 55,000 ATMs (free of charge)
Access to their personal impact score to help them make purchasing decisions that align to their conscious
The option to potentially plant a tree with every purchase via round-up
Get paid up to two days earlier than through normal pay schedules
Up to 5% cash back on Conscience Coalition purchases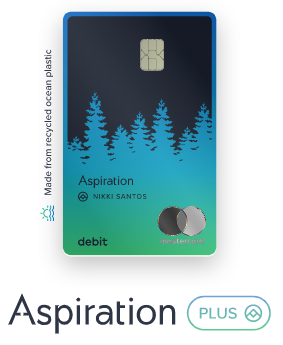 Aspiration Plus
 Aspiration Plus is the premium tier and, as such, offers even more cash back savings through Conscience Coalition purchases. Additionally, the Plus tier has a monthly service fee of $7.99, though this fee drops to $5.99 per month when paid annually.
The Aspiration Plus program offers many of the similar features of the basic tier, but with additional benefits such as:
Up to 10% cash back on Conscience Coalition purchases
Up to 1.00% APY on Aspiration savings accounts
One out-of-network ATM reimbursement monthly
Carbon offsets for all your gas purchases with Planet Protection
The carbon offset feature with Aspiration Plus is unique in that the company automatically offsets the carbon dioxide from gas purchased with the eligible card through carbon offset programs – including the planting of trees.
Mastercard World Debit Features
The Aspiration Debit Card also benefits from Mastercard World Debit features and protections – meaning cardholders can enjoy life while saving the planet at the same time. Features of Mastercard World Debit include:
ID Theft Protection
Zero Fraud Liability coverage
Mastercard Global Service customer service helpline
Purchase Assurance: 90-day protection for most items you purchase with your eligible Mastercard if the item is damaged or stolen.
Extended warranty protection on purchases with a U.S. manufacturer warranty of one year or more
Mastercard Hotel Stay Guarantee, including lowest-rate guarantee, satisfaction guarantee, and more.
Access to the Mastercard Luxury Hotels portfolio for exclusive air, car, cruise, and vacation packages.
Here are answers to frequently asked questions about Aspiration's Debit Card:
Aspiration offers a variety of accounts, with a focus on rewarding customers with cash back for purchases made from ethical companies. The money customers deposit through Aspiration is held at one of its partner banks, which offer FDIC insurance.
You may only access your Cash Balance through your Aspiration Account. You cannot access or withdraw the Cash Balance by directly contacting the Priority List of Banks. Balances in the Cash Sweep Program can be liquidated on your order and the proceeds returned to your brokerage account or to you.
Aspiration credit, debit, and checking products are available in all 50 U.S. states plus the District of Columbia (DC).
Aspiration Debit Card Ratings
How does the Aspiration Mastercard stack up? Here are a selection of expert reviews for the card:
What is the Aspiration Card like to live with? Before deciding if the card is right for you, here's what our readers and members think about the card: Cassie C.
BestCards Reader
Very helpful and responded fast. oSCAR
BestCards Reader
This is the best online banking ive ever used. I recomend it to everyone. I especially like how their main focus is to help the earth to keep it a green earth. Thanks Aspiration. I am a customer from California and this message comes from my heart and is true.
Should You Consider the Aspiration Card?
There are plenty of cash back debit card programs on the market today, but Aspiration is something different. The card – and the program – offers conscientious consumers the chance to save money and help the planet at the same time.
The carbon offset with the Aspiration Plus is an excellent feature – especially for those who commute but hate the damage they are doing to the planet while doing so. However, even the basic plan offers the chance to plant trees through the round-up option on purchases. This means that no matter what you pay for the service, you'll be helping out Mother Earth.
Add to that the impressive array of perks and protections that comes with a World Mastercard debit product, and the Aspiration Card is an exciting debit card that any Earth-conscious consumer should consider getting. The cash back on conscious purchases is impressive -5% – which is on par with top-tier cash back cards, like the Citi Custom Cash℠ Card. 
The information related to Citi Custom Cash Card has been collected by BestCards.com and has not been reviewed or provided by the issuer or provider of this product or service.
Browse Other Fintech Debit Cards