by Cory Santos | Last updated on September 28th, 2023
At a Glance
The Greenlight Prepaid Mastercard is a debit card that works with the three plans that make up the Greenlight allowance and chores app. The card provides comprehensive controls for parents while teaching kids about the value of money - and hard work.
Best Benefits
Rates & Fees
Why Should You Apply?
Teach your kids about money and help them get a leg up on their financial future

Earn money through chores, set savings goals, spend wisely, and invest

Parental controls including real-time notifications, balance tracking, merchant category blocks, mobile payments, and more

Set ATM cash withdrawal limits
You have multiple kids and want them all to have a debit card

You want to teach your kids about investing

You want access to comprehensive parental controls, including limiting dangerous merchants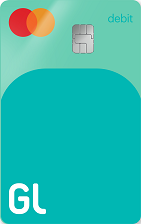 Greenlight Debit Card for Kids Review
Greenlight is an allowance/chore app and debit card account for kids but managed by parents. The system provides parents with the ultimate control over their children's spending while also providing children with the real-world experience they need to learn to manage their finances.
How Does Greenlight Work?
Greenlight is the 21st-century answer to allowance. Instead of handing out dollar bills after basic chores, Greenlight streamlines the process by providing kids with their own debit cards – and parents with the security and power to monitor their spending.
Customizable Debit Cards
Greenlight provides kids with a customizable debit card that is sure to catch the attention of their friends – and help keep them safe. The custom card, which costs an extra $0.99, allows children to fully customize their card with a picture of their choosing – letting them make a statement every time they make a payment.
Monitor Spending
The Greenlight system includes a handy mobile app with two unique interfaces: one for kids and one for parents. The children's interface allows them to monitor their balances, see which chores are available for completion, and help them set money goals each month. On the other hand, parents can assign tasks, set limits, and monitor their children's spending.
Parents can rest assured their children's spending is safe, as the platform automatically blocks spending in "unsafe" categories – and sends real-time spending notifications to parents just to be safe. Other spending controls with the card include:
ATM controls to monitor when – and where- kids use ATM machines
Parent-paid interest on savings accounts
Round-up feature, allowing kids to place the rounded-up portion of purchases into their savings account
Turn the card on or off directly from the app
Store-specific spending controls
Financial and Educational Tools
The kids' version of the Greenlight mobile app also comes with an array of financial education tools to help your kids learn how to save – and spend – their money wisely. These tools help manage monthly spend, invest wisely (with premium plans), and more – and are complementary with a Greenlight membership.
Greenlight Tiers
The Greenlight Debit Card features three tiers designed to let parents choose their ideal payment platform for their child's financial development:
| | | | |
| --- | --- | --- | --- |
| Tier | Greenlight | Greenlight + Invest | Greenlight Max |
| Price | $4.99/month | $7.98/month | $9.98/month |
| Debit cards for 5 kids | ✔️ | ✔️ | ✔️ |
| Educational app with core tools | ✔️ | ✔️ | ✔️ |
| Parental controls | ✔️ | ✔️ | ✔️ |
| Investment platform | – | ✔️ | ✔️ |
| Black debit card | – | – | ✔️ |
| World Elite debit | – | – | ✔️ |
| Priority customer support | – | – | ✔️ |
Greenlight (Basic)
The basic tier of Greenlight offers the essentials parents need to give their kids a head start on financial wellbeing without the additional costs of premium membership. For the $4.99 monthly fee members receive debit cards for up to five children, parental spending controls, and educational tools and resources.
Greenlight + Invest
Greenlight + Invest offers the same basic program features but with the added benefit of allowing kids to invest the money they earn from chores and allowance. Kids can purchase fractional shares of their favorite companies at as low as $1 per trade, with no trading fees to worry about. Parents can also monitor their children's investing and can approve (or reject) every trade right from the Greenlight app. This mid-tier of program costs $7.98 per month.
Greenlight Max
Greenlight Max is the top tier, offering the highest level of control and customer support. In addition to investment capabilities, parents enjoy Mastercard ID Theft Protection, purchase protection, and cell phone protection for up to five kids for lost, stolen, or damaged phones. They'll also have access to priority customer support for any technical issues that might arise.
Kids also benefit from the Max tier, thanks to a special edition Greenlight Black Card. The Black Card doesn't provide any additional benefits financially, but it is sleek and back – and sure to turn heads at school, the mall, or wherever else kids use it. The Greenlight Max plan costs $9.98 per month.
Allowance App Comparison
The Greenlight debit card for teens is just one of many allowance or chores mobile apps available. So, how does Greenlight stack up against some of its biggest competitors?
| | | | | |
| --- | --- | --- | --- | --- |
| App | Greenlight | Current | GoHenry | BusyKid |
| Cost | from $4.99 per month | $36 per year | $9.98 per month | $4 per month |
| Kids per account | 5 | 1 | 4 | 4 |
| Account features | Educational app, savings, parental controls, optional investment platform | Savings, parental controls, educational tools | Flexible parental controls, savings, Split pay bill pay, Money Missions, education tools | BusyPay, APEF-approved educational tools, investment platform, savings, some parental controls |
| Network | Mastercard | Visa | Mastercard | Visa |
Other Card Features
Other notable features of the Greenlight Debit Card include:
No minimum age for kids
Mastercard's near-global acceptance in over 150+ countries
No foreign transaction fees
FDIC insured for up to $250,000
Mobile wallet compatibility with Apple Pay, and Google Pay. Apple Pay requires kids to be at least 13 to add their Greenlight Card, while Google requires kids be at least 16 to add the card to their Google Pay account.
Greenlight and the Greenlight Debit for Teens is available in all 50 U.S. states plus the District of Columbia (D.C.)
Yes. Greenlight blocks 'unsafe' spending categories, sends real-time transaction notifications and gives parents flexible ATM and other spending controls. The company also provides additional layers of protection to our families in the form of face or fingerprint recognition and the ability to turn your card on or off directly in the app. 
Greenlight debit cards are FDIC-insured up to $250,000, and come with Mastercard's Zero Liability Protection.
Your email address

Your mobile phone number

Your child's/children's name(s)

Your legal first and last name

Your physical address

Your date of birth

Your Social Security number (SSN). 

A valid debit card or bank account
Yes. Greenlight is 100% compatible with Apple Pay, Google Pay, Samsung Pay, and other leading digital wallets.
Greenlight Debit Card for Kids Ratings
How does the Greenlight Debit Card for Kids stack up? Here is a selection of expert reviews for the card:
Should You Consider Getting the Greenlight Debit Card for Kids?
Helping kids learn about finances early is a great way to set them up for success later in life – and Greenlight is excellent at this task. The platform takes all of the hassles out of the traditional chores by creating a streamlined platform that rewards kids – and teaches them about finances at the same time. Parents, for their part, can rest assured knowing that they have complete control over how their child earns, spends, saves, or even invests their funds 24/7 through a simple- to use mobile app.
Overall, the Greenlight Debit Card is a great tool for helping kids learn about finances – and gives them a reason to get excited about chores. After all, by putting in the hard work, they can splash their hard-earned cash – and show off their cool card to their friends at the same time.
Other Debit Cards for Teens
Editorial Disclosure – The opinions expressed on BestCards.com's reviews, articles, and all other content on or relating to the website are solely those of the content's author(s). These opinions do not reflect those of any card issuer or financial institution, and editorial content on our site has not been reviewed or approved by these entities unless noted otherwise. Further, BestCards.com lists credit card offers that are frequently updated with information believed to be accurate to the best of our team's knowledge. However, please review the information provided directly by the credit card issuer or related financial institution for full details.