by Cory Santos | Last updated on September 23rd, 2023
At a Glance
The Current Debit Visa Card for teens provides teenagers with the financial freedom of a Visa debit card and parents the total security of account controls, and more. The card account, from Choice Financial Group, is fully FDIC insured through and costs $36 per year.
Best Benefits
Rates & Fees
Why Should You Apply?
No hidden fees

Earn up to 15X points at over 14,000 participating merchants in the U.S.

Get paid up to 2 days early when you sign up for direct deposit

Free instant money transfers, spending notifications, spending limits, and more
Annual Fee: See Terms
Foreign Transaction Fee: 3% of the transaction amount in U.S. dollars
You have a teenager and you want for them to learn financial responsibility

You want total account control to block risky purchases

You want to set spending limits for your child

You're seeking a streamlined chores/allowance platform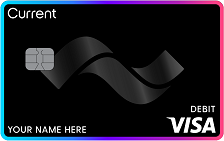 Current Debit Card Review
The Current Debit Visa Card is a debit card program designed for teenagers. The program offers parents total control power over their child's spending while still giving kids the chance to spend and save their hard-earned money – while learning about finances at the same time.
How Does Current Work?
Current is similar to other teen debit products in that it gives teens the flexibility to earn and spend their money while also providing parents with controls over spending, account funding, and more.
For Parents
Current's debit card provides numerous benefits for parents. First, it streamlines the allowance process by setting up instant transfers to the child's Current account – saving parents the hassle of forking out cash. The platform also makes setting chores a breeze, thanks to in-app task management.
Beyond automated payments and a streamlined chore and allowance process, Current also gives parents total control over how – and where – their kids spend their hard-earned money. With Current, parents can:
Block specific merchants
Set spending limits
Receive notifications whenever a purchase is made
For Teens
Parents aren't the only beneficiaries of the Current teen checking account. Kids, too, enjoy a huge assortment of perks. These benefits include the opportunity to enjoy the financial freedom of their own debit payment card – including the purchasing power of the Visa payment network, the world's largest network by the total number of merchants.
Teens also can learn about financial responsibility early on, setting them up better for success in their adult lives. Teaching kids about financial responsibility in their teenage years are also a great way to help them prepare themselves for credit cards later in life – especially with Current's budgeting tools. Teens can even add funds to their savings account via roundups or savings pods – or donate their money to their favorite charities. 
Here's how to get started with Current:
① Parents sign up on the Current mobile app.
② Parents connect a bank account to Current.
③ Teen downloads the current app on their phone or tablet.
④ Parents link their Current account with heir teen
Fees
Current's pricing is on a per-year basis, instead of the monthly charges from Greenlight, its closest competitor. As a result, the fee per teen is $36, compared to $4.99 per month with Greenlight for its base fare. However, it should be noted that the $36 per year with Current is per child, while Greenlight's monthly fees apply for up to five children.
Beyond the annual fee, there are no hidden fees with the Current Debit Visa Card. There are no:
| | | |
| --- | --- | --- |
| Overdraft fee | Account inactivity fee | No minimum balance required |
| Account inactivity fee | Minimum balance | Activation fee |
Allowance App Comparison
The Current debit card is just one of many available allowance or chores mobile apps. So, how does it stack up against some of its biggest competitors?
| | | | | |
| --- | --- | --- | --- | --- |
| App | Greenlight | Current | GoHenry | BusyKid |
| Cost | from $4.99 per month | $36 per year | $9.98 per month | $4 per month |
| Kids per account | 5 | 1 | 4 | 4 |
| Account features | Educational app, savings, parental controls, optional investment platform | Savings, parental controls, educational tools | Flexible parental controls, savings, Split pay bill pay, Money Missions, education tools | BusyPay, APEF-approved educational tools, investment platform, savings, some parental controls |
| Network | Mastercard | Visa | Mastercard | Visa |
Other Card Features
Other notable features of the Current Debit Visa Card for Teens include:
FDIC insured for up to $250,000 through Choice Financial Group
Mobile wallet compatibility with Apple Pay and Google Pay. Apple Pay requires kids to be at least 13 to add their card, while Google requires kids to be at least 16 to add the card to their Google Pay account.
The Current app and program uses the Visa payment network. Visa provides a slew of benefits and protections for debit card users, including:
| | | | |
| --- | --- | --- | --- |
| Dovly Uplift™ credit score monitoring | ID Navigator Powered by NortonLifeLock | Visa Zero Fraud Liability | Lost/Stolen Card Reporting |
Current is available in all 50 U.S. states plus the District of Columbia. 
Frequently Asked Questions About the Current Debit Card
Here are some common questions about the Current Debit Card for Teens, as well as their answers:
After receiving your first successful deposit from a linked funding source, you can deposit checks up to $2,000 directly in the Current app! Once mobile deposits have been enabled for your account, you can follow the instructions below to deposit a check: 
Tap the $ icon
Tap Add & Move Money 
Select New Source and tap Deposit a Check
Enter the check's amount and select where you'd like the funds to go. You can send checks to your primary account balance or the spending balance on any shared accounts that you manage 
Tap Add Image to take a photo of the front and back of your check 

Before depositing your check sign the back of it and write Current/Mobile Check Deposit or your deposit may be rejected

Tap Next to confirm the deposit 
Note: Any check that you deposit must be written out to you, and it can take up to 5 business days to clear. 
You can add a teen while signing up for Current or by heading to the Profile tab of your account and tapping Add an Account. Teen accounts have an annual fee of $36 per teen. To link a teen to your Current Account: 

Select Teen Banking as your account type
Select your role. If you're managing the teen's account, select Primary parent. If you're a secondary parent, select Secondary Parent. What's a Secondary Parent? Click here for more information. 
Enter your teen's information and select a card if they don't already have one

You'll have the option to display a QR Code that your teen can scan to link to your account. If they don't already have Current, you can invite them to download the app and create an account! 

With a Current Account, your teen will be able to check their balances and manage their money.  They won't be able to initiate deposits from your bank or access your account balance, and they can only view the balances for their Giving or Savings Pods, transactions, and account information.
Current Debit Card Ratings
How does the Current Debit Visa stack up? Here is a selection of expert reviews for the card:
Should You Consider Getting the Current Visa Debit Card?
Is the Current Debit Visa Card for Teens worth getting? For parents with one child, the answer is probably yes. The flat-rate annual fee makes the Current card a much more attractive option than Greenlight, as parents look to save approximately $14 per year.  For parents with multiple teens, the situation becomes cloudier, however.
Greenlight offers access to up to five cards for one monthly price. For parents with three children, Greenlight's Max tier offers a special-edition black card, access to investments, and financial education tools for five kids. In comparison, Current would provide three debit cards for the same annual fee as Greenlight Max, just without investment access.
Ultimately, the Current Debit Visa Card is an excellent debit card for teens. Sure, the price might be a sticking point, but that's only for larger families. For the average family with two kids, the Current account for teens makes perfect sense – and provides them with the right tools to help set their kids up for a bright financial future.
Other Debit Cards for Teens
Editorial Disclosure – The opinions expressed on BestCards.com's reviews, articles, and all other content on or relating to the website are solely those of the content's author(s). These opinions do not reflect those of any card issuer or financial institution, and editorial content on our site has not been reviewed or approved by these entities unless noted otherwise. Further, BestCards.com lists credit card offers that are frequently updated with information believed to be accurate to the best of our team's knowledge. However, please review the information provided directly by the credit card issuer or related financial institution for full details.