Last updated on August 17th, 2023
Advertiser Disclosure
close ×
Advertiser Disclosure – BestCards is an independent, Florida-based credit card comparison platform. Many of the card offers that appear on this site are from companies from which BestCards receives compensation. This compensation may impact how and where products appear on this site (including, for example, the order in which they appear). BestCards does not include all card companies or all card offers available in the marketplace.
Editorial Disclosure
close ×
Editorial Disclosure – The opinions expressed on BestCards' reviews, blogs, and all other content on or relating to the website are solely those of the content's author. They are not reflective of any card issuer or financial institution and have not been reviewed or approved by these entities unless otherwise noted. Further, BestCards lists credit card offers that are updated daily with information believed to be accurate to the best of our knowledge.
At a Glance
GO2bank is the destination for simple, seamless mobile banking designed to help people save time and money. The GO2bank high-yield account and Visa® Debit Card provide the ideal platform for building savings and offering a headache-free banking experience – all with no hidden fees.
Best Benefits
Rates & Fees
Why Should You Apply?
Overdraft protection up to $200 with opt-in and eligible direct deposit • Get your pay up to 2 days early with direct deposit • Free nationwide ATM network Refer a friend, and you both get $50 • *See additional terms and conditions at GO2bank.com
Over Limit Penalty Fee: No monthly fees with eligible direct deposit, otherwise $5 per month
You want a high-yield account 10X the national average

You plan to have your paychecks directly deposited into your account

You want the freedom to deposit checks at hundreds of retail locations nationwide

You don't want to pay any additional fees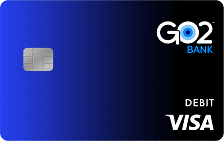 GO2bank Visa® Debit Card Review
The GO2bank Visa® Debit Card is an intriguing high-yield checking account from fintech GO2bank – part of the Green Dot Bank family.
Limited-time Bonus Offer
Before jumping into a review of the GO2bank account, it's important to mention a special, limited-time-only introductory offer for new account holders. New accounts can earn a free Samsung Galaxy smartphone after making at least $200 in eligible direct deposits and pay for two months of wireless service with their new debit card.
New accounts must receive a payroll or government benefits direct deposit of $200 or more to their GO2bank account by 9/30/21 to be eligible for the Samsung Smartphone offer. Additionally, they must agree to two months of unlimited talk and text service at the cost of $50.00 per month.
Earn Over 10X the National Average Savings Rate
The major selling point with the GO2bank high-yield checking account is the impressive earning rate it offers. Account holders earn over ten times the national average with the GO2bank account, making it one of the market's more lucrative high-yield checking and debit accounts.
The GO2bank checking account currently offers 1% APY on savings of up to $5,000. This 1% APY is paid quarterly if the account is in good standing and is significantly higher than the national average yield for a checking account – currently 0.06% APY.
Pay No Fees with Eligible Direct Deposits
Many high-yield checking accounts charge fees for enjoying an exceptional APY. This reality is especially true with checking accounts that offer a debit card that earns rewards – not so with the GO2bank Debit Card and high-yield savings account.
Account holders pay no monthly service fee when they meet direct deposit requirements. Those requirements are straightforward, with account holders only needing to receive a payroll or government benefits direct deposit in their previous monthly statement period. Meet this requirement, and you'll pay no monthly account service fee – otherwise, the monthly charge is $5.
Account holders can also make direct deposits at select local retailers. Eligible retailers are constantly being introduced but currently include major names such as CVS Pharmacy, Circle K, Cumberland Farms, Dollar Tree, Family Dollar, Rite Aid, Walmart, Walgreens., and more.
Another benefit of setting up a direct deposit? Account holders can receive their pay up to two days early with ASAP Direct Deposit. Receiving paychecks several days early isn't something unique to the GO2bank account, but it is a nice perk that adds extra value to the account.
Earn Up to 7% Cash Back
Rewards aren't the focal point of the GO2bank Visa® Debit Card, but it is a nice perk of having the card. Cardholders earn up to 7% in instant cash back when using the card to purchase electronic gift cards through the GO2bank mobile app.
Other Account Features
Other notable features of the GO2bank high-yield savings and checking account (with GO2bank Visa® Debit Card) include:
Ability to easily move money from a linked debit card or bank account to GO2bank
Deposit checks from home through snapping pictures of the check with a smart phone
Free nationwide ATM network
Overdraft protection up to $200 with opt-in and eligible direct deposits
No minimum balance requirement
No hidden fees
EMV chip debit card for greater security
Should You Apply for the GO2bank High-Yield Savings Account and Visa® Debit Card?
High-yield savings accounts are a great way to build your savings – and the GO2bank account and Visa® Debit Card are excellent options to consider if this is your goal. The account offers up to 1% APY, significantly higher than the national average (currently 0 .06% APY), and other high-yield accounts from banks like Discover and Marcus by Goldman Sachs.
The account adds further value by eliminating service fees for meeting modest deposit goals each month. Simply have your paycheck or government check directly deposited into your account, and GO2bank waves the $5 monthly service fee. Even better, you can make additional deposits at a huge assortment of retailers, including prominent names like Walmart, Walgreens, CVS, and more.
Overall, the GO2bank account is an excellent high-yield account for anyone seeking to build their nest egg but still can spend when needed. GO2bank is part of the Green Dot Bank family, is FDIC insured for up to $250,000, and has served more than 33 million customers in over 20 years – making them a safe bet for boosting your savings.