Last updated on February 23rd, 2023
Advertiser Disclosure
close ×
Advertiser Disclosure – BestCards is an independent, Florida-based credit card comparison platform. Many of the card offers that appear on this site are from companies from which BestCards receives compensation. This compensation may impact how and where products appear on this site (including, for example, the order in which they appear). BestCards does not include all card companies or all card offers available in the marketplace.
Editorial Disclosure
close ×
Editorial Disclosure – The opinions expressed on BestCards' reviews, blogs, and all other content on or relating to the website are solely those of the content's author. They are not reflective of any card issuer or financial institution and have not been reviewed or approved by these entities unless otherwise noted. Further, BestCards lists credit card offers that are updated daily with information believed to be accurate to the best of our knowledge.
At a Glance
The Point Debit Card is a fintech debit card that offers credit card rewards and protections but forgoes the credit card or negatives that can come from credit. The card, from Radius Bank, features an annual fee of $49.
Best Benefits
Rates & Fees
Why Should You Apply?
Earn 5X points per $1 on subscriptions, 3X points on food deliver and rideshares, and 1X points on everything else

Membership includes access to exclusive partner offers through collaborations with up-and-coming brands

Receive up to a $1,000 reimbursement if a new item bought with the Point Card is damaged or lost within 90 days of the purchase

Get trip cancellation insurance of up to $1,500 for any out-of-pocket expenses you incur

Receive both a physical and a virtual card for purchases
You want credit card rewards without the need for a credit card

You have little or no credit history

You want to earn rewards for cash deposits into checking accounts

You don't plan on making ATM withdrawals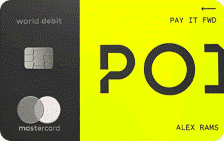 Point Card Review
The Point Card is a debit card that operates in much the same way as a credit card but without the impact on your credit score. The card from Radius Bank features up to 5X points on purchases for a $49 annual fee.
How Does Point Card Work?
Point Card describes itself as offering "rewards and benefits without the downsides of a credit card." The card points on all purchases and various perks but forgoes the credit checks, monthly payments, and other charges typically found with a credit card.
The experience is built around the service's mobile app (available in both the Apple and Google Play app stores.
How to Sign Up
Opening a Point Card account is simple. Applicants will need to download the card's app and then follow the sign-up instructions through the interface.
Once the account is set up, the new user will need to fund the account to cover the annual fee ($49, billed in the initial deposit) and any other cash they want to be deposited. From there, users can activate their virtual debit card and order a physical card.
Eligibility
The Point Card is available to U.S. residents aged 18 years old and older. Users will need a valid Social Security Number (SSN), current mailing address, and basic information (legal name, home address, etc.) to open an account.
Earn Impressive Rewards with Every Purchase
The major selling point of the Point Debit Card is the ability to earn up to 5X points on select purchases -something typically found in credit cards only.  The card earns 5X on subscriptions for leading streaming services, including Netflix, Hulu, HBO Max, YouTube Premium, Spotify, Pandora, Feather, and Headspace.
The card also earns 3X points on food delivery, scooter, and rideshare purchases – including the usual culprits, such as DoorDash, Uber Eats, Postmates, Caviar, GrubHub, Seamless, Instacart, Good Eggs, Uber, Lyft, and Lime.  All other purchases with the card – including purchases with ineligible rideshare, streaming, or delivery services – earn an unlimited 1x points per $1 spent.
Bonus Offers Through Partners
As stated, the Points Card thrives in its mobile app environment – and this includes unique points offers with select retailers. Offers vary depending upon the user, location, and timeframe, but some retailers (including eateries) offer up to 10X points on purchases.  
The bonus spending categories with the Point Debit Card aren't unique to it – most banks and credit card issuers offer additional savings through partners. Still, it is a great feature that adds extra value to the Point Card.
How to Redeem Points
The Point Debit Card only offers one redemption method for reward points. Cardholders can only redeem points for cash deposited into their associated checking account. While this isn't a great rewards program, it can help users save money with everyday purchases.
Credit Card-Level Protections
While Point Card is not a credit card, it does use the Mastercard payment network. Because of this, the card offers the types of perks and protections many users would expect from a World Mastercard product.
Point Debit Cardholders will enjoy the following Mastercard World Debit features:
Phone insurance of up to $1,000 on phone plans purchased with the Point Card
Car Rental and Trip Cancellation insurance
Mastercard global travel assistance
Mastercard Zero Fraud Liability coverage
Drawbacks with the Point Card
While there is plenty of good with this product, there are also some factors to consider before applying for the card. There is no dedicated ATM network, for example. Point tries to compensate for this shortcoming through two free ATM withdrawals per month, but that is very weak – especially compared to other fintech debit cards, like the Aspiration Card, with over 55,000 fee-free, in-network ATMs.
Equally frustrating is the lack of direct deposit availability. Sure, there are unlimited bank transfers and insurance on deposits, but it might be frustrating for those who want their paycheck to the Point Card.
The final major drawback (beyond the limited redemption methods) is the inability to build credit with the card. Rewards debit cards are great in that they avoid the negatives of credit cards – but they also lack the positives, including the chance to build credit.
Should You Apply for the Point Card?
The Point Debit Card seems interesting – and is for a certain niche of individual. The card offers up to 5X points (or more) on select purchases but struggles when it comes to redemption options, ATM access, or direct deposit capabilities.
The lack of a credit check is the card's major selling point, especially as there aren't many debit cards as lucrative as the Point Card. For those seeking to avoid hard inquiries on their credit report, the card is a great fit in their wallet – but only if they plan to spend heavily enough to offset the $49 annual fee.
Ultimately, the Point Debit Card is great for those nervous about credit cards, but struggles in the long term compared to even the most general rewards card. Those cards offer the chance to build credit, leading to impressive rewards without the annual fee in the future.
Browse Other Fintech Debit Cards